BA Mass comm: Does glamour attract you?
MEDIA STUDIES
is a discipline where students learn primarily through practical and field assignments given to them
FAST FACTS
Participating Institutions: Amity University (Noida, Lucknow, Jaipur, Gurgaon, Gwalior); Affiliated colleges of Makhanlal Chaturvedi Rashtriya Patrakarita Evam Sanchar Vishwavidyalaya
Duration: 3 years
Selection process: Some institutes/ universities conduct their own entrance test and personal interview; others admit on the basis of Class 12 marks 
Recruiters: Newspapers, magazines, publication houses, TV channels, radio channels, production houses, media research firms, media marketing firms, PR companies, advertising agencies, web portals, academic Institutions


SYED Masood completed BJMC from a private institute in New Delhi in 2010. He then joined a known TV Channel and worked in the reporting wing. He shares, "Being a journalist gives you a different kind of confidence and enhances your personality to a great extent." Having switched from the channel, he is now working in another Delhi-based reputed media organisation. However, for many students the route is not that easy. "I could not get any job after BJMC, so I had to do Master's in Journalism & Mass Communication," admits Himanshu Dabral, who did his course from a private institute. Now working with a big media house as an analyst, Himanshu feels that the dearth of job opportunities was due to the lack of specialised knowledge and no placement assistance from institute,

Glamour does attract
Many students like Parteek, a Class 12 student from Lucknow, perceive journalism as a very glamorous field, and this seems to be a top reason to get into the profession. "I want to become a TV journalist and that is the reason I want to do BJMC," says Parteek. Most of the students want to go for electronic media as they want to be seen on television. 

Mix of theory and practical
This course is an integration of both components, as one cannot become a good journalist sans knowing the basics and also having a firm grounding of current affairs. But field work gives more exposure as you experience the events head-on. The course curriculum covers the basics of all important subjects like Political Science, Economics and English. Apart from these general subjects, special subjects like editing, reporting for TV, print and Internet, basics of journalism, news concepts, history of journalism, Radio, TV, various aspect of communication and its theories are taught. Most of the good institutes have a small production studio with audio-video facilities, a radio station and printing press set up within their campus. They work on printing in-house newspapers, producing programmes for television, radio etc. It is mandatory for students to do internship, which at time is paid for.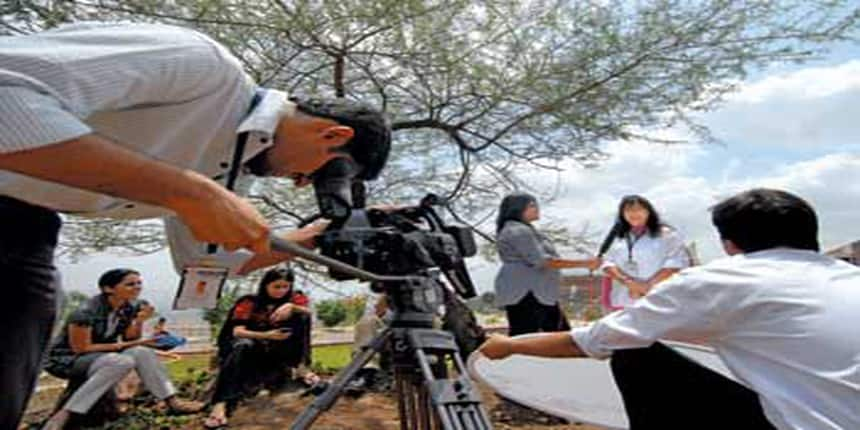 HIMANSHU DABRAL

"Currently working as a media analyst I could not get any job after BJMC, so I had to do Master's in Journalism & Mass Communication. I think very few institutes provide placement assistance to the students"

Patience and passion is the key
 "Journalism is not a profession where you can expect very good salary packages right at the start. You need to be patient, because the growth rate can be slow," says PK Bandyopadhyay, Principal, IAAN School of Mass Communication, New Delhi. "But I can assure that if you love this profession, you will enjoy it always," he adds. 

Job positions
A fresh graduate starts out with a media house as a trainee, and will be on probation for at least six months. This works out to be mutually beneficial for both recruiter and trainee, since one is able to judge if the organisation and work profile is in alignment with the goals and aspiration. Thereafter, the candidate may become sub editor/ junior reporter. Subject to learning capability, coping with assignments, deadlines and eagerness to work, the next promotion can be at senior sub editor, copy editor or senior reporter or special correspondent if he or she is into reporting.

Being stringer or freelancer is also an option
A graduate may also start freelancing. He/ she can write for any media organisation and be paid according to the depth of the news article. Freelancing gives you more freedom of work. Also you can become a stringer of any newspaper or a television channel. The media organisations usually pay according to number of news items you provide to it. 

Salary and allowances
A fresher may start at Rs 8,000 to 15,000 per month depending on the organisation and his abilities. He also gets travelling and other allowances. A few organisations also pay journalists for working overtime. 
Related Courses
Bachelor of Journalism: Dr. Jakir Hussain Institute, Patna
Bachelor of Journalism (Hons): Delhi College of Arts and Commerce
BA (Hons) in Mass Communication: School of Journalism and Mass Communication, Devi Ahilya Vishwavidhyala, Indore
Getting jobs is tough
"I did BJMC from a government college and I was hoping that after doing this course I will get a job in some newspaper or news channel but I could not get any job. Not a single media house came to our institute for placement," says Sachin Yadav. "I think references matter a lot in this industry," he observes. This is the scenario in most of the colleges. "We generally prefer students from good institutes and that too, postgraduate students because we find them more competent and job-ready," shares Nitika Rana, corporate HR of a large media conglomerate.

Challenges during job
Whatever medium (print, electronic, Internet) you work for, journalism is always full of challenges. If you go for reporting you may have to cover various beats like sports, crime, political, business, development, entertainment etc. You are always expected to do exclusive and good news stories. You have to always keep your eyes and ears open and have to build your sources to get stories. At times your story is ready to be published/on air, but due to some reason or the other, it does not get published. 

There are no fixed working hours. A journalist has to stay till the newspaper or magazine is sent for publishing. In TV, the journalist and particularly the reporter may be called upon at any time, as long as the story is live.

Job satisfaction
But it is found that people working in this profession are used to all the above challenges and they gradually start enjoying it. They feel proud that they are into a noble profession and helping the society through new stories. The journalists get the chance to meet with people in top positions. They get the chance to explore India and other countries. 

Think twice before joining
The BJMC course tries to cover many aspects but it does not offer any specialisation. "It is during the graduation process that a student develops analytical capability and can grasp the nuances of the subjects. So, often we see students who have done graduation in JMC, miss the challenge of learning something new and inspiring in their post graduation level," shares Shashwati Goswami, Associate Professor at Indian Institute of Mass Communication, New Delhi.