Media School Entrance test: What to expect!
THERE is no one single format to select media students. Different methodologies are adopted by various media schools. Some rely on a simple interview; others use a written test to screen candidates; yet others insist on a group discussion followed by an interview. The methodologies may differ but the end goal is the same: to find the right student. So, who is this right media student and what are the parameters used to find this student?

Traditionally, media schools have looked for two qualities in a potential student. These are: general awareness and language abilities. The reasons for this are easy to understand. A journalist must be well-informed, and should be able to communicate well in his or her language. Today, a third skill has been added to this list, and it is the knowledge of technology. All media schools realise that today's journalists should be well-versed in technology. They should know how to use technology to both create and process content.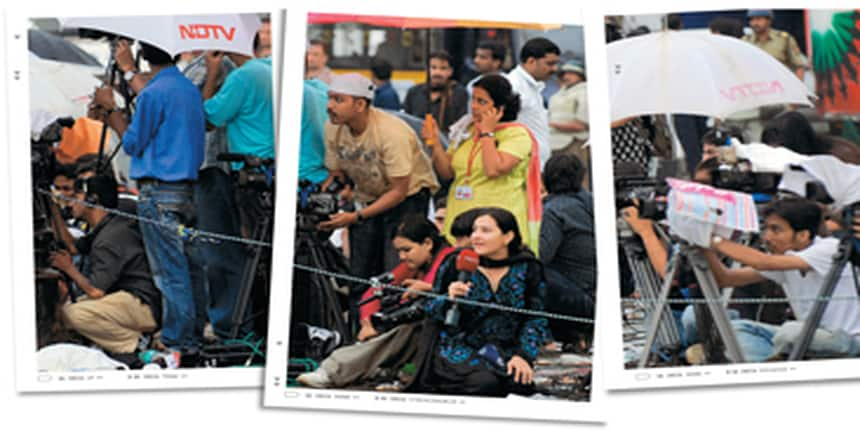 The written test
This is devised to check whether potential media students have these skills or not.  So, if you are aspiring to join a media school, expect to be tested on the following:

1. General awareness: Media schools use two different formats to test general awareness. The popular format is use of Multiple Choice Questions. The aim is not to trip the students but to test their general knowledge, and generally negative marking is avoided. MCQs also enable question-setters to check the knowledge of students on a wide range of subjects.  The student is asked to answer 50 to 100 questions on India, its constitution, geography, economy, industry, art, culture etc. There are also questions on current affairs on Indian and international subjects. A few media schools prefer descriptive-style questions.

In this case, students are asked to write short answers on subjects related to India and current affairs. However, the number of questions is limited. The answers also have a word limit. The students are expected to write well argued answers in as few words as possible. Grading is subjective, and not very uniform. But the advantage is that the question-setter can test the analytical skills of a student, which is not possible with MCQs. The general awareness paper, especially if it is multiple choice, is generally set in English. Most institutes want students to be bilingual as today's journalists, especially those who work for vernacular newspapers, are expected to have a reasonable level of proficiency in English.

2. Language skills: Media schools prefer the descriptive format to test language skills. The students are asked to write short essays. There are also questions to check the grammar skills. These can be multiple choice and students are asked to locate errors of grammar and syntax. The test is conducted in the language in which the training is to be imparted. Students wanting to work in English-language media are tested in English; those who want to work in Hindi newspapers are tested in Hindi; similarly, Tamil media schools check Tamil language skills of their students and Telugu schools check Telugu language skills.

3. Technology skills: There is no formal test to check the technology skills of students. However, media schools now add a section in the application form where the students are required to indicate their proficiency in different media-related programmes. All students are expected to know Microsoft Word, the software used for word processing; students who know how to use Final Cut Pro or any other video editing software, Photoshop, the photo-editing software, or QuarkXpress, the software used to design newspaper and magazine pages, can hope to get preferential treatment. Media schools also want to check the Internet proficiency of students. They have now inserted columns where students enter their Facebook or Twitter handles. Students who have set up their own blogs are valued even more.


The purpose of interviews
The interview is used to judge the confidence, poise and analytical skills of  students. You can expect at least one or two questions on current affairs. These questions are phrased to test two things: one, the general awareness of students and two, the depth of their understanding of the issues.

The second is especially important. Good interviewers are aware that the best journalists are those who can analyse issues. Students appearing for an interview in a media school must therefore spend time studying the subjects that are in public domain. Generally, interviewers focus on current issues – subjects that are agitating the public mind at that point of time.

Students can also expect a few questions based on the information provided in their application form. It is therefore important to list hobbies or educational interests about which the students are well informed. There is no point in listing golf as one of the games you play unless you are familiar with that game. Also, you should be aware of the names of professional golfers, golf tournaments and golf terms. Failure to answer these questions can rebound badly.


Group Discussion
This is not a popular selection tool in most media schools. The few that them are primarily schools that provide television training. Their aim is to test a student's articulation skills, and response time. They want to judge whether a student is articulate enough to come up with the right question   in an exceptionally short time frame. This is a skill that is valued greatly in television industry, where reporters are required to frame questions quickly, and follow up on answers without being prompted by the anchor. 
 
Sunil Saxena is the Dean of Online Centre for Media Studies.