BSc in Visual Communication
Now, which of us hasn't doodled at some point in time? Maybe it was during history class, between the two World Wars that you wrote a stick figure series on the edges of the textbook, or maybe it was even in office when you opened Paint and drew circles and squares and lines through them. 

These doodles stand in good stead for many who end up doodling professionally by becoming graphic designers and animators. A degree in visual communication may just be the thing to channelise your creative instincts and make a career of it.

Perhaps one of the first things that attract employers from every field is the kind of youth that the country has and the talent they possess. There are many artists and designers who, due to lack of awareness, might walk on the well trodden path to become business professionals, doctors, lawyers or engineers. But it is a little known fact that there is a severe shortage of designers and creative professionals in the country.

According to Ampat Varghese, Academic Dean of Professional Diploma Programs, Srishti School of Art, Design and Technology, Bangalore there is a requirement need for as many as 10,000 to 20,000 designers in India but just about 1,000 of them graduate every year, a little more if you count the smaller universities and colleges as well. There are just about seven to eight exclusive design schools in the country, though several universities offer programmes in visual communication as well.

FAST FACTS
Best Schools: Loyola College, Chennai, St Joseph's College, Bangalore
Course overview: An undergraduate programme gives students the expertise to build a career as a creative professional in advertising, design and related fields. You can even go on to do a Master's programme in visual communication or specialise in other areas such as films, journalism, animation, etc.
Career avenues: Journalism, animation, graphic artists, film production, advertising, industrial design.
Eligibility: 10+2 in any stream. Most colleges have entrance exams and a group discussion. Some institutes ask for a portfolio.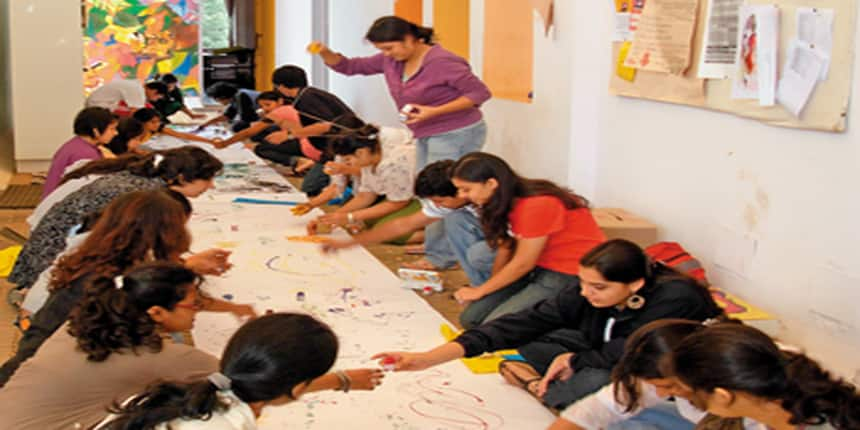 Admission open in Amrita School of Communications, Download Application form now.
What is Viscom?
A programme in visual communication, popularly called viscom, gives you a well-rounded exposure to the creative field including writing, editing, photography, film, animation, design and other aspects of the media. The undergraduate degree offers a gateway to students to pursue the arts, through various means. As it includes animation, multimedia, advertising, photography, film, television and graphic designing, the course can help a student pursue a career in a multitude of communication and designing fields.


A multi-disciplinary curriculum
Though viscom, strictly speaking, involves study towards being commercial, art or graphic designers, the curriculum in most colleges have a wider scope and encompass several media-related subjects. So you can hope to study the basics of writing, journalism, photography, art appreciation, script writing, drawing, media research, folklore, computer graphics and a little bit of animation, even architecture. While you can enter journalism also by doing undergraduate programmes in journalism and media, visual communication will give you a more rounded exposure, enabling you to get a better insight into all kinds of creative fields. It would also help you to excel in any field, be it reporting, editing or if you have the knack for it, as an illustrator.


Select institutes offering
BSc in VisCom
Loyola College: Chennai
Women's Christian College: Chennai
St Joseph's College: Bangalore
Amity University: Delhi NCR
Amrita School of Arts and Sciences: Kochi
Bharathiar University: Tamil Nadu
University of Madras: Chennai
Raghu Rao, a Class 12 standard student says that this is what excites him about the course. "I am not yet completely sure what part of the media I want to work in. But given that the curriculum introduces us to so many fields, it will help me decide later on and maybe specialise in one area," he says.

Towards the end of the course, students are expected to do a six to eight week internship in media houses, design companies or industries, depending on their area of interest and specialisation.

Ananthkrishnan S, who graduated with a BSc in Visual Communication from St Joseph's College in Bangalore, has started working as an assistant to a major film director in Karnataka.  "We were taught all aspects of the media from scripting and writing to film production. This helped me get an edge over others who might have a diploma in just one of these fields. Such a wide range of subjects also enables me to look into other fields of employment," he shares.

Eligibility and admissions
So, you have spent several hours drawing at the back of your notebooks or fiddling around with your father's laptop. Just that wouldn't be enough to get you into Viscom. Most institutions look for some bit of aptitude in a student. You should have finished 10+2 in any stream to be able to write the entrance exams that most colleges have. An aptitude towards the arts is necessary and it helps to be able to draw, photograph, write or even work with graphics. Most colleges have their own entrance exams and interview before selecting a student. Check their website for details. Some colleges would have an entrance test, a portfolio review and an interview.
Career-wise
Though there are entry-level jobs available for graduates, it is recommended that you further specialise in a field of your choice. If you have a flair for writing and are passionate about being up on your feet constantly, journalism is one option. A journalist who joins as a fresher can hope to earn up to Rs. 15,000 to begin with. Promotions and increase in salaries can be swift, depending on performance.

If the film industry interests you, you can seek to work as an assistant film director and learn the ropes with a senior director, either commercial or advertising. It is a tough field to break into and may not pay too well, but students can supplement this by taking up freelance assignments as well.
Students can get work as copywriters in ad agencies, or as television, web or print media journalists.

Good photography skills and an impressive portfolio can get you a job as either a photojournalist or in magazines. A career in animation can be well paying, with experienced animators earning upward of Rs. 50,000. With a Masters or a specialisation, you can hope to take more rupees home, with a BSc in viscom, you could hope to earn upward of Rs. 20,000. However, it would be more for a graphic artist and different for a photographer. The salaries vary depending on what area you choose to work in.

Students from specialised art colleges like Srishti get absorbed into even multinational companies as design heads and earn upward of Rs. 40,000 right after they graduate. There are several openings in textile, furniture and product design across the country.


Further specialisation
While you can always get a job right after graduation, it is always advisable to specialise in one area, as it can help in  better career growth. Institutions like Loyola College and University of Madras offer MSc programmes in Viscom. Students can hope to study media management, international media, television production, visual design, radio programming, media trends and other aspects of mass media in this programme.
If you have the aptitude for a full-time career in the arts, many schools offer highly specialised courses.  These have rigorous entrance exams and having a portfolio of works like drawings or short films is absolutely necessary. 
BSc VisCom course structure @ St Joseph's College (Bangalore)

FIRST SEMESTER

I

English - Paper I

II

Language - Paper I

III

Introduction to Human Communication

IV

Writing Skills I- Reporting

V

History of Visual Arts -I

VI

Environmental Science

VII

Computer skills

SECOND SEMESTER

I

English –Paper I

II

Language- Paper I

III

Theories of Visual Communication

IV

Writing Skills I- Creative Writing

V

History of Visual Arts -II

VI

Constitution of India

THIRD SEMESTER

I

English

II

Language

III

Communication Skills

IV

Graphic Design

V

Indian Media Scene

VI

Photography

VII

Editing Principles

VIII

HRD

FOURTH SEMESTER

I

English

II

Language

III

Visual Literacy

IV

Copy Writing

V

Elements of Film Language

VI

Basic Sound Recording Skills

VII

Web Publishing

FIFTH SEMESTER

I

Visual Aesthetics

II

Script Writing for Media

III

Multimedia Design

IV

Introduction to Television

Techniques

V

Media Organisation and

Management

VI

Media, Culture and Society

VII

Internship

SIX SEMESTER

I

Media Research

II

Media Laws and Ethics

III

Creative Advertising

IV

Animation Techniques

V

Project - Independent

VI

Internship