Campus journalism helps students get ahead
TEAM WORK: Systematic division of work and use of technology is the mantra to create a balance between work and studies
UNTIL August 2011 the Vikram Sarabhai Residence Hall at National Institute of Technology (NIT), Rourkela, was in a bad shape. An overhead water tank and some of the pipes had been leaking. The toilets were sans  water for days together. A few wash basins were in need of repair. And  the water purifiers needed new filters.

The situation did not improve even after the election of the executive body of the hall, which houses about 500 students. Monday Morning, the college newspaper, then took up the matter, highlighting problems and slamming the authorities for their inaction.

Soon the warden and members of the executive body were on their toes and the situation began to change dramatically. "Leaks got repaired. And water purifiers acquired new filters," says a student. The vigilant media had saved the day for oppressed citizens!

In an ideal world, a campus newspaper or newsletter would do exactly what the media is supposed to do in a democratic society – be the voice of the students and hold the powers that be, accountable.

Samik Ghosal, a third-year student of B.Tech (Ceramic Engineering) and a coordinator of Monday Morning, however, describes the objective of such a paper in more modest terms. 

"A college newspaper is a means to bring students and faculty together. It helps in better interaction, especially when more than half the issues facing the institute result from misunderstanding between the two," he says. 

Of the students…
InsIghT, IIT-Bombay's student newsletter (published online and in print), has a section called 'Shout' where students flag a problem or voice an opinion. A third-year student shouted out his dismay over the selection of editors. He wrote: "The current procedure for the nomination of the InsIghT editors clearly lacks this vision. Saying that opening up this post to elections will result in election of biased editors is flawed (argument); the view of the editors will then truly be representative of the view of the janata." If that's not freedom of expression, what is it?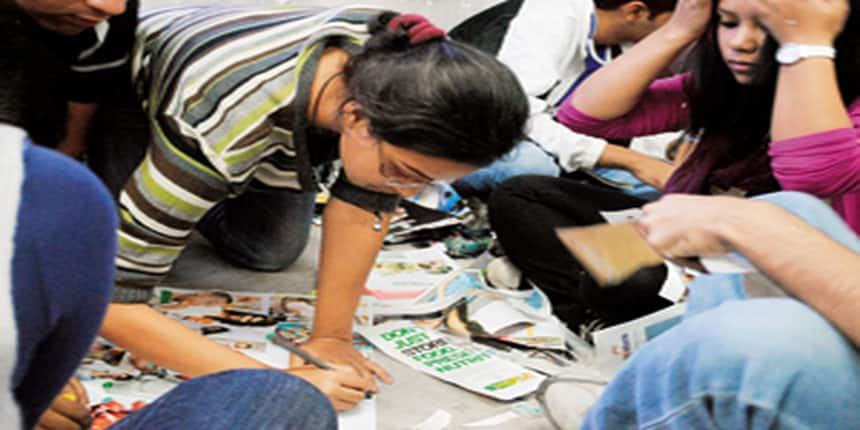 Domination – A play on 'DoMS' ie  Department of Management Studies, IIT-Roorkee

"MBA requires gathering information and knowing deeper insights of each and every current happening. A newsletter acts as a very useful exercise and solves a greater purpose"

Anurag Agrawal
MBA student, IIT-R
A student newspaper tends to be a fairly good gauge of the level of democracy that an institution allows. It's not difficult, for example, to get an idea of the relationship between the student community and the faculty or the administrators just by browsing the latest issue of the newsletter. A paper that mostly carries stilted speeches, boring notifications and some piffle on cultural programmes says a lot on how empowered students feel vis-Ã -vis those who exercise authority in matters of governance of the institution.

More imaginative student communities like to look beyond their campus, discussing wider societal, political and economic issues. An article on the portrayal of the LGBT (Lesbian, Gay, Bisexual and Transgender) people in cinema both in India and the West, for instance, featured in Sententias, the campus newsletter of Kalindi College (Delhi University). "It was much appreciated," says Tanu Malhotra, a BA (Journalism) student.

Needless to say, subjects such as placements, internships, entrance tests, events and competitions are regular features of a student newspaper.

Some student bodies choose not to come out with a print issue at all. "We have picture and video galleries of important events and interviews. We have just started a 'Placement Live' section which gives live updates of campus placement results," says Samik.

Not just journalism
Campus newspaper set-ups are a great place to learn journalistic and management skills. "An MBA course requires gathering of a lot of information and being abreast of the latest happenings in the business world. So a newsletter job is a good fit for our course work," says Anurag Agrawal, a management student at IIT-Roorkee, who collects articles and readies them for publication in Domination, his campus paper.

Arvind Sowmyan, a coordinator of IIT-Kharagpur's Scholar's Avenue says recruiters tend to be appreciative of the skills of members of the editorial team, helping them bag better placements.  For some students, a stint at a college newsletter can even be a stepping stone to enter a career in  journalism.

Balancing their course work and the considerable responsibilities of a newsletter may require some doing. "There is division of labour. Normally a member has to devote two to three hours a week to the newsletter, barring special issues that abound in content," says Samik.

Sententias makes good use of 'information technology' (to put it rather grandly). A common email account is shared by all members of the editorial team, who usually work from home. Submissions are managed through this account. Collection, editing, presenting and formulating the content is monitored. This helps them in keeping a check on the status and progress of the work done.

Sententias – Latin for English word 'Opinion'

"A Campus Journalism Act will act as a foundation of mainstream journalism. A systematic and legal formation would make it more effective as compared to its present state"

Tanu Malhotra
BA (Journalism), DU
Infrastructure and funds
Computer rooms and labs come in handy for student journalists even though laptops are becoming increasingly ubiquitous. There is always technical and troubleshooting support at computer centres, points out Samik. Meetings happen in empty classrooms or conference rooms. Since funds tend to be short of the requirements, students look for sponsorships and advertisements. But only a few lucky ones get enough of them.

"We do not receive any funding from the institute. All our funds are managed via sponsorship deals and short-term or long-term advertisement campaigns across our print and online media. We make do with equipment that we purchased from our sponsorship cash or from our own pockets – web hosting, cameras, etc. Printing is outsourced to one of the many bulk printers around," says Arvind of IIT-Kharagpur.

Treading on 'their' toes
As is the case with media in the larger society, campus papers do get into trouble with the people governing the institution. A critical tone does not necessarily invite the disapproval of the authorities. When they believe, however, that 'limits' have been crossed, authorities can do much more than just 'raise issues' with certain topics that have been covered. The Scholar's Avenue, for example, lost its funding from Students' Gymkhana after publishing a brief report on the poor condition of the hospital at IIT-Kharagpur.

Most of the times friction between  students and authorities is amenable to resolution through dialogue, says InsIghT's Archit Kejriwal, a fourth-year student at IIT-Bombay. Censorship does succeed though, sometimes. A 'controversial' piece may get a  burial or may be  suitably amended before it is published. A satirical opinion piece in Sententias, for example, on how Anna Hazare's fasts caused inconvenience to the public had to be shelved after the administration took issue with it, shares Tanu of Kalindi College, Delhi.

But at the same time, some colleges choose to screen content before it is sent for publication. An issue that is ready at the students' end is sent to a 'faculty advisor' and changes, if any, are suggested by the administration.

Faculty involvement is not always meant to serve as a leash on freedom of expression. It is sometimes intended to be like parental hand-holding. "Our director's support has been instrumental in our establishment and growth. We have not criticised anyone more openly than him, but he has never missed a single Director's Desk (his periodic interviews to Monday Morning). Even on issues where a few people in the administration have been critical, he has only given us solid advice that we are free to follow or ignore," says Samik of NIT-Rourkela.
 
Monday Morning – Signifies a fresh-morning read after a tiring week
"A college newspaper brings students and faculty together, especially when maximum issues in an institution result from misunderstanding between the two"

Samik Ghosal
B.Tech, NIT-Rourkela
 
Do we need a law?
In 1991, the Philippines enacted a Campus Journalism Act which provides for the development and promotion of student journalism. The law defines the role of a student publication and creates a framework for the State to undertake various programmes for improving the journalistic skills of students and focuses on promoting responsible and free journalism.

Some student journalists believe that India would do well to follow the Philippines as such a law would protect campus media from the arbitrary actions of the administration and make fund raising easier. "The Act would go a long way in India in ensuring that student communities learn to exercise their freedom of expression in an efficient manner. It will provide us relief from unnecessary interventions or threats from the administration and would even help in bringing about transparency and accountability in institutions," says Samik. His other team mates  include Mahesh Goenka, Sekhar Barpanda and Prateek, all engineering students at NIT.

There are also those who believe a law is no solution for various systemic problems. What is needed is a broader reform in the education system, they argue. Rohan Murdeshwar, a B.Tech student and editor of VJ News of Veermata Jijabai Technological Institute-Mumbai, points out that engineering colleges have generally been giving a short shrift to campus journalism. "Also, with the advent of social media, students prefer Facebook and Twitter to disseminate news and views. Traditional media are falling into disuse. This is not necessarily a bad thing, but is a reflection of the real world," he says. Referring to engineering colleges, he feels that there, campus journalism is usually given the short end of the stick and it takes a back seat to Robotics, Aeronautics and other allied fields.

Archit of IIT-Bombay agrees with Rohan and demands that educational institutions set up independent student media bodies that will give students a better platform to disseminate information, canvas opinion and also highlight their grievances. A perfectly sensible idea in an age of rising democratic aspirations!
NIT Rourkela brings out Monday Morning; Kalindi College, University of Delhi bring out Sententias.

Does your college bring out a newspaper? Tell us about it!