Campus life at Bharatiya Vidya Bhavan
Campus life at Bharatiya Vidya Bhavan- The unique thing about Bharatiya Vidya Bhavan (BVB) is that classes are held in the evening. So this sets the institute apart from others as it allows working professionals to study with regular students who may be also pursuing some other course during the daytime. Careers360 got in touch with a student at the institute to know more about campus life at BVB. Gandharv Gulati who currently is working with Dalit Dastak speaks about his experiences of studying at Bharatiya Vidya Bhavan, campus life, what made him choose the institute to pursue journalism and finally at how he has changed for the better with these experiences. In addition, Gandharv provides some vital tips to aspirants wishing to join Bharatiya Vidya Bhavan about the entrance exam and elaborates on the preparation guidelines, books that they can follow. To know all about the institute, campus, placements and more, read the complete interview about Campus Life at Bharatiya Vidya Bhavan as experienced by Gandharv Gulati.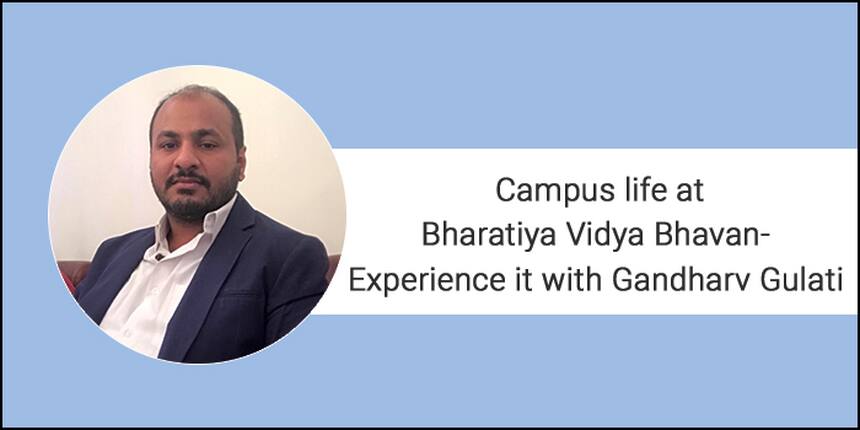 Careers360: Tell us something about yourself.
Gandharv Gulati: My name is Gandharv Gulati. I did my schooling from James Douglas Tytler School and graduation from Jamia Hamdard University (BBA). I am a working professional and had worked with Bank of America for 2 years. After that I worked with EXL services for some time. I was always interested in media and therefore thought of pursuing it to fulfil my dream. On the recommendation of a good friend, I chose to opt for admission at Bharatiya Vidya Bhawan.
Careers360: What is the best thing you like about the campus, something that differentiates it from the others?
Gandharv Gulati: Some aspects of the campus which are quite enthralling are:
The architecture for one, the trees and plants that make for the pleasant ambience, its location and connectivity to the other parts of the city, the huge space available for parking to name a few. The campus can be labelled as safe with police officials deployed nearby on an average day. The cafeteria is one good thing as food is good and economical too.
Careers360: What about the teaching methodology that is followed? What is the best feature in this? Also is the curricular in sync with the industry standards?
Gandharv Gulati: The best part about the teaching methodology is that they amalgamate both theory and practical aspects necessary for any journalist. For instance, they would hold debates and panel discussion in the class room on current affairs making it mandatory for every student to take part in it. This improved our oratory skills and provided a much needed boost to our confidence levels. It is easy to go rambling or deviate from the main issues but the faculty taught us how to remain focussed and ensured we followed the path.
Careers360: How should one prepare for the entrance exam for BVB Mass Communication 2018? Kindly suggest some books to refer to while preparing for the entrance exam.
Gandharv Gulati: Some of the books which the candidates can refer to while preparing for the the BVB mass communication exam are:
| | | |
| --- | --- | --- |
| Name of the Book | Author | Details |
| Mass communication in India |  Keval J Kumar |  This book comprises of information about almost all the aspects of media and it is the first book which the faculty will recommend to the students once they join the college |
| General Knowledge book | S.K. Raut / B.K. Mohapatra | - |
| Indian Constitution | Subhash kashyap | This book will help the aspirants to understand how the Indian constitution is made, the sacrifices that were made, how many amendments have been done till now. All this information is very important for mass communication and journalism student. |
| Indian Freedom Struggle | Bipin Chandra | Every mass communication student should know about the Indian history. It is then only that they will be able analyse/compare what is happening in the today's world. |
One important tip: Read the newspaper regularly. Also write articles as it will prove beneficial in the near future.
Careers360: What are the annual and other events at the institute? How are students involved in them?
Gandharv Gulati: Actually there are no such annual events or such at Bharatiya Vidya Bhavan. However, if the students want to organise any event then BVB extends support by providing the requisite space and equipment.
Careers360: What are the magazines or publications published by the institute? What is the contribution of students in these?
Gandharv Gulati: I am not aware about any such publication or journals that are published in-house by students.
Careers360: The class is a mix of students and working professionals as per reports. This is not generally the case with regular colleges? So how beneficial was it having a mix of students in the class?
Gandharv Gulati: The working professionals would share snippets of their work experience and clarify any particular queries or doubts if we ever asked them. It is beneficial no doubt because we learn from people who are already having work experience and incorporate the learning into our lives if needed.
Careers360: What role does Bharatiya Vidya Bhavan play in organising internships for its students?
Gandharv Gulati: We are generally aware of any openings, internships available. This is because the faculty makes it a point to circulate all details. We as students are not required to put in any effort. This is one good support factor in Bharatiya Vidya Bhavan.
Careers360: Now that you are at the fag end of the completion of the journalism course, could you elaborate a bit about placements?
Gandharv Gulati: Placements are good and we have a range of choices. I chose to work in Dalit Dastak even if I was selected for others.
Careers360: Do you think that the students who pursue post graduate diploma course in mass communication or journalism, they are on the back foot as compared to those who have a master's degree.
Gandharv Gulati: I don't think that PGDM students are on back foot as compared to Degree students. PGDM is a course of one year and it is sufficient to get the knowledge of mass communication/ journalism or any other course. If the students study religiously then they can easily compete in the market. In fact they can easily give tough competition to the degree holders.
Careers360: Tell us something about the library of Bharatiya Vidya Bhavan. How can the students use it?
Gandharv Gulati: Bharatiya Vidya Bhavan library is truly very rich as one gets books of every course other than journalism. There are books which are quite expensive and are not easily available in the market, but we can get them in the library at no cost. Students just have to mention their name, course and time in the register and they can use the library. Timing of the library are morning 10 am to 6 pm.
Careers360: How does the institute help the students in maintaining balance between theory and practical? Share details about the studios, equipment for practical exposures etc.
Gandharv Gulati: Post October, the class is segregated in two groups and seven extra classes are held for each group one at a time. In these classes students are taught how to use or handle the camera. We are also taught how to do audio-video recording, use equipment of other PCR/MCR. Students also have to do live anchoring and reporting, PTC (Piece to camera) is also a part of it.
Careers360: Are there any guest lecturers who visit the Institute? Does the institute arrange for visits to offices of news channels and newspapers and news agencies with an aim to equip media students with the current industry trends and challenges?
Gandharv Gulati: We had guest lectures by professionals from UNI (United News of India) for print and Doordarshan for electronic media. Experts from both the organisations explained the working environment and the challenges faced by media houses as well as news agencies.
Careers360: When does your placement season start? What companies visit for recruitment? How does your Institute support in preparing its students for the placement season?
Gandharv Gulati: Placements at Bhartiya Vidya Bhawan begin after winter break i.e. by mid-January when companies start visiting the campus or notify the administration for internships. Students have to go through the interview process and are selected on the basis of their performance.
Careers360: Share the most memorable experience of your campus life.
Gandharv Gulati: My overall experience was good and I have some wonderful memories of my campus life at Bhartatiya Vidya Bhawan. The faculty there has helped in shaping my career. Before joining this course I was not aware of various issues affecting our country. However, after I joined the course, I developed the habit of reading, writing and putting forth my views on various issues.
Secondly, new friends I have made here and colleagues are now like a second family to me. We might have different ideologies but we remain together.