Campus Life at DU DSJ - Experience it with Dikshant Singh
Campus life at DU DSJ – Life for first batch of students at Delhi School of Journalism has been in complete contrast to their counterparts in other colleges. While others could relax a bit, explore and participate in other activities, DSJ students have been fully focused on completing their curriculum on account of the late commencement of the course. It may be noted that DU announced details of DSJ somewhere in August with classes actually starting in September 2017. In an exclusive interaction with Careers360, Dikshant Singh talks about coping up with the hectic schedule along with various aspects of campus life at DU DSJ, namely academics, seminars, grapevine, secret hangouts and exploring north campus. Presently, DU DSJ is housed in the stadium of University of Delhi and is equipped with modern infrastructure. Read the complete interview to know all about campus life at DU DSJ, infrastructure, activities available for students and more.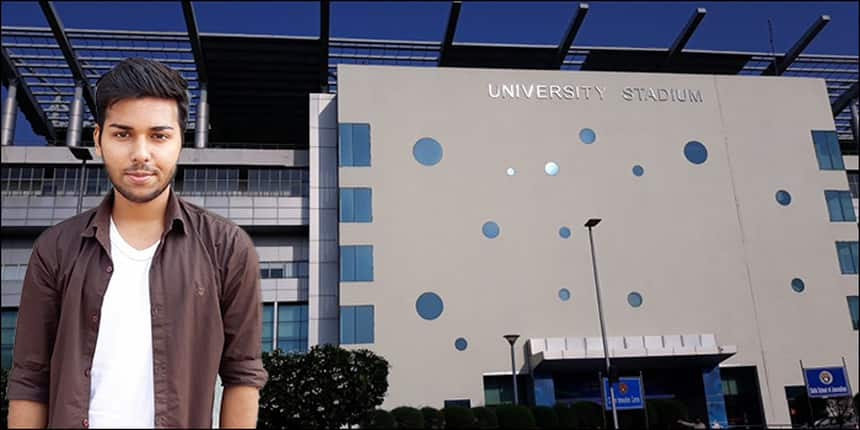 Careers360: How is your campus life? Is it all packed with normal routine activities or divided between fun and study?
Dikshant Singh: Currently, the campus life at DU DSJ is monotonous. Classes at DSJ started from October so presently we are running behind schedule. In order to keep up with the schedule, the number of classes that are being held has increased. Hence we do not get enough time for other activities. However, I hope that soon there will be some relaxation in schedule and students will get time for other activities as well.
Careers360: What is the best thing about your campus, something that differentiates it from the others?
Dikshant Singh: DSJ is being housed in the university stadium. It is a gargantuan campus and the best thing about this campus is its modern infrastructure and well maintained football field which is restricted for DSJians.
Careers360: What about the participation in Societies/ conferences and events, or even the student's contribution in the magazines/journals?
Dikshant Singh: Presently we do not have any societies, so this is something which is missing as part of campus life at DU DSJ. However on Saturdays, special seminars are conducted and media experts are invited for an interactive session with the students. On the day of official inauguration of DSJ, our first magazine, "SRIJAN" was launched. Many students contributed articles for the magazine.
Careers360: Is there any code language or may be few slang that are famous among the students which are used here?
Dikshant Singh: Sincemost of the students are from Uttar Pradesh and Bihar, some of the popular sentences that are used are "garda uda diye" which means "excellent" and "chaatukar" for someone "obsequious" These are the popular ones.
Careers360: Is there an informal grapevine communication that tells the campus students about gossips or latest happenings? Tell us something secretive about the campus, a leak perhaps which when others will read might get stunned.
Dikshant Singh: Apparently, grapevine is the only mode of communication here. Despite a hectic schedule, students get some time to gossip or discuss hot topics at the pantry or meeting room. There has always been some kind of friction between student and faculty owing to issues like: (i) high fees and undisclosed criteria for giving fee concession; (ii) transparency issues in selection of members to various committees.       
Careers360: What do you do when you are not studying or not attending the classes? Do you go to library? What do you do there apart from reading books?
Dikshant Singh: Initially I used to play football with my friends. However, we were stopped from it simply because it is a restricted area. We may start playing again if we receive permission for it. Whenever, there are no classes, I like to go to Patel Chest and Kamla Nagar. I also like to explore north campus. Apart from this I also like to participate in discussions on political issues with others in meeting room.
Careers360: Some news reports talked about student protests regarding faculty and some other issues. Can you throw some light over this?
Dikshant Singh: Yes, the students held a press conference against the hike in fee and threatened to go on an indefinite hunger strike if their demands were not looked into by the DSJ administration. They also demanded transparency in the process of granting fee concession because concessions were not given to deserving and needy candidates.
Careers360: What are the most popular hangouts in the campus? Any particular reason why?
Dikshant Singh: As I had said earlier, it is a huge campus and the number of students are very less. Hence any corner of the campus could be a secret hangout spot of squads or love birds here. Tranquility is this campus's positive point.
Careers360: How different is the campus for Hostellers and Day Scholars? What differentiates their lives?
Dikshant Singh: Hostel is yet to be provided to all the out station students by DSJ administration. Most of them are still staying as paying guests. For most of them it is an unexplored place. For some the place is exotic, however for day scholars it is common and mundane. There is not much difference in the daily schedule as we all attend the same classes and work more or less the same number of hours.
Careers360: Any special issue that needs to be taken care of by DSJ administration? Can you elaborate?
Dikshant Singh: Actually DSJ has 2 professors on contract basis while others are guest faculties. Students from Hindi journalism have been raising their voice on some serious issues like increase in number of quality teachers because most of the students from Hindi journalism are not satisfied with the professor of core course namely CC1 and CC2 and they are demanding that should be two separate teachers for both the subjects (CC1 and CC 2). They have expressed dissatisfaction with the quality of teaching by this professor. However, rules are flexible here.
Careers360: What are the best fun activities that happen in the Boys/Girls hostel, especially in the nights? Any pranks, games or may be just running around that is loved by all and adds a life to the hostel? Are there any Inter-college competitions, sports activities or any other events? What are the main attractions and buzz about them?
Dikshant Singh: Till now it is all about academics. We hope it will change with the next academic session after everything falls into place.
Careers360: Do you have any campus Facebook page where the students express their views or jokes or ideas, or maybe even a blog where students write about their experience at DSJ?
Dikshant Singh: We have an official FB page of DSJ.  There is no separate FB page where students can express their thoughts and views.
Questions related to DU DSJ Entrance Exam
Showing 4 out of 4 Questions