Campus life at Manipal School of Communication
Campus life at Manipal School of Communication - While getting out from the secure school environment and making their way to college, it is natural for students to experience an ambit of emotions - anxiety, thrill and eagerness to start their journey to a successful career. A whole new world awaits all students including the place where they will spend the next few years while moving forth on their chosen career paths. Questions on campus life, infrastructure – hostel and amenities, friends as well as classmates, extracurricular activities, leisure and more arise in the minds of all those who aspire to study there. Manipal School of Communication is a well-known name to journalism and media aspirants. The beautiful campus, infrastructure, curriculum and many such amenities are some reasons for students to choose the institute. Pradyumna Pappu who is one such student who shares his campus life experiences at Manipal School of Communication here.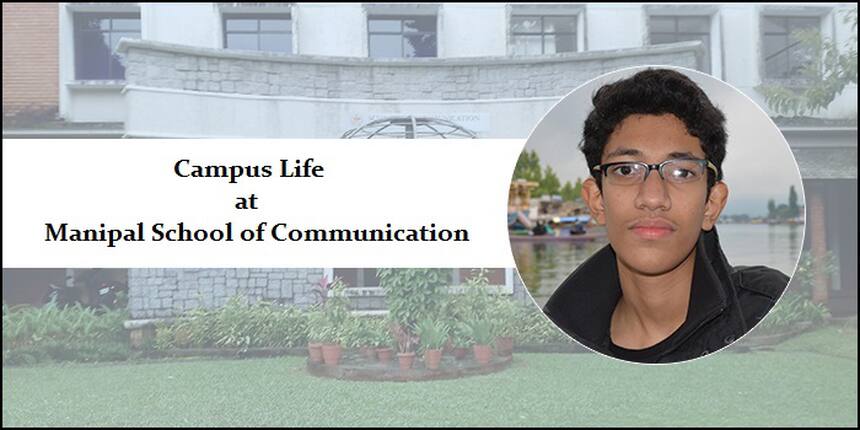 Careers360: Tell us something about yourself, your interests, academic background and hobbies?
Pradyumna: I belong to Andhra Pradesh. My hobbies include reading, writing and playing badminton. I have done my class XII from FIITJEE Vizag.
Careers360: Which programme are your pursuing and what inspired you to take it up? Tell us something about the programme which you are pursuing?
Pradyumna: Currently, I am pursuing undergraduate programme in media and communication at Manipal School of Communication. From my school days, I have a knack and a deep rooted interest in writing which in turn inspired me to take up this course. I also like photography. At Manipal, I hope to get an in depth understanding about print media and broadcast journalism. I will also be learning the basics of digital media.
Careers360: Tell us something about Manipal School of Communication. How do you think is the institute different from other mass communication institutes?
Pradyumna: The campus is beautiful as it is open and green. The institute has its own production studio and newspaper which I believe are essentials for every journalism student as it allows an understanding of how journalism and media work albeit in a small way.
Careers360: Was pursuing the mass communication course from Manipal your first choice? If yes, then why?
Pradyumna: My first preference was to join Symbiosis. Manipal was my next choice. I have heard about it from my peers and elders so when I got the admission here, I didn't hesitate.
Careers360: What are the activities organized by the institute apart from the daily routine? Do you take part in them?
Pradyumna: Debates, tournaments, theatre clubs and events, talent shows etc are conducted on a weekly basis. I am new but I have applied to some and yes, I do intend to participate in many events and activities. These give a lot of exposure so it's good to be part of them.
Careers360: What differentiates Manipal School of Communication from other mass communication and journalism colleges?
Pradyumna: The atmosphere, the ambiance, everything makes the campus different from other institutes. The campus is huge, green and beautiful. All modern amenities are available.
Careers360: Tell us something about the curriculum that is taught at the institute. Has the institute been able to successfully maintain balance between theory and practicals? Is the institute equipped with the latest technology and equipment?
Pradyumna: A balance is maintained with regard to theory and practical knowledge. Equal importance is attached to both. We have separate periods dedicated exclusively for practicals and theory. The technology and equipment however are not used by the first year students. However, after seeing the labs and studios, I can say confidently that the institute is well equipped.
Careers360: Do you have guest lecturers visiting your institute? Does the institute organize visits to news channels, newspaper offices or even to parliament where you get an idea about how to cover such proceedings?
Pradyumna: I am told we will havea couple of guest lectures once in a while. It is too early to have educational visits to any of the newspaper channels or newspaper offices so I can't comment much on that.
Careers360: Since internships are very much integral to a media student, does the institute facilitate internships?
Pradyumna: The Institute provides immense support to the student for Summer Internships and even makes it mandatory for third year students to take up internship during their academic year.
Careers360: How is the overall infrastructure of at Manipal School of Communication in terms of accommodation and food?
Pradyumna: It is simply impeccable. I am really liking everything about the campus. 
Careers360: Is there any in-house magazine or journal that is available? If yes, do students contribute to it and how?
Pradyumna: The institute does have one in house magazine. It is called the Manipal Journal. It's an independent, student-run News House. The students are responsible for it in every sense of the word.
Careers360: Tell us some of about the popular hangouts at the campus. Which are the places in close proximity to the campus that are visited a lot by the students?
Pradyumna: The eating joints as usual are flocked by students. Places like Canara Mall, INOX and KFCs are also visited frequently by students for making purchases.
Careers360: What do you do during the Leisure time?
Pradyumna: I like to hang out with my friends in the cafeteria or play table tennis in the hostel.
Manipal University Updates and Articles
Media Director Interview: Dr. Nandini comments that constant u...
29 May 2017
Questions related to Manipal University
Showing 542 out of 542 Questions