Career in Filmmaking: Exclusive interview with Whistling Woods President Meghna Ghai Puri
The filmy world is fascinating for many students and many wish to be a part of it. Most of the students in today's generation opt for filmmaking studies to be a part of this glamorous world. To bridge the gap between the students and the requisite knowhow on courses /institutes to opt for film studies, Careers360 brings forth an exclusive interview with Meghna Ghai Puri, President, Whistling Woods International to know what the current trend in filmmaking studies is, factors to look for while selecting a college and how WWI's School of Filmmaking contributes to shaping careers of these mushrooming filmmakers. Whistling Woods International (WWI) is a growing filmmaking institute founded in 2006 and run by Bollywood's showman Subhash Ghai's daughter Meghna Ghai Puri. In a short span of less than 8 years, Meghna has spearheaded the launched of eight schools within Whistling Woods that offer degree and diploma courses in Film & TV, Acting, Animation, Fashion and a MBA in Media and Entertainment & a BBA in Media & Communication to name a few.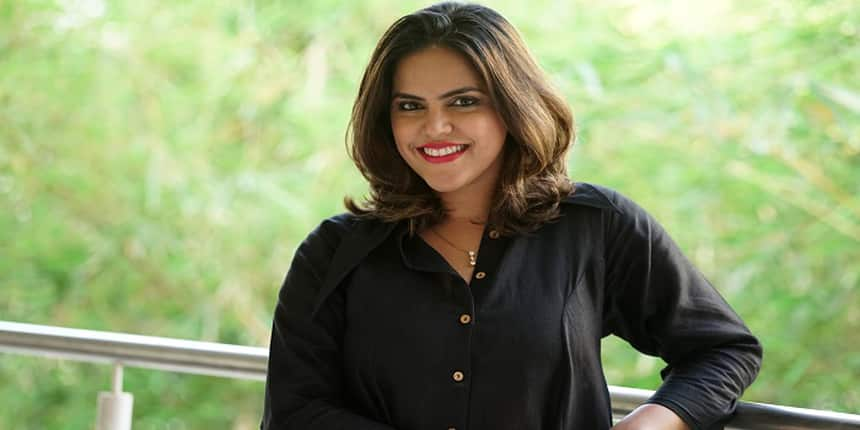 WWI's School of Filmmaking is one such institute that is evolving at a rapid pace in India. The school offers undergraduate programmes in filmmaking and screenwriting for the duration of three years. It also provides an advanced diploma in filmmaking with specialization course for all the zealous working professionals who wish to make a mark in the industry. Not only this, the school has also partnered with over 30-40 international film schools offering filmmaking courses to impart professional knowledge and keep their students up with the industry trends.
Careers360: What has been the most important development in the area of films studies in recent years?
Meghna Ghai Puri: The media industry is generally a very dynamic industry and keeps changing from time to time. It is not season-driven, but an audience-driven industry, as audience's choice matters a lot when it comes to content and storytelling. Unlike an FMCG brand, you can't come with a product for each season. So, fortunately, or unfortunately you can't point out any trend. However, over the last three years, technology in filmmaking has changed a lot. Earlier we use to put up sets, spend a lot of time in pre-production, while now we rely a lot on special effects and VFX. Films such as Baahubali are being made in large scale with the help of these technologies. It has added a new area for the creative people and another field has been added in the curriculum of the film and media students.
Careers360: Is it important for a student to pursue film education to enter the industry?
Meghna Ghai Puri: Filmmaking is a very complex subject as it is an amalgamation of technology, art, and business. A specially designed course will provide a solid foundation to the students and let them understand what is really involved in the filmmaking process. From using the camera to writing a script and to sell it to a producer, everyone needs to learn how to do all these. Of course, talent is needed, but the talent is to be honed to provide longevity to their career. Education has a lot to offer in every field and film and media is no exception. 
Careers360: What according to you is a primary requirement for a student who wishes to pursue filmmaking?
Meghna Ghai Puri: The students ideally should be creatively inclined, and they must possess inherent talent as well. The student needs to have a knack for storytelling and should be able to connect with others as the art of storytelling interweaves every other area of filmmaking. Passion is the most important driving force to succeed in any profession and one should be hardworking and willing to take up any challenges that he/she may face. There is a lot of glamour involved in this industry but a lot of hard work is also needed to achieve the glamour.
Careers360: What does the institute look for in a student during the admission process?
Meghna Ghai Puri: At WWI, we offer degree & diploma programmes. Students need to meet the cut off-list and qualify in the merit list, followed by a one on one interview. They need to submit a portfolio of their previous work. Then we decide that whether they should be taken in that particular school for which they have applied for. Our faculty committee decides on that. A student who wants to pursue a course and be a part of this industry first and foremost needs to be creatively inclined.
Careers360: How does the institute equip students with the industry knowledge through its degree programme? What is the curriculum, the pedagogy followed?
Meghna Ghai Puri: All the WWI's faculties are industry professionals. Every week, 3-4 master classes are conducted for each school where industry experts share their expertise and knowledge with students. Guest faculties are regular at our college. We follow future trends and our USP is that, we are very much connected and supported by the industry. WWI believes in training students for industry tomorrow. Therefore, we put in a lot of research and development before setting up the curriculum.
WWI started initially with a diploma course but after 10 years, we have designed the curriculum that is a perfect balance between practical training and theoretical knowledge. We have recently launched our own VR Lab. We ask industry people to come and work with us and show the students how films are being made using this technology.
Careers360: Are internships a part of the programme? If yes, how does the institute support its students to get internships?
Meghna Ghai Puri: All programmes have internships associated with them. Some are called internships while some are live projects. Some students find their own internships with industry experts. We have a dedicated placement cell that helps them with internships as well.
Careers360: There are other schools offering a wide range of courses in Whistling Woods. Can you elaborate on the kind of courses and programmes offered?
Meghna Ghai Puri: When Whistling Woods started, the only course available was filmmaking and WWI was only a film school. But with time we slowly understood that there are other disciplines, for which we can also start courses. So then we have started School of Media and Communication, where subjects such as Journalism, PR, Media Distribution, Marketing, Events are taught. Slowly we started expanding and launched the School of Fashion, Music, Design, Animation etc. We ensure collaboration in such a way where all the students work together. The degree courses are for undergraduate students while the diploma courses are for working professionals or for students who are a little old & wish to enhance their qualifications.
Careers360: Can you give some details about the accreditation for the courses that are offered by the institute?
Meghna Ghai Puri: Degree courses are accredited by Tata Institute of Social Sciences (TISS), whereas, diploma courses are accredited both by TISS and WWI.
Careers360: Share details about your placements, what companies visit, what jobs are offered to the students.
Meghna Ghai Puri: We have a special department assigned for placements, they help mentor students in decision making and choosing the right career option. The idea is to maintain a link between the students and the industry. Our councilors guide them that which company or which role will be suitable for them. At present, there are more than 1500 plus alumni working in the industry. We have a 100% placement rate. Our alumni hold positions in various sectors and often offer placements for the graduating students.
Careers360: Tell us more about your collaboration with YouTube to host India's first and Asia's second, YouTube Space Mumbai.
Meghna Ghai Puri: YouTube Space is an initiative started by Google as a philanthropic effort, where Google helps all the budding YouTube Vloggers to excel in the way they make videos which includes training sessions, editing, shooting, making money with the videos etc. They also conduct a lot of training sessions for them. Whistling Woods International is the only school in India to be associated with the YouTube space. It helps the students of Whistling Woods International to learn from this experience.
Careers360: Your institute is a member of Centre International de Liaison des Ecoles de Cinéma et de Télévision. How does it help your students? Do they get to do projects, training, or showcase their productions?
Meghna Ghai Puri: Some partnerships are to build your institute and make it better for students. So we become a member of CILECT to learn the trends of education in terms of filmmaking and to understand international trends as well as progress in the field of film education. The biggest advantage was we could send faculty to learn, and in return we can also invite international faculty so that our students also learn from them. We update our curriculum almost every year to stay ahead of time. The third is collaborating and co-producing with different universities in different countries. WWI will be hosting the 2018 event of CILECT.
Careers360: When it comes to selecting film-making institutes, students are seen to prefer Govt funded institutes like FTII etc. Is this scenario changing, what is your take on this?
Meghna Ghai Puri: FTII is very well known and 'historic' in the sense that it has given such illustrious alumni. It's a great institute! However, the number of students that graduate from FTII every year is very less and our industry needs more manpower. So, there is a need for good quality film schools in our country. So students will choose those schools where they will get the best opportunity.
Careers360: While applying to particular college or institute, what should candidate look for in them?
Meghna Ghai Puri: I feel that film and media is a very nascent industry when it comes to education. That is why students should do a lot of research before enrolling into the institute as it's a matter of their career. They should do their research about the kind of faculty, technology that the institute is providing, as this will impact all practical decisions about their future. Students should also check the kind of curriculum that is taught and ensure that the technologies they are working with are at least 6 months ahead of time.
No institute will guarantee you 100% placement. But only because you are a student of a reputed one, the industry will put faith in you. Fortunately for us, the industry has a lot of faith in WWI. The brand that we have made in the last 10 years is a quality brand.
Careers360: Can you give us details about Virtual Reality - how WWI is contributing and coping up with the same?
Meghna Ghai Puri: There are three film viewing platforms - films, TV and digital (mobile). Historically, the film education has happened in two axes. You either do foundation education and specialization education or you do theory and practical. WWI has added a third axis which is the VR platform. We have set up the VR lab keeping in mind that India is going to be one of the largest consumers of VR by 2019-2020.
Careers360: Can you detail any key changes in the institute's course structure that will be introduced within the next few months? Any changes that lie ahead of the institute?
Meghna Ghai Puri: WWI is a very dynamic institute; we keep updating our curriculum regularly. The technology is getting fast, so what we try being up to date with the technology curriculum. AR games and comics are a huge part of WWI. We have started with 75 students and now our present capacity is 950 students, so we have really come a long way.
Whistling Woods International, Mumbai Updates and Articles
Whistling Woods International Admissions 2020 - The conducting...
09 Jul 2020
Questions related to Whistling Woods International, Mumbai
Showing 1 out of 1 Questions
20 Views
which college is best in guntur ap
Hi vamsi,
There are many good colleges in Guntur and their some of them are as follows.
RVR and JC College of Engineering
KL University
Vasu Reddy Venkatadri Institute of Technology
Vignan Lara Institute of Technology and Science
Vigilance Nirula Institute of Technology and Science for Women
Malineni lakshmaiah womens Engineering College
Chalpathi Institute of Institute and Technology
I hope your question has been answered properly.
All the best for your future!