Chitkara University was established in 2010 by the Punjab State Legislature under "The Chitkara University Act". It is a government-recognized university with the right to confer degrees as per the UGC Act, 1956.The university campus is equidistant from Chandigarh, Mohali, Ambala, Panchkula, and Patiala. The university maintains a good faculty-student ratio. Chitkara University offers multi-disciplinary UG, PG and Doctoral degree programmes in fields like engineering, management, applied health sciences, design and more.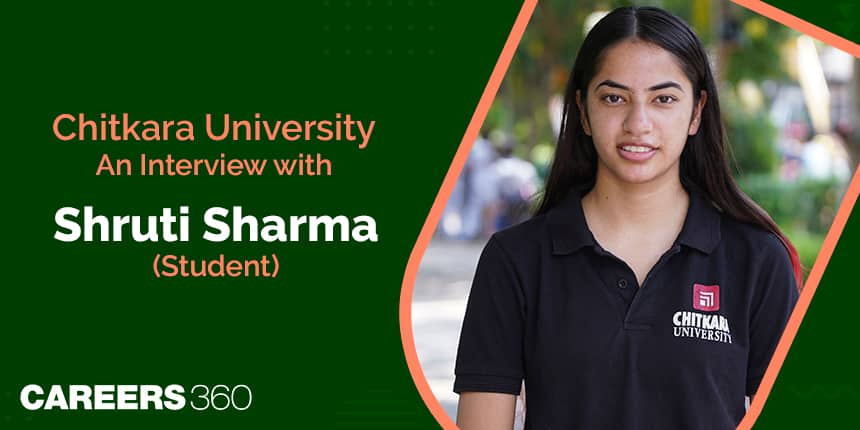 Chitkara University: Interview with Shruti Sharma (Student)
Careers360 brings you an interview with Shruti Sharma, an BJAMC, 3rd year student at Chitkara University, Chandigarh. In her interview, Shruti shares her experience and life at university and all other things about the university. To know more about Chitkara University from a student's perspective read the full interview of Shruti Sharmawith Careers360 in the article below.
Careers360: Tell us something about yourself such as from which place are you from?
Shruti Sharma: My name is Shruti Sharmaand I'm from Jammu.
Careers360: Presently which course are you pursuing and in which year are you?
Shruti Sharma: I'm a 3rd year student of bachelors in journalism and mass communication.
Careers360: Did you face any difficulty in the initial months when you joined the institute?
Shruti Sharma: I'm pursuing my degree from Chitkara University and I'm really grateful for joining this campus. My initial days in the institute were a bit busy and afterwards I started enjoying being on campus. I didn't face any difficulties as such.
Careers360: What activities are offered in the institute? Are there any clubs etc for the various extracurricular activities? Which ones have you taken up and are a part of?
Shruti Sharma: There's a number of activities and clubs for the students in Chitkara, a club for photography, different dance groups, sports activities as well as NCC. I'm a 3rd year NCC cadet of the Air wing.
Careers360: Describe a typical day at your institute – what do you do from the time you wake up till you go to sleep?
Shruti Sharma: Well each day at university is unique in itself but the basic routine which I follow regularly begins with attending my class which is in Picasso block. After my classes, I usually go to the cafeteria to eat something. In the evening around 7 o'clock I go downstairs for some recreation. At 9 p.m. I have my dinner. This can be described as my typical day at the institute for sure.
Careers360: Tell us about the faculty-student ratio here and about the teacher-student relationship in your understanding.
Shruti Sharma: I'm a mass communication student and my subject teachers, mentors and dean are all passionate about their work and take care of the students with the same enthusiasm. In my batch, bjmc 3rd year there are 62 students and the number of teachers is fine for us. Each student is heard, understood, talked to and explained by the teachers they put questions to. Here, teachers hear our problems and try to guide us through the same. If a student do something stupid then he/she gets scolded too.
Careers360: What facilities do you have in the campus? What do you like here the most which you feel is unique and differentiating?
Shruti Sharma: Chitkara has all the basic facilities, computer labs, editing labs, and quality systems to work on. The university is clean and is located at an ideal location. Each lab is well equipped. One more thing which I like about the university is its security.
Also Read:
Careers360: How comfortable are your hostels and how about the cleanliness factor over there?
Shruti Sharma: The hostels are very much comfortable and we are also given choices to choose our hostel rooms, whether we want an air-conditioned room or not. The rooms and washrooms are cleaned on a daily basis.
Careers360: What about the medical facilities? Can you avail requisite medical attention if needed in an emergency?
Shruti Sharma: There's a dispensary available in the campus by Neelam Hospital. The students who need any medical attention can avail the facility. We also have two hospitals within 5 km of our university.
Careers360: How do you balance your studies, projects, exams and other activities?
Shruti Sharma: Honestly, it's all about time management and making your schedule properly. I like to do my work or study late at night. If I have any project or assignments, I go to the library of my department and work there. During exams we study in groups and after that I study individually. I also make time for other activities too, because I take small breaks during my study time.
See Also:
Careers360: Tell us about the clubs and societies at the campus and how significant are they from your point of view or students point of view?
Shruti Sharma: We have different clubs for different activities in the University like Tasveer for photography, Dhawani for music and singing, custody for western dance groups, Gidda for folk dance and many more. Each club is unique and is valuable as extra credits are given to the students who enroll themselves in one or the other clubs. I feel having clubs and extracurricular activities in the institute is socially good for the students as it makes them feel confident and helps them grow personally.
Careers360: Is there any in-house magazine or journal for the latest events or happenings at the institute?
Shruti Sharma: Yes, we'd have an in -house journal which covers the latest events or happenings at the university. Not just a journal but Chitkara has different accounts on social media platforms to inform the world about the events, circulars etc
Careers360: What are the popular hangouts at the institute? What, according to you, are the most-visited places nearby?
Shruti Sharma: The most popular hangout places at the institute are the cafeteria called square 1, adjacent to it a mini bus converted into a juice corner for students to sit and hangout with their friends. We also prefer sitting at the alpha zone. Prime Hub which is just 10 minutes from the campus. Another visiting place nearby is the Bollywood guly.
Quick Links:
Careers360: How do you spend your leisure time at the campus?
Shruti Sharma: It can be said that most of the time I'm busy with my stuff in the campus but in the meantime I also m free and I like to spend that time by writing my journal or having fun with my friends in the university.
Careers360: Do you have any Facebook page of your campus where the students express their views, jokes or ideas, or maybe even a blog where they write about their experience of life at campus?
Shruti Sharma: A big Yes! We do have facebook as well as instagram pages of our campus.
Careers360: What type of companies come for campus recruitment and what percentage of students get placed every year? How is the recruitment process here?
Shruti Sharma: Chitkara University holds the record of having maximum number of placement offers every year, more than 95% of the students get placed in one or the other big companies. For different departments, different recruiters visit Chitkara during its placement season. Some of the companies that visit Chitkara are Google, Microsoft, HCL, Zee News, News 18 (for mass communication department), Wipro etc.
Other links: Chitkara University Q&A
Disclaimer: This content was distributed by Chitkara University and has been published as part of Careers360's marketing initiative.
Other Popular Institutes: