Media Director Interview: Constant upgradation of technology is a challenge in media education, Dr. Nandini Lakshmikanth, SOC, Manipal University
Director of School of Communication, Manipal University, Dr. Nandini Lakshmikantha, discusses with Careers360 the major challenges in the Media education domain as well as in Research field. In this interview, she further shares the importance of internships for media students and need for orientation programmes to inculcate skills required in mass communication and journalism profession.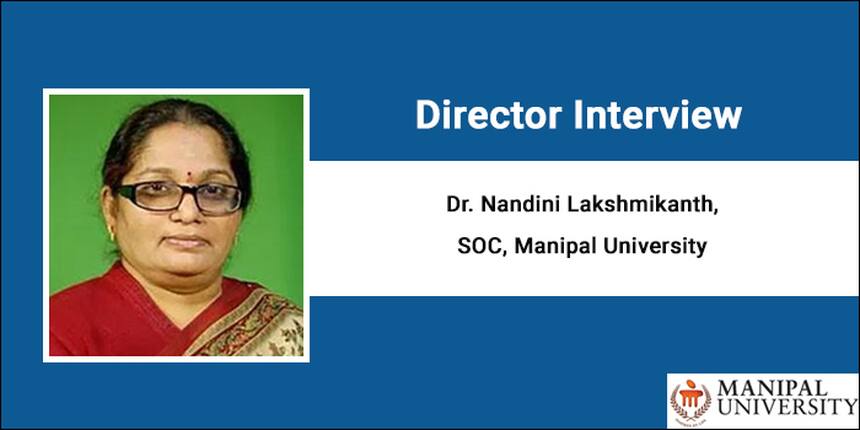 Dr. Nandini opines that constant upgradation of technology is one of the major challenges and institutes must focus on upgrading and integrating such mediums to keep their students at par with the industry standards. She also talks about media research, internships, and placements in her interview. Read excerpts below.
Careers360: What have been achievements of your Institute in the academic year 2016-17?
Dr Nandini: Over the years, we have established new connects with international universities for student and faculty exchange program. Apart from this, we established Media Research Centre, to facilitate research activities in Media related fields. The Institute conducts one International Conference, one national seminar on Photography and one National Level Health Colloquium which is interdisciplinary.
Careers360: What are the changes that you plan to bring into your curriculum in the next two years?
Dr Nandini: We update our curriculum once in three years for both undergraduates and Post Graduates. This year for Masters we have incorporated changes by giving a bouquet of subjects which are more suitable for the current status of the industry. The change will also enable the students to streamline their proficiency in their area of interest.
Careers360: What are the recent trends, in terms of practical exposure, new fields etc. in media and journalism education that you have observed in the past few years?
Dr Nandini: This is my 17th year of being in academics. According to me, if a media teacher is alert he/she will introduce practicality of the subjects to the students despite the period or situation. Teaching is a continuous form of learning.
Careers360: What is your take on the status of research in media and journalism? How must research work on media and mass communication be promoted?
Dr Nandini: I feel that media research in India is still in its infancy. In School of Communication, we encourage students both at undergraduate and Post Graduate level to participate and present their research papers in national and international conferences. Faculty participates in international conferences as paper presenters. Many of them chair the sessions, deliver plenary talks and keynote address. We have also established Media Research Centre, funded and strengthened by Manipal University.
To take media research to a new level, investigations should begin on a secondary level. Other areas where a media and communication researcher can enter to conduct interdisciplinary investigations should be explored by the media researchers. Instead of just identifying the problem areas, it's high time we as researchers start developing modules and models suitable for an Indian audience.
Careers360: How has been the placement trend at your institute? Please share below data on placements. Please also share any specific trend that you have observed this year.
Dr Nandini:
| | |
| --- | --- |
| Number of participating students | 125 |
| Number of participating companies | 27 |
| Company making highest offer | TAFE |
| Top recruiting companies | TAFE, Thomson Reuters, Genesis Burston Marstellar, ViaCom, Zee TV, Social Panga, MSL, Cognizant, UBER. |
Careers360: How do you prepare your students for the placement process?
Dr Nandini: Special Orientation programs preparing the students for placements would be conducted.
Special lectures for facing the interviews and other presentation soft skills are included in the curriculum.
Students also undertake soft skill courses in the beginning of the semester.
Careers360: How important internships are for media graduates? How do you support students to get internship offers?
Dr Nandini: Internships are mandatory for students both at the undergraduate and Post Graduate levels. Internships are an important component and are being evaluated both at the College level and also at the workplace of the students. The Internship/Placement Cell of SOC supports the students by getting in touch with the companies of their choice. Paid internships are also being arranged for the PG students of the College.
Careers360: What are the key challenges that media education face today?
Dr Nandini: Constant upgradation of technology could be considered as a major challenge. Absence of professionalism for media education provides a free entry to anybody who is interested in entering the industry is yet another problem which media education faces. People with no background education in media are consistently being absorbed by the entertainment and digital industry, as they can be hired at lower costs.
The delink between the academicians and the industry is third problem. Unlike in the west, the recruitment process for an academician does not ask for compulsory experience in the field. A golden handshake between industry and media education, the involvement of professionals in academics as part of BoS members will undoubtedly take media education to a new level. Similarly, a provision from the academic institutions should be made to facilitate a compulsory internship for an academician periodically, in an industry of his/her choice to understand the delicacies of the field better.
Visit www.media.careers360.com for more news and updates on Media
Get real-time alerts on exam & colleges at your fingertips with Careers360 App!
Click Here to Install or Give a missed call on 08080944727 to get app link.
Manipal University Updates and Articles
Campus Life at Manipal School of Communication- Read the compl...
17 Aug 2018
Questions related to Manipal University
Showing 509 out of 509 Questions