DU DSJ 2018 Exam Day in Pictures
DU DSJ 2018 Exam Day in Pictures - Delhi School of Journalism is conducting DU DSJ 2018 entrance exam in online mode on June 19, 2018. The entrance exam for five year integrated course in journalism has commenced with students coming at their assigned exam centres. The reporting time for DU DSJ 2018 is 7:00 am that is one hour before the exam time. DU DSJ 2018 has started at 8:00 am. It is two hours entrance exam where candidates have to answer 100 Multiple Choice Questions (MCQs). Team Careers360 visit the Aakash online testing centre, Jahangpuri, one of the exam centres of DU DSJ 2018, to bring to its reader live coverage in the form of DU DSJ 2018 exam day in pictures from the venue. Catch the live coverage of DU DSJ 2018 entrance in pictures below:

LATEST - DU DSJ Result Announced. Check now!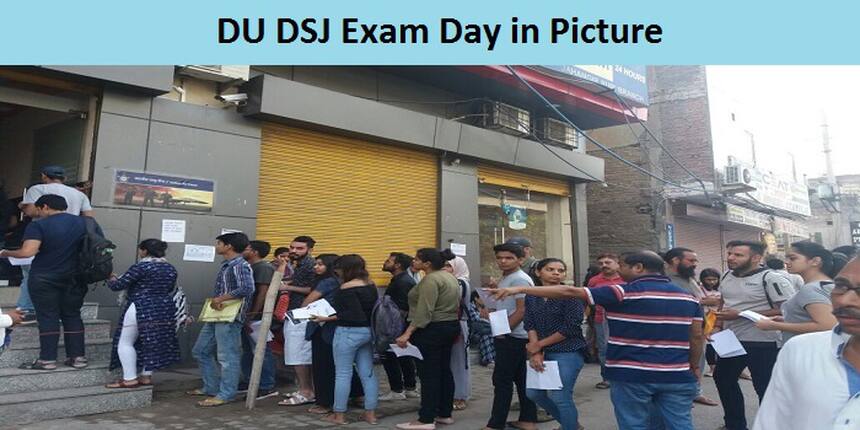 DU DSJ 2018 Key Highlights of Exam Day
Get some of the glimpse in the form of pictures from the DU DSJ 2018 exam centre below. Careers360 brings DU DSJ 2018 exam day in pictures where we captured students reaction. Camera frame captured different moods, the sequence of events like entry of candidates, frisking, verification of admit card, final entry into the exam hall and so on.
Students reporting to exam centres
Students started arriving at the exam centres from 6:45 am to appear for DU DSJ. Along with the wards, parents are accompanying them to the exam centres. Kirti, one of the aspirants of DU DSJ 2018 in an interaction with Careers360 said, "I took various mock test at the facilitation centres. In the mock there were 80 questions. The questions in the mock tests were mostly from current Affairs and general knowledge. My strong area is English and I want to take up hotel management as a career. DU DSJ is my back up option."
Parents and Students Waiting for Exam Centre To Open
Parents and students reached the exam venue before the reporting time. Accompanied by their parents, some students looked perplexed, while others were just curious to enter the centre gate. While waiting for the exam gate to open, team Careers360 interacted with Kishan, another aspirant of DU DSJ 2018 to know his preparation level. "My strong area is General Knowledge. I am going to appear in the exam for Hindi Journalism. I am happy that exam is in online mode as the result will be declared soon. However, I did not practice any mock test."
Exam Centre Gate Open at 7:00 am
Aakash online testing centre, Jahangpuri gate open at 7:00 am. Students rush towards the gate to make their entry.
Frisking at Exam Centre
To make sure that no cheating occurs, entry of candidates is followed by frisking and verification of admit card.
Making Announcement Related to Entry Rules
At the entrance of the gate, security person is making the announcement related to the entry to the examination hall. Only admit card, photo identity proof and a pen is allowed inside the examination hall.
Verification of Admit Card and Submitting of Bags
Students getting their admit card verified and also submitting their bags.
Last Minute Announcement
Last minute announcement related to entry and verification. Security person asking candidates to hurry up as entry is about to close.
Last Minute Entry
Father taking bag from the daughter at the entry gate. Centre staff cooperate with the student and allowed her to appear for the exam after the Gate was closed. They opened it for her.
Gate Closed, DU DSJ 2018 Commenced
Gate opened at 10:00 am, DU DSJ 2018 Exam concludes
Questions related to DU DSJ Entrance Exam
Showing 4 out of 4 Questions