DU DSJ Entrance Exam Analysis 2019
Highlights :
DU DSJ answer key 2020 released on September 25
DU DSJ exam Analysis 2019 - National Testing Agency successfully conducted DU DSJ entrance exam 2019 on July 4. Candidates found the exam moderately difficult. The exam was conducted in computer based mode from 8 a.m. to 10 a.m. This entrance exam is conducted to grant admission to qualified candidates to five year integrated journalism programmes at Delhi School of Journalism. Here, we bring forth the DU DSJ exam analysis as mentioned by the test takers. The exam analysis of DU DSJ 2019 will give an idea about the difficulty level of the exam and types of questions asked. Careers360, in this article mentions the complete DU DSJ 2019 exam analysis, including the exam structure and past years' cutoff, etc.
Latest: DU DSJ answer key 2020 released on September 25
DU DSJ 2020 result to be declared on October 19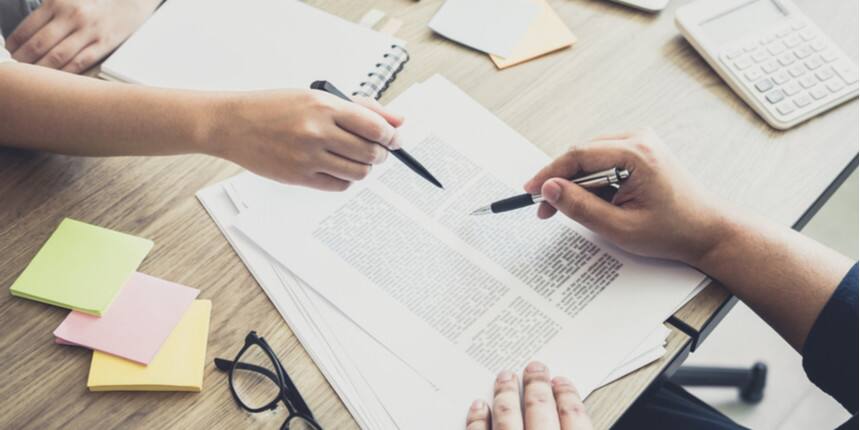 DU DSJ Exam Analysis 2019
DU DSJ entrance exam was conducted in both English and Hindi medium and the duration of the exam was two hours. Candidates answered multiple-choice questions in the entrance exam. The total number of questions asked was 100 and the total marks allotted for the same is 400. Candidates will be awarded four marks for every correct response while 1 mark will be deducted for wrong response.
DU DSJ Exam Analysis
| | | |
| --- | --- | --- |
| Serial Number | Sections | Difficulty Level |
| 1 | General Knowledge | Moderately difficult |
| 2 | Current Affairs | Easy |
| 3 | Reasoning | Moderately difficult |
| 4 | Quantitative Ability | Moderately difficult |
DU DSJ 2019 Exam Analysis- Questions Asked in the Exam
King Bhoja, who is a great patron of literature and art, belonged to which of the following dynasties:
1. Gurjara-Pratihara
2. Karkota
3. Parmara
4. Utpala
Which of the following state is India's largest Bauxite producer?
1. Rajasthan
2. Karnataka
3. Jharkhand
4. Odisha
Which of the following cities have been declared the 2019 World Book Capital?
1.(WBC).Sharjah
2. Berlin
3. New York
4. Kolkata
Which one of the following is FM channel of the All India Radio?
1. FM Gold
2. Radio Mirchi
3. Red FM
4. Big FM
Which three rivers originate from Mansarovar Lake?
1. Indus, Jhelum, Satluj
2. Brahamaputra, Indus, Satluj
3. Brahamaputra, Ganga, Indus
4. Jhelum, Satluj, Yamuna
Which one is known as a 'greenhouse gas'?
1. Oxygen
2. Nitrogen
3. Helium
4. Carbon dioxide
Which new sports was recently included in the Paris 2024 Olympics?
1. Squash
2. Artistic
3. Chess
4. Break Dancing
Which year is known as the 'Great Divide' on the basis of demography in India?
1. 1921
2. 1941
3. 1951
4. 1931
Which country has the largest whatsapp users?
1. India
2. USA
3. UK
4. China
Where was the 11th International Hindi Conference organized?
1. Johannesburg
2. Mauritious
3. New York
4. New Delhi
click here to check the complete question questions that were asked in DU DSJ entrance exam
Test takers who would have objection regarding DU DSJ 2019 answer key, they can challenge the same within 48 hours of its release. The link to the objection tracker will be sent to candidates on their registered email ID on July 9, 2019. The authorities will release the final answer key of DU DSJ entrance exam 2019 between July 12 and 20 in both Hindi and English medium. It is to be noted that students must follow the marking scheme specified by the university when calculating their score.
DU DSJ Result 2019
The authorities will release DU DSJ entrance exam 2019 result in online mode on July 20, onwards. Candidates have to enter their credentials to check the result. The institute is likely to release three merit lists based on the performance of students.
DU DSJ Cutoff 2019
The cutoff of DU DSJ 2019 is the minimum marks that candidates have to secure to get admission in Delhi School of Journalism. The factors that are taken into consideration while determining cutoff are:
Number of candidates appeared for the exam

Number of seats available for admission

Difficulty level of the entrance exam

Past years cutoff trend
DU DSJ Cutoff 2018
The table below contains the category-wise cutoff of DU DSJ 2019. Candidates can check the table to know the cutoff of the past year and estimate their chances of admission.
| | | |
| --- | --- | --- |
| Categories | English | Hindi |
| General | | |
| OBCNC | | Download here |
| SC | | |
| ST | | |
| Combined Result | | |
DU DSJ Selection Process 2019
The qualified candidates in the entrance exam will have to take part in the selection process, which includes verification of documents. Once the process of verification of documents gets over, candidates have to take the printout of filled application form and submit the requisite documents and pay the admission fee.