"Ethics in journalism have been given a huge space in digitization," says Rupa Jha, Head of Indian Languages, BBC World Service
Journalism is seeing continuous evolution with the advent of digitisation and the transformation has been majorly in terms of the way information is disseminated. Amongst changing technologies, journalism ethos, some have made their mark and continue to do so. BBC, the world's oldest national broadcasting organisation is one such well-known name in the journalistic world.  The largest organization in terms of the employees and with a worldwide presence, and with stress on ethics in journalism, BBC is one organization that journalism aspirants aspire to work in. Careers360 talks to Rupa Jha, Head of Indian Languages, BBC World Service about a wide array of issues including her journey into the field of journalism, role of women in media, ethics in journalism, etc. Having started her career with BBC, Rupa also talks about how BBC functions, internship opportunities and traits of good journalists. Read on the interview with Rupa Jha to know more about current journalistic practices, what makes journalism a vibrant field and who should take up journalism as a career.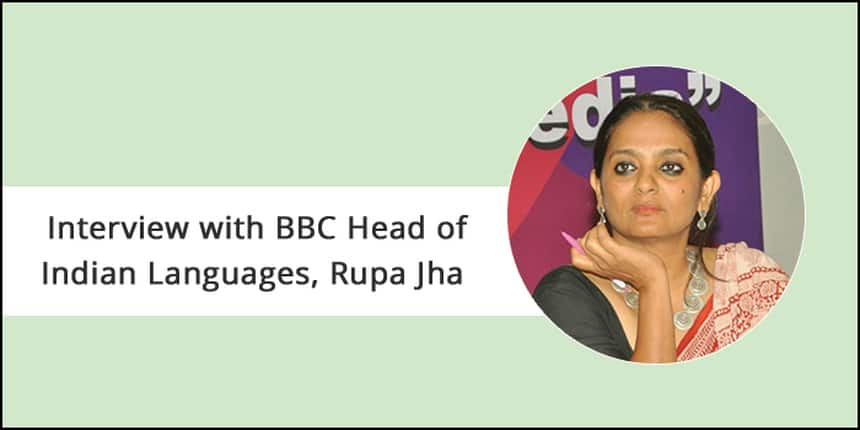 Careers360: What made you choose journalism as a career? Tell us something about your journey as a journalist, your work etc? Could you talk about the various media where you have worked?
Rupa Jha: It was by an accident that I ventured into the field of journalism. I was studying law, which I loved as a subject. I was always keen in social political affairs. I was freelancing with All India Radio (AIR) and Doordarshan (DD) as a student to earn some money to take care of my expenses as I was staying in a hostel. At that time BBC Hindi had come up with some vacancies looking for fresh young journalist. I got to know about it. I appeared for the test and got selected. The beauty of BBC's recruitment is that they don't want you to hold a degree in journalism to be a journalist. There is a written test and interview open for anyone who is interested.
Careers360: How has your transition been from working with Indian media to working with BBC?
Rupa Jha: I have never worked with Indian media as such – BBC was my first regular job.
Careers360: Is the style for writing or covering particular news for BBC different from what you do for the Indian electronic or political media?
Rupa Jha: BBC puts premium on fact checking and balanced coverage. We don't like sensationalism and this is where ethics in journalism comes to the fore. In reports we tend to stick to the facts and allow readers to arrive at a conclusion.
Careers360: Do you find a major difference in media coverage, ethics today from when you started your journey? How so?
Rupa Jha: I think media space has become very noisy with no believe in ethics in journalism. Social media has made things more volatile. It has also made everyone with a mobile-a journalist. The pressure to get it first has increased. I feel the nexus of corporate houses and media is better known now and therefore the trust on media as the fourth pillar of democracy has diminished. But I do feel digital platform has given a huge space for brave journalism as well.
Careers360: More of breaking news and less of factual representation is the norm of today's media. What is your opinion about this and how do you think it could be avoided?
Rupa Jha: Media doesn't run in isolation – it's a syndrome of a modern age. We are in rush for everything – we are in rush to break news as well. Our concern for factually correct news has lost space and therefore we are in an era where fighting the fake news has become our biggest battle. I think going back to the basics of journalism, using the tools of confirming news is simple step to avoid it. Media houses have to come out of debate mode in a TV studio and stress on ground reporting. We have lost the breed of reporters as its cheap fix to have an on-going LIVE debate with talking heads.
Careers360: Today, journalism has evolved from politics, current affairs, government policies to niche areas like travel journalism, photojournalism? On one hand, journalists earlier were well rounded but this new trend sets a path for specialization in an area. Is this in your opinion a good trend or bad? Could you elaborate?
Rupa Jha: It's excellent news that journalism is no more confined to politics. I think specialization is the way forward. 
Careers360: Digitisation or online journalism is overtaking traditional methods and values. While it is good that news now flies fast but there are dangers and pitfalls. Do you think this is killing the credibility of journalistic ethos?  If so, how can it be prevented?
Rupa Jha: I think digitisation is a boon to journalism. It's an exciting medium. It requires rigour like any other platform – the basic tools of journalism remain the same. Online platform has made journalism vibrant and has opened unprecedented avenues of opportunities. Of course there are pitfalls like there are in any other medium but I am very hopeful that digital will play a big role in strengthening our democratic values of which fair journalism is a big part.

Careers360: What is your take on paid news and yellow journalism? How can it be controlled? Are there any means taken by the journalistic community?
Rupa Jha: Paid news is a reality. It's shocking but true. Journalism has to become self-sustaining and not a medium to make BIG money. The control of business houses, advertisers on media is huge thus the pressure of political masters also increases. Marketing runs media houses with profit as the main driver than editorial. The distinction between marketing and editorial has thinned down. We need independent media in India. It needs strict penal action against media houses if found guilty of paid news. Editor's guild has to become a significant body. There should be zero tolerance to paid news and media houses should be black listed if they are found guilty. At the same time, consumers /audiences have to be more demanding on the media houses for free and fair journalism like we see in many other countries. The regulatory authority has to have more power than be a toothless body.
Careers360: Does BBC offer internships to mass communication and journalism students? If yes, what is the procedure and parameters?
Rupa Jha: Yes we do offer a few internships. One needs to write to the BBC. Best email address will be Sara.Hasan@bbc.co.uk. She is the training manager who takes care of internships.
Careers360: According to you, who should opt for journalism as a career?What is your message for the students who are aspiring to take up journalism as a career?
Rupa Jha: If you are curious, interested in telling stories, hearing stories, unravelling truth and getting an insight into your world that you live in – Journalism is for you.
Careers360: There is a lot of good and bad written regarding working environment and many factors when it comes to women in media. What is your opinion on this? Are they common across the globe or overplayed in India? How to do you envisage the situation in the future?
Rupa Jha: Working condition for women in India in any sector is not ideal. It's not confined to journalism only. But things are changing for women and men. I think it's a continuous process and connected to the wider status of women in the society – more the society changes, better working conditions will become for women everywhere. Slowly and surely women are acquiring agency for themselves in all walks of life. Journalism is not extra bad!
Careers360: Women Journalists have their own fair share of problems more so than the men. What would your advice be to the young girls coming into the profession?
Rupa Jha: Go for it! And don't give up in the face of sexism, bullying, and harassment. Speak up and don't be afraid. We bring the change what we want to see.