Hindi Journalism Courses and Jobs

Hindi Journalism Courses and Jobs - The power of Hindi media has increased manifold owing to the massive population which speaks and reads Hindi. Owing to the ample scope in this sphere, a large number of students are pursuing Hindi journalism courses and jobs. Hindi Journalism is also known as "Hindi patrkarita." One of the main reasons for students taking up jobs in Hindi media as well as pursuing Hindi journalism courses is due to the emergence of a number of Hindi news channels, radio programmes in Hindi. The unprecedented spurt in this field has also resulted in the need to have a qualified and well trained workforce. It is not only the electronic or the print media where the scope of Hindi journalism has increased, if we look at various social media and micro blogging sites as well, we see that, they too are promoting Hindi. A large section of the population feels connected while communicating in Hindi. They are able to convey their message in a more effective manner. This is resulting in creating a big impact. Even the international media houses which are operating in India are disseminating information in Hindi. Read the article which is given on this page to know what is the eligibility criteria to pursue some of the Hindi Journalism courses, job opportunities and who are the people who have made their mark in this field.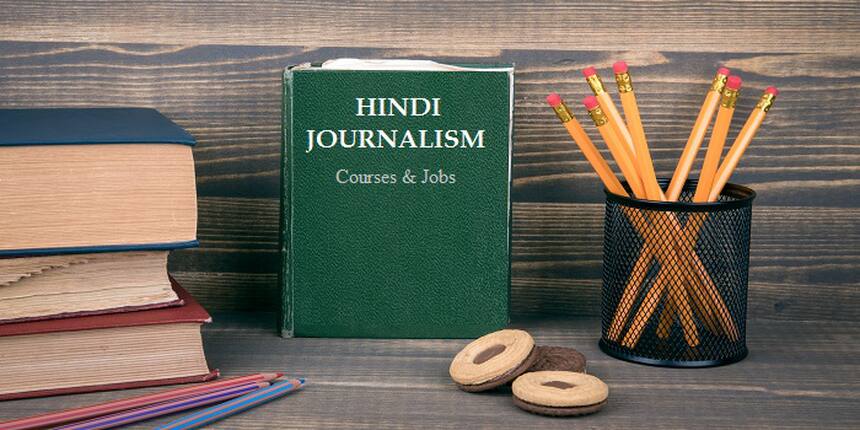 Eligibility Criteria for Hindi Journalism
For candidates who are planning to pursue a course in Hindi Journalism, it is imperative they meet the requisite eligibility criteria laid down by different institutes. If you are planning to pursue a course in Hindi Journalism at the undergraduate level, then most of the institutes lay down the eligibility criteria which is either admitting the students on the basis of class XII marks or they conduct their own entrance test.
Candidates are shortlisted on the basis of their performance in the entrance test followed by a group discussion and interview.
Qualities required to be a Hindi Journalist
In any profession, there are certain traits which are required by an individual. Having these traits will help the candidates to excel in their respective field. Similar is the case with those who want to make a careers as a Hindi journalist.
A good journalist is one who should be inquisitive and should be constantly on their toes to know more.

Communicate the thoughts in a simple language

Ensure that you present the news in a concise manner

Check your facts before you present the news

Remain updated with the latest developments that are taking place

Remain Alert

Develop a strong network

Sound Knowledge of Hindi Journalism
Hindi Journalism Colleges in India
The list of colleges, universities and institutes from where candidates can pursue a course in Hindi Journalism are listed below:
List of Colleges offering Course in Hindi Journalism
Name of the Institute

Name of the course

Indian Institute of Mass Communication

PG Diploma Course in Hindi Journalism

AJK Mass Communication Research Centre

MA in Mass Communication
MA in Convergent Journalism

University Of Delhi

 

Delhi School Of Journalism

Five Years Integrated Course In Journalism

Makahn Lal Chaturvedi Hindi Patrikarita University,

MA in Journalism
Career Prospects for a Hindi Journalist In the Field of Electronic Media
In the field of Electronic Media, ample opportunities are available for candidates who have pursued Hindi journalism. Different roles that are available for candidates include that of a researcher, anchor or presenter, reporter, correspondent.
Anchor or a Presenter
If you are journalist who is proficient in Hindi, then you can carve a niche for yourself as an anchor for shows that are presented on television in Hindi. In the past few years there has been a surge in the number of reality shows on television. Most importantly, as the Hindi anchor or presenter of the show, your expressions will make a lot of difference, you should have the right tone, right content as what you will say will make a lot of impact on the audience. Moreover, the anchor should have such content that the audience will be able to relate or connect with it easily without any difficulty.
Reporter
As a reporter, candidates must be well versed with news, updated with current affairs, and ensure that they check the facts before they present it on the television. There should be clarity in the way you present the news and must possess excellent communication skills.
Researcher
The researcher will work behind the camera and will undertake research for either the channel for which they are working or the website. In order to work as a researcher, a trait that you must possess is inquisitiveness. Once you are aware about what would be aired on the show, as a researcher you should be able to substantiate it with data so that credibility is attached to the news that is being presented. Today, we see that during the time of the elections, there is exhaustive information that is aired, such as how many people have cast their votes, to which particular caste do they belong so on and so forth, all this information is provided by the researcher.
Career Prospects for a Hindi Journalist In the Field of Print Media
Despite digitization transforming the way information is disseminated, print media still holds a lot of significance. Even today, there are a large number of Hindi dailies where reporters are passing on vital news and information to the people at large through newspapers and magazines. Moreover, due to digitization, we now have e-newspapers also which can be read in online mode in Hindi as well. Some of the career prospects for Hindi journalists in the print media are:
Reporter
If you are a Hindi journalist, then you can work as a reporter in Hindi journalist. However, the most important thing that has to be kept that while writing for print is that there is paucity of space. Hence you have to be very crisp and choose the right words to convey the news. The reporter concerned must
be very objective while he or she pens it down.
Proof Reader
A Hindi journalist can also work as a proof reader. The role of a proof reader comes to the forefront after the first draft of the copy has been edited. Proof reader must be proficient in Hindi grammar, spot the incorrect spelling as well as check the punctuation marks and spacing. All these parameters are very important since anything that is printed once on paper cannot be changed. Newspapers are printed in thousands and in some cases in lakhs, hence one has to ensure that there is no error at all.
Editor of a Hindi Daily
A Hindi journalist, after having acquired substantial experience can work as an editor for a Hindi daily. As an editor of the Hindi daily or for that matter even a magazine, the responsibility is to ensure that right kind of stories are getting printed, the layout is correct and the pictures and the stories are eye catching. Moreover, the editor has to be knowledgeable and well versed with all the developments that are taking place.
Hindi journalism jobs in News Channels
Some of the popular news channels in India, where Hindi journalists can get job are:
ZEE News

ABP News

NDTV India

Doordarshan

India TV

News 18

News 24

News Nation

CNBC Awaaz

ZEE Business

Lok Sabha TV
Hindi Journalism Jobs in New papers
Jagran

Dainik Bhaskar

Amar Ujala

Hindustan

NavBharat Times

Nai Duniya

Punjab Kesari

Prabhat Khabar

Patrika

Deshbandhu

Rajasthan Patrika

Rashtriya Sahara

Haribhoomi

Jansatta
Top Female Hindi Anchors on Indian Television
Some of the familiar faces which we see almost every day on television and are popular Hindi news anchors, who have made a mark for themselves and are a role model for the budding journalists are:
Rubika Liyaquat

Sumaira Khan

Sweta Singh

Anjana Om Kashyap

Richa Anirudh
Famous Male Hindi Anchors On Indian Television
Dibang

Rajat Sharma

Ravish Kumar

Manoj Raghuvanshi

Sumit Awasthi

Kishore Ajwani

Sudhir Chowdhary

Rohit Sardana