How to prepare for MICAT 2020
How to Prepare for MICAT 2020 - You have decided to enroll in the best school to pursue PG course. Now that you have made up your mind, how can you make your dream come true? Preparation for MICAT and taking up the entrance exam will turn your dream into reality. When you wish to appear for MICAT, the first question that crops in your mind is, 'How to prepare for MICAT'? Prior to MICAT preparation, one should gather all the information as to MICAT syllabus.
Stay up-to date with MICAT News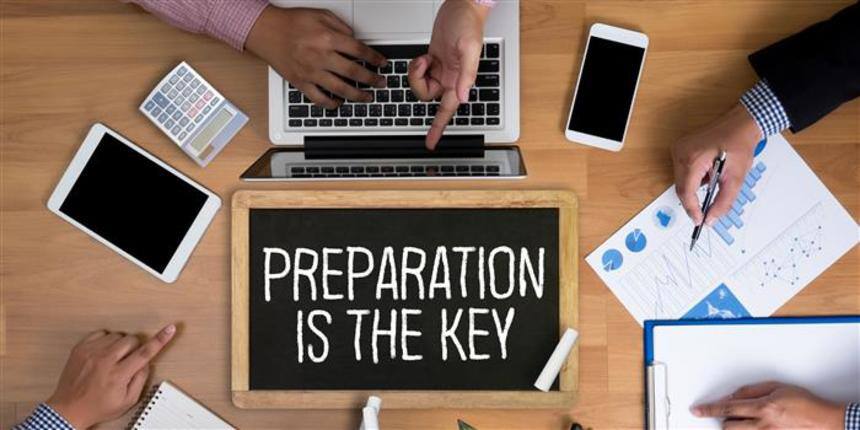 Remember that preparing according to the syllabus and focus on important topics will help you obtain high marks in the exam. Also, a few practice session before attempting the actual test will go a long way. Taking up the mock test will help you get comfortable with the question pattern. In addition, it is important to follow the exam day instructions and other MICAT related information such as effective preparation tips. Careers360 brings you the guide on how to prepare for MICAT 2020 where candidates can know best book and study material of MICAT, section wise MICAT preparation tips and much more.
Fill MICA Application Form Below or Click Here
MICAT Preparation Tips 2020
A preparation plan will go well if you make a time-table and follow it from the beginning. Also, having the syllabus at the fingertips is important as it will enable you to know the topics that will help you garner maximum marks.
MICAT Syllabus 2020
Some of the important sections of the MICAT syllabus 2020 are listed below. An important point to know about how to crack MICAT 2020 is to go through the sections and draw a plan accordingly.
Psychometric Test

Verbal Ability

Quantitative Ability

General Awareness

Divergent Convergent Reasoning

Descriptive test
MICAT Exam Pattern 2019
Having know-how to MICAT 2020 exam pattern enables candidates to understand the sections and the question paper. Time management is one factor that can be honed with knowledge of the exam pattern of MICAT 2020. Candidates, moreover, will come to know which particular section would be more time consuming for them. They will be able to draw a plan which is full proof and will help them to excel on the day of the exam.
MICAT 2020 Exam Pattern
| | |
| --- | --- |
| Particulars | Details |
| Mode of exam | Online |
| Total number of sections | Three |
| Duration of the exam | Two hours 45 minutes |
| Total number of Questions | 140- 150 |
| Negative marking for every incorrect answer | ¼ of the total marks allocated for that particular question will be deducted |
Detailed Exam Pattern of MICAT 2020
Parts

Section

No. of Questions

Time Allotted

Section I

Descriptive Test

4

35 Minutes

Section II

General Awareness (GA)

25

1 Hour 45 Minutes

(105 minutes)

Verbal Ability (VA)

25

Quantitative Ability (QA)

25

Divergent-Convergent Reasoning (DCR)

30

Section III

Psychometric Test (DT)

36

25 Minutes
Best Books to study for MICAT 2020
To know how to crack MICAT 2020, it is pertinent to have the right study material. One should not refer too many books as it is a preparation for a competitive exam and, not undertaking a research. Those who are preparing for MICAT 2020, mostly prepare for CAT also. Some of the important books from which the candidates can study are:
MICAT 2020 - Quantitative Aptitude
| | |
| --- | --- |
| Name of the book | Author/Publication |
| Quantitative Aptitude for Competitive Examinations | Abhijit Guha (Tata McGraw-Hill) |
| How to Prepare for the CAT Common Admissions Test | Muhamed Muneer, published by Om Books |
| The Complete CAT Digest | Arun Sharma |
| Quantitative Aptitude for CAT and Other MBA Entrance Exams | Trishna Knowledge Systems (Pearson) |
MICAT 2020 - Verbal Ability
| | |
| --- | --- |
| Name of the book | Author/Publication |
| The Pearson Guide to Verbal Ability and Logical Reasoning | Nishit Sinha |
| How to Prepare for the Verbal Ability and Reading Comprehension | Arun Sharma and Meenakshi Upadhyay (Tata McGraw-Hill) |
| Word Power Made Easy | Norman Lewis |
| Pocket Guide to Vocabulary | Barron |
MICAT 2020 - Psychometric Test
Candidates should know that psychometric test is an essential part of MICAT entrance exam. Answering all the questions in this section is mandatory for candidates. Leaving out any question unanswered will lead to disqualification .
Hence in order to crack MICAT 2019, candidates must extensively practice the psychometric test. While answering the questions, candidates must respond spontaneously as these responses will be taken into account at the time of personal interview. Moreover, candidates will be assessed on the basis of such questions. At the same time candidates must avoid giving too idealistic answers and remain honest while answering questions in the psychometric test.
MICAT 2020 - General Awareness
To excel in general awareness, candidates should consistently work on it as it is a vast section. One cannot prepare for the general awareness section at the last moment or by merely studying in the last month. Reading newspapers every day from different publishers and listening to news will help you remain updated on the latest happenings.
Candidates can also check the past years' sample papers to know the topics from which questions are asked. Some of the topics that you should prepare are:
Topics related to media

Domestic and international current events

Books and Authors

Tag lines of Companies

Logos

History

Geography

Advertisements

Abbreviations
MICAT 2020 - Descriptive Writing
In this section, candidates will have to showcase their writing skills, which should be free from grammatical errors. At the time of writing answers for descriptive questions, candidates should give neutral point of views rather than giving biased views.
MICAT Sample Paper 2020
Candidates who wish to take the entrance exam, they must be thinking about how to prepare for MICAT 2020. Focusing on each topic while practicing MICAT sample paper 2020 will give an edge on the competition. Candidates will come to know about the types of questions asked in the exam. They can practice and analyze their strong and weak points ,which will help them to perform well.
Some more Essential MICAT Preparation Tips
Step-by-Step Analysis
One should analyze their preparation level at every step, which will help discover the weak and strong areas. Knowing your strengths and weaknesses will help you figure out how much you need to devote to each topic, subject or section.
Work on Time Management Skill
Managing time is important when you are preparing for MICAT. Make a timetable so that you give equal time to each section. If you find any section difficult, give more time to the same to gain confidence. Keep revising the topics from time to time as avoid forgetting the answers that you learnt back in the day.
Problems during preparation can be resolved with the help of expert opinion. Rightly said by Miles Davis is the statement, "Time is not the main thing, it is the only thing."
Remain Healthy and Sleep Well
Always eat healthy and sleep well. Having inadequate sleep due to pressure of the competitive exam is quite common among students. A tired mind will not aid in achieving one's goal. One important factor to success in MICAT 2019 is good health and adequate sleep.
Some Exam Day Guidelines for MICAT 2020
Carry the MICAT admit card 2020

You should know about your MICAT exam centre 2020 in advance

Do not carry any bags

No electronic material and eatables will be allowed in the examination hall

Candidates will not be allowed to leave the exam hall before completion of the examination
Questions related to MICAT
Showing 62 out of 62 Questions