IIMC Director General Interview- "We have the expertise, experience and can fulfill the Expectation," says DG of IIMC KG Suresh

Indian Institute of Mass Communication is one of the most popular media institutes in the country with a presence in about six campuses and a record of having trained at least 1600 journalists from about 128 countries. It is only right that the next step for IIMC would be to attain the status of a University with the liberty of choosing the programs and offering degrees at all levels. This is soon to come true with the grant of 'deemed to be University status" under the de novo category for which IIMC has applied. The institute also visualizes stepping up the inclination towards academia and research in mass communication. Careers360 caught up with K G Suresh, Director General of IIMC to find out more on this, the chances of IIMC being a national university for mass communication, the role it envisages to play therein and more. To know all about the future plans of IIMC, its role in mentoring other mass comm institutes and more, read the interview below.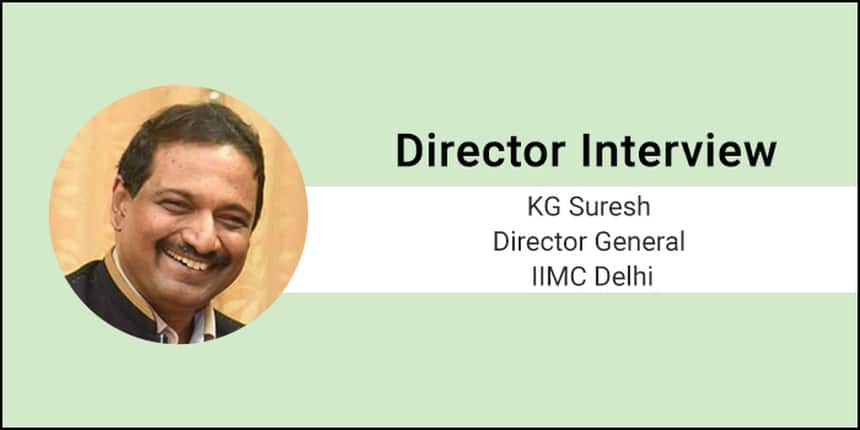 Careers360:  It has been said that IIMC is applying for 'deemed to be University status." Could you tell us something about this? What were the reasons behind this proposal? When can we expect this to materialize at least tentatively?
K G Suresh: Till now students have been groomed to cater to the industry. However, increasingly there has been a pressing demand that students should be groomed for academics and research also. So, we have proposed that IIMC be accorded a deemed to be university status under de novo category. Not just that, we also have the expertise, experience to do it better if we are a university. IIMC is one of the best institutes imparting education in the field of mass communication and journalism for more than five decades. In fact, IIMC is the think tank in the field of communication. The institute has been providing diploma courses till now. Our students obtain a degree through lateral entry from other universities. It would be ideal to award our students with the degrees instead and this is possible with the university status.
Once the proposal was submitted, UGC had set up a three member committee including Dr Parmar as chairman, Rajasthan University's Journalism Department Head Dr Sanjeev Hanawat, DAVV Indore's EMRC producer Dr Chandan Gupta as members. The committee visited us to make an assessment about the infrastructure, faculty as well as other facilities and I am hoping for a positive outcome.
My aim is to turn IIMC into a national university for communication. I aim to strengthen and set certain benchmarks for the industry, so that we are a role model for other media training institutes in terms of quality of teaching, research and quality of publications which has been a neglected area. I would also be looking at a stronger industry-academia interface.
Careers360: Can you please elaborate on the advantages that will be accrued with the deemed university status - both from the institute's and student's perspective?
K G Suresh: The biggest advantage is that our students will not have to go out to pursue research for which we shall be able to provide them with degrees. We have one of the best libraries, faculty and the requisite infrastructure. For the students wanting to take up academics, this will be beneficial. It would be enriching for our faculty as well as we will be able to guide them in their doctorate if they are inclined to pursue one sometime later.
Careers360: Once accorded the university status, IIMC will be able to offer its own degrees, post graduation degrees and also incorporate research. Is IIMC ready in all respects (faculty and infrastructure) to function as a university? What additions will be incorporated to be able to meet the required status quo?
K G Suresh: Indian Institute of Mass Communication is fully geared to offer post graduate degrees as well as M.Phil and Ph.D degrees. There are more than 25,000 books in our library and we are currently working on the digitization of the same so students can access them online at their convenience. My first goal is to ensure the start of post graduate and research programmes and I later would work to bring in undergraduate programmes in journalism and mass communication also under the umbrella of programmes offered at IIMC.
Careers360: Since research in the field of journalism and mass communication is still in the nascent stage, can you elaborate about the plans made by IIMC in this direction and the expected outcome of these steps?
K G Suresh: IIMC has the expertise to carry out research and we have been part of at least 250 research programmes in collaboration with various public and private organizations. We are also doing a research project with UNESCO on "how women are portrayed in media in South Asia." This is just one of the project; there are many more in pipeline.
Careers360: There have been reports in the past that that Film & Television Institute of India (FTII), Pune, and Kolkata's Satyajit Ray Film & Television Institute (SRFTI) could be affiliated to IIMC. How much of truth can be attributed to these reports? If yes, what kind of affiliation can be expected and the changes as a result of that?
K G Suresh: As of now there are no such plans. However, we do offer short term courses in collaboration with Film & Television Institute of India (FTII).
Careers360: There are the short-term radio production courses in collaboration with FTII, Pune, as well as a Public Health Journalism module developed with UNICEF and Oxford University. Who can apply for these? Is there some specific eligibility for these courses?
K G Suresh: These are courses which can be pursued by anyone first come and first serve basis. The objective of these programmes is to train a workforce able to promote community radio. In the rural as well as other not so developed areas, radio is still a popular means of communication. "Apna Radio", in New Delhi is a very good example of community radio. We are working towards setting up more community radios as there are currently only 206 of them and aim to train the requisite workforce for setting them up. Presently, there is a lack of awareness on community radios and their setting up. We also aim to ensure that at least fifty per cent of the content broadcast on the community radio will be locally generated. In addition, we also promote community newspapers.
Careers360: Recently, IIMC also introduced an advanced certificate programme in Sanskrit journalism in collaboration with the Lal Bahadur Shastri Rashtriya Sanskrit Vidyapeeth. Why Sanskrit? Who should take this up and what are the advantages of pursuing it? Are there more such courses that can be expected? If yes, can you give some details?
K G Suresh: This is for students who are studying at Lal Bahadur Shastri Rashtriya Sanskrit Vidyapeeth as journalism will be an added advantage for them. The Sindhi community has also approached us for training and it is likely to happen in the near future.
Careers360: Presently, IIMC has six campuses across the country with the campus at Kottayam and Aizawal likely to become operational from the second semester. Are there plans to have more such campuses across the country. If yes, kindly give some details.
K G Suresh: There are demands to set up more IIMC campuses in other parts of the country. However, initially our priority was to have it in different regions. Currently, we are playing the role of a mentor in some universities and institutes where mass communication or journalism courses are being offered or are likely to be offered. Our job is also to ensure that they meet the same benchmark as that of IIMC. 
Questions related to IIMC Entrance Exam
Showing 20 out of 20 Questions