IIMC Director General KG Suresh Interview- "We groom students to become industry-ready"
With the changing times, the corporate environment and requirements are changing as well. This too is applicable to the Media industry. KG Suresh, Director General, IIMC Delhi, talks to Careers360 in an exclusive interview about the challenges that the Indian Media Industry faces today, digitalization of Media and adaption of media technologies by students. KG Suresh further talks about the qualities that the recruiters look for in a media candidate. Also the Indian Institute of Mass Communication (IIMC) director emphasises on how any Institute must support its students to be industry ready through workshops, assignments citing the example of IIMC whose curriculum and pedagogy are designed to be valuable additions to students while getting hands-on training across specializations.  Sharing his opinion about the gaps and the challenges in the media industry. KG Suresh gives an overview of the IIMC placements.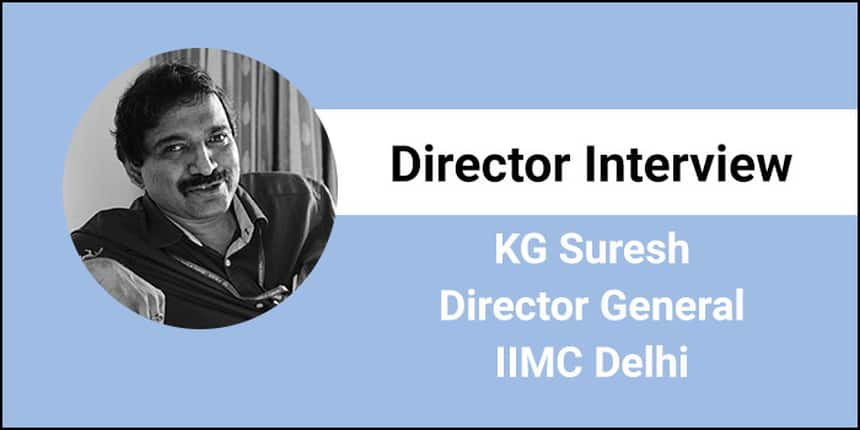 KG Suresh, a post graduate in Mass Communications, was Senior Consulting Editor with Doordarshan News, Editorial Consultant with Asianet News Network; Chief Political Correspondent with Press Trust of India prior to taking the mantle of IIMC. He is the also recipient of Prem Bhatia Fellowship for Research in Media by Young Journalists
Careers360: What is the most preferred field in Media nowadays? How does IIMC prepare its media graduates for the placement?
K G Suresh: Today's age is the Digital Age. Many companies including the ones that specialize in traditional media forms visit the IIMC campus every year. However, we have witnessed a great demand for young professionals in the digital media. These are mostly for the online division of newspapers, magazines and television channels, stand-alone news websites, and also Public Relation (PR) firms. Another emerging field is that of the political PR. This year, quite a few companies specializing in political PR have recruited a few of our students.
Our placement cell makes sure that every student is aware of the process, stays informed and is ready to attend the placements. Our courses are so designed that they get hands-on training in various specializations, which adds value during the interview. Their interface with industry experts who visit our campus as guest faculty helps them develop the skill-sets required for the media industry today. With such an exposure, students get to do a wide range of practical activities like bringing out lab journals, producing television and radio programmes, designing communication campaigns etc. In addition, we also organize mock tests and interviews to help build our students confidence level.
Careers360: According to you, what are the skills sets required from a fresh media graduate by recruiters?
K G Suresh: I strongly feel that to fare well in the world of communication, what one requires first and foremost, is proficiency in the language. Apart from language skills, creativity, reasoning abilities, keeping oneself abreast with current affairs and general knowledge is a much-required trait for a media professional. A research bent of mind could be like the icing on the cake. For roles demanding technical expertise both in print and broadcast journalism, one should be adept at technology, analytics, and software.
As an institution, we try to groom our students to become "industry-ready". We organize workshops for the students and allocate a lot of assignments to hone their writing capabilities. We also impart technical training to our students so that they are able to produce lab journals, documentaries as well as radio and television programmes on their own.
Careers360: Give us a glimpse of your institute's media placements statistics
K G Suresh: Indian Institute of Mass Communication (IIMC) is amongst one of the premier media institutes in the country. The IIMC brand carries a lot of credibility and value. A large number of our alumni today occupy good positions in the media world. Hence, we get a good response from the industry during our campus placement drive each year.
As regards to the number of companies that participate in our placements process, the figure varies year to year. There are scores of media organizations - corporate, public relations and advertising firms that have been visiting our campus regularly over several decades. They offer our students both internships and later placement opportunities. Students, who are freshers, are recruited with a good salary at entry-level positions, across sectors. The salary range also varies according to the market situation. On an average, the range for entry-level positions usually is from Rs 3 lakh per annum to Rs 13.5 lakh per annum.
Careers360: What are the gaps or the challenges in the media industry?
K G Suresh: I think the media needs to go back to the grassroots in the first place. There is too much of desktop reporting happening these days. Spot stories have been replaced by meaningless debates on trivia. This has eroded the credibility of the media. It is important that we go back to the field and understand the pulse of the masses. Secondly, as a developing country, our media's priorities are misplaced. We need to balance it out. We have to serve as a bridge between the Government and the people as a Democracy. We have to become the voice of the voiceless.
Last but not the least, in Indian media, there is very little emphasis on research. In fact, research over the years has been replaced by Google search. It is important that we re-establish evidence based reporting to restore the credibility of our media.
Get real-time alerts on exam & colleges at your fingertips with Careers360 App!
Click Here to Install or Give a missed call on 08080944727 to get app link
Stay tuned to https://media.careers360.com for more news and updates on IIMC
Questions related to IIMC Entrance Exam
Showing 20 out of 20 Questions