What, Why and How of Media and Journalism
Academic courses related to Media, Journalism and Communication Studies have become as popular and important as engineering and medical programmes. Over the past few years and with an increase in demand for these professional programmes, students have been increasingly showing more interest towards Media, Journalism and Communication Studies. The Media and Communication sector has emerged as a dynamic and diverse degree option globally. The sector has come forth with new creative programmes, research options, and more range of career opportunities. However, while we talk about these courses-in-demand, it's important to be aware of the what, why and how of Media and Journalism. In other words, what are the courses that are offered in these disciplines, why should one pursue these programmes, and how can one get admission into the colleges that are offering courses in Media, Journalism and Communication Studies. A media degree involves the study of creating and receiving information and communicating it to the masses through various mediums. Careers 360 attempts to understand Media and Journalism programmes offered by various universities throughout the country.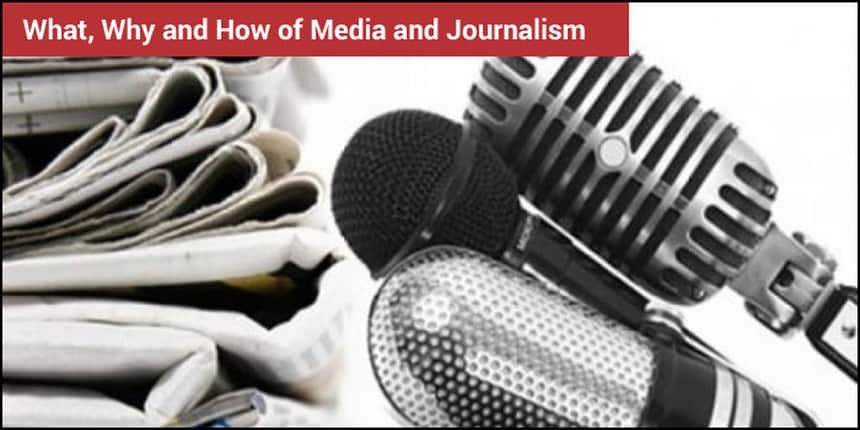 What are Journalism and Media?
Journalism involves gathering, interpretation, and presentation of news and other information of current interest. The information gathered and disseminated through its various arms like print and broadcast, and is collectively known as Media. It also includes radio journalism and advertising and public relations. Universities or institutes, across the country, offer media and journalism at both undergraduate and postgraduate level. Most institutions, both government-run and industry-driven or private, also offer one-year Post-Graduate Diploma courses in various streams of journalism like radio, broadcast or in writing for news.
Basic Eligibility
If you think you have a nose for the news, this is the right field for you. If you aspire to do a bachelor's programme in journalism and mass communication, you need to have a passed higher secondary certificate from a recognized board with a minimum of 50 per cent. For a Masters's programme, a bachelors's degree from a recognized university/institute with a minimum of 50 per cent is required.
To check: IIMC Eligibility Criteria
CUCET Mass Communication Eligibility Criteria
MICAT Eligibility Criteria
Course Structure and Curriculum
Journalism and Media include various core subjects and specialized fields of study like print, radio, television or even web. The curriculum for all such programmes is designed to impart proficiency in all the areas, incorporating the latest media industry trends. This not only includes the theoretical aspects but also ensures that the students have practical exposure through studios, newsrooms, clubs, etc.
Dr. Nandini Lakshmikanth, SOC, Manipal University opines that constant upgradations of technology and focus on and integrating these mediums in the pedagogy and curriculum are necessary to keep Media and Journalism students at par with the industry standards. "With regards to this programme, one must incorporate changes by giving a bouquet of subjects which are more suitable for the current status of the industry. The change also enables the students to streamline their proficiency in their area of interest, "states Dr. Nandini.
Besides the regular classroom teachings and practical learning, internships are also mandatory in terms of the curriculum for media and journalism students, both at the undergraduate and postgraduate levels. Internship is an important component and is evaluated both at the college level and the workplace of the students. The Internship/Placement Cell at every college supports students to get in touch with the companies and arrange interviews.
To check: IIMC Exam Pattern
FTII JET Exam Pattern
MICAT Exam Pattern
Facts- Skills gained from an International Masters in Communication Degree
Communication skills – including professional, persuasive and relevant communication through various channels

Creative thinking ability

Research, Analysis and Presentation skills

General Technical aptitude

Writing skills

Ability to work independently and in a team
Programmes on offer
A degree in Media and Journalism is important for aspirants of this field. The degree prepares the aspirants, hones their knowledge base, and helps them gain practical skills. Prof. B. K. Kuthiala, Vice-Chancellor, Makhanlal Chaturvedi University of Journalism and Communication (MCNUJC) Bhopal said, "Today, it is all about journalism and communication. Major job opportunities are in the area of content production, both text and visual. Like any other education system, a media institute requires a variety of courses and students require a full-time degree to learn the practical aspects of the field."
Without a degree, one may not get to make a justified career in this field. Some of the media and journalism programmes, offered by various Institutes or Universities, across India are listed in the given table.
Media and Journalism Institutes list- Programme and Duration
Institute

Duration

Course

1 Year




PG Diploma in English Journalism, Radio and TV Journalism, Advertising and PR




1 Year, 2 Year

Postgraduate Diploma in Journalism,

M.A. Journalism from Cardiff University




2 Year




MA(Mass Communication)




1 Year




PG Diploma in Journalism and Mass Comm,

Public Relations and Corporate Communication, Advertising & Marketing Communication,

Film, TV & Digital Video Promotion,

Mass Comm (Marathi)

MICA Ahmedabad

1 Year

Post Graduate Diploma in Management - Communications (PGDM-C)




1 Year

Journalism (English Medium),

Journalism (Hindi Medium),

Mass Communication (English),

Mass Communication (Hindi),

Public Relations,

Business Journalism,

Industrial Relations & Personnel Mgmt,

Marketing & Sales Mgmt Marketing,

Advertising & Sales Mgmt,

Event Management

FTII Pune




1 Year, 3 Year

Three Year PG Diploma in Sound Recording and Sound Design,

One Year PG Certificate Course in TV Direction,

One Year PG Certificate Course in Video Editing,

One Year PG Certificate Course in Sound Recording and TV Engineering

3 Year

Degree in Bachelor of Journalism & Mass Communication




1 Year, 2 year




Ph.D. (Mass Communication),

M.A.(Mass Communication),

M.A.(Visual Effect and Animation),

M.A.(Convergent Journalism),

M.A.(Development Communication),

PG Diploma in Broadcast Technology,

PG Diploma in Still Photography & Visual Communication




1 Year, 2 year




MA (Mass Communication), MA (Corporate Communication), PG Diploma in Health Communication (Innovative Project),

PG Diploma in Journalism & Mass Communication

DU (several colleges like IP, DCAC, LSR, Kalindi, etc)

3 Year

B.A. (Hons) Journalism (English/Hindi),

Bachelor of Mass Media and Mass Communication (BMMMC) at IP College for Women
Specializations and Mediums- Core areas to study
Media and Journalism is a broad subject with plenty of specializations. If a candidate is sure about the course to enrol, s/he can go for a dedicated specialized programme. Else, one may also opt for a regular Bachelors's or Masters's degree in Media, or Journalism.
Some specialized courses of studies are Journalism or Writing, Radio, and Broadcasting, TV New Reporting, Likewise, there are many programmes available in specific branches media, such as radio, film, TV, online or print media.
Print Journalism
Print journalists usually report for newspapers or magazines. They may be full-time reporters for one particular publication or freelance writer who contributes to a variety of publications. Often a print journalist will be paired with a photojournalist who will take pictures to complement the written story.
Photojournalism
Photojournalists are different from traditional photographers in the sense that they are more interested in capturing images that tell a story than taking ones that just look nice. Photojournalists are generally highly-trained photographers who may have worked in a traditional photography medium like wedding photography before transitioning into journalism.
Broadcast Journalism
Broadcast journalism encompasses both television and radio news. There are two ways that journalists can be involved in broadcast journalism: behind the scenes or on the air. Journalists working behind the scenes do a lot of research and reporting, but their faces or voices will not be broadcast. Journalists who work on the air may do their own reporting or read stories crafted by their colleagues.
Multimedia Journalism
This is the newest field of journalism and also the fastest-growing. Multimedia journalism can encompass all the fields listed above as a web page can have a written story, still photos, video, as well as audio. Multimedia journalists are encouraged to have a wide set of storytelling abilities, as well as highly refined technical skills.
Freelance Reporting/Writing
Again, one of the emerging fields, freelancing is an area where both an experienced and a fresher can write on a certain topic. You need not be a full-time employee of any organization. Freelance reporting/writing can be done from the comfort of his/her house and work.
Radio Journalism
This includes radio news anchor, radio jockey, writing for radio, radio shows, creating radio jingles along with voice-overs. The course also teaches radio production techniques and engagement of listeners on a radio channel.
Demand for Media and Journalism Programmes
As per the industry trends, a good degree and accompanied training experience help future prospects in this field. There are job opportunities in journalism and media fields with good remuneration packages and growth opportunities.
Job Roles In Various Media
Newspapers: News reporting, editing, designing & graphics, photojournalism, researcher, etc.
Magazines/journals: Freelance or employed article writers
Broadcast journalism: Reporter, editor, anchorperson, camera-person, video editor, sound recordist, graphic artist
Online/digital journalism: Content writer, reporter, editor, graphic/animation artist