List of Film Making Institutes in India

Film Making Institutes in India - Are you a film buff? Is nothing beyond films and movies excite you? Do you have a passion to make your career in films and this is something which only seems right to you? If the answer to all these questions is 'yes' then you have landed on the right page. On this page you can look at the options that are available to you to make a career in films. Careers360 brings forth the list of film making institutes in India that offer various courses in film making. Budding film makers may be interested in Screenwriting, Producing, Direction, Acting, VFX, Cinematography, Editing, and Sound Design to name a few of the specializations that are offered through these courses. The list of film making institutes in India mentioned in this article also give the details of the courses offered by them along with the admission process and other essential information for the same. Candidates are suggested to check the details of the top film making institutes in India before applying to any of them.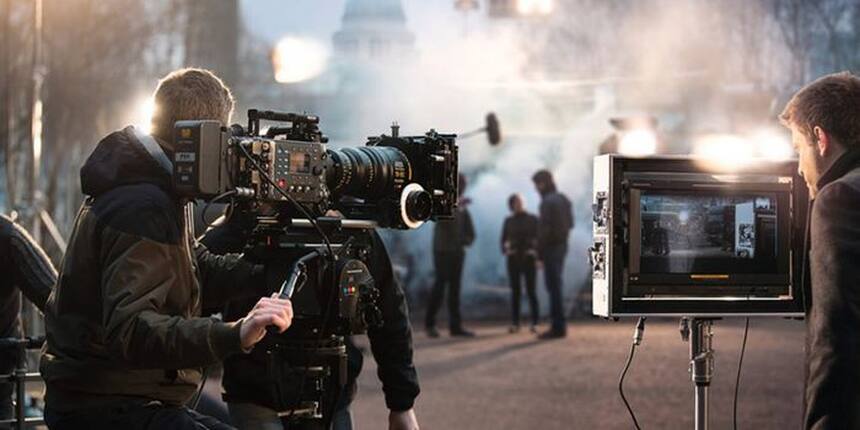 Since there are many film making institutes in India that offers a varied range of courses, therefore, Careers360 has segregated these courses offered by these institutes as per the undergraduate and postgraduate programmes for the ease of the candidates. Candidates may look up to the details before choosing the courses and applying.
Under graduation - List of Film Making Institutes in India
S.No

 Institute

Course

Entrance Exam

1

B.Des in Animation and Film Design
B.Des in Film and Video Communication

NID DAT

2

B.Sc./B.A. in Filmmaking with specialisations

B.A. in Screenwriting (accredited by TISS)

General Aptitude Test, Creative Ability Test & Personal Interview.

3

Bachelor Of Filmmaking

AISFM entrance exam

4

B.A. (Film & Television Production)

5

B.Sc. In Film Making (specialisation In Direction) (specialisation In Cinematography) (specialisation In Editing) (specialisation In Sound Recording & Designing)

6

B.A. Programme In Film, Television And New Media Production

7

B.Sc (design- Film &TV Production)

B.Des  (Film & TV Production)

Merit in Class XII

8

B.Sc. Film Technology

Merit in Class XII

10

B.Sc Filmmaking, B.Sc Sound Engineering, B.Sc Visual Effects & Animation for Film & TV,  B.Sc Photography

Merit

11

BA In Film & TV Production/ Animation & Computer Graphics/ Still Photography/ Video Editing & Videography

Merit

12

B.Sc. In Film Making

13

St. Joseph's College, Bangalore

Bachelor Of Visual Media & Film Making BVoc(Vmf)

Entrance test

14

Bachelor In Film And Television Production
Post-graduation - List of Film Making Institutes in India
| | | | |
| --- | --- | --- | --- |
| S.No |  Institute | Course |   |
| 1 | | Three Year PG Diploma In Sound Recording And Sound Design, One Year PG Certificate Course In TV Direction, One Year PG Certificate Course In Video Editing, One Year PG Certificate Course In Sound Recording And TV Engineering | |
| 2 | | Postgraduate Programme In Cinema | |
| 3 | M.G.R. Government Film And Television Institute | Diploma In Film Technology And TV Production (cinematography) | - |
What are the Specializations offered by the Top Film Making Institutes in India?
Well, film making has so many facets and layers to it. While the start is the script, there must be directors, photographers, editors, designers, sound and video experts etc to name a few who will contribute to make the film. Technology has become an integral part of films so there are technical aspects to courses like photography, sound recording, animation and graphics etc.  Production is one big part of the film that is being created. So specializations offered by the many film making institutes in India revolve around these essential sections of film making. Some specializations that can be listed are
Film Technology

Cinematography

Photography

Screenwriting

Editing

Production
There are courses for undergraduates as well as the facility to further specialize with post-graduation. Film buffs who are graduates in other disciplines and wish to change their career path to film making can also opt for the post graduate courses or certificate courses that are offered by these film institutes in the country.
What is the eligibility for the popular Film Institutes in India?
The eligibility varies as per the specialization one opts for and the institution chosen. The top film making institute in India offers Diploma, Post Diploma and even Certificate courses along with the specialization. The basic eligibility criteria, across best film making institutes for most of the undergraduate courses specifies a minimum qualification of a Higher Secondary Certificate (10+2) from a recognized board, like CBSE, ICSE, State boards etc or an equivalent exam. For a postgraduate course, candidates must have graduated from a recognized university or institution in any discipline. While there is no hard fast rule about the pass percentage in class XII or graduation, some institutes do ask for a minimum of 50%. Selection process for many of the film making institutes in India consists of a written test in many cases followed by an interview and sometimes a group discussion etc.
What are the traits required to pursue film making?
The entrance tests in most cases are designed to test the student's capability in understanding the requirements of a career in media and film making. However, most tests have questions based on
General Knowledge

English Language

Film Aptitude
The intentions of the applicants are assessed during the interview round in addition to their capability to complete the course. Most film making institutes in India offer courses that allow students to develop critical thinking, technical analysis, research and expression in their chosen specializations.
How to choose the best Film Making Institute of India to study in?
Some of the factors that the candidates must keep in mind while selecting the best of the institutes to study in are listed below. It is to be noted that students should check the top film making institutes in India given above for these basic factors before applying.
Passion: It is the passion for film making that should drive any student for choosing a course. Most top film making institutes in India look for this trait in students during the selection and admission process.
Infrastructure: Film Making is an expensive business and involves sophisticated equipment. It is only apt to choose an institute that has all of this. In addition, the institute must have a good campus, excellent hostel facilities for students to stay in. The proximity of the campus to all film related activities in the city is another important factor to be looked at. Most of the top film- making institutes in India are located in cities that are associated with film making by and large.
Faculty: The teaching faculty is a crucial factor to be looked at. Since film making is an art that can be honed with experience, it is important to be taught the course by such professionals who are very experienced. Check the eminent faculty and their details before applying to the institute. Most of the top film making institutes in India do mention the leading film makers on their board. Students must check them out.
Course structure: It is vital that students check the course curriculum and research on it before taking it up. The duration also matters depending upon the course. What is more important is the practical training that is professed to be offered along with the course. Students should check for all of this before taking the course up.
Fee structure: The amount of fees that students are required to pay is an important factor. The course should be worth the fees paid. So aspirants are advised to check the amount of money they are required to pay as well as the details of the same.
Internships & Practical Training: One important issue that students should ask for is the amount of practical training they will receive. They should find out whether the institute offers internships and practical training along with the details of the same. Film making is more of a practical course in nature and the teaching offered should match this basic requirement.
What are the skills required of Future Film Makers?
Candidates are expected to possess strong abilities and skills in the areas listed below to be able to be successful in their film making careers. Most of the top film making institutes in India are reputed to contribute to these requirements.
| | |
| --- | --- |
| Basic traits | Skills learnt at Film Making Institute |
| Collaborative and Team player | Communication skills |
| Computer savvy | Fine arts skills |
| Creative | Leadership skills |
| Detail oriented | Management skills |
| Innovative | Problem-solving skills |
| Technical know how | Production skills |
| Visual | Technology skills |
What are the Career Options after Film Making?
After the completion of the course, students can select from a variety of career choices. Some of the popular career options include:
Editorial assistant

Audio-Video Director

Producer or Director

Scriptwriter or screenwriter

Camera operators of film, video, TV

Film and video editors