LSR Journalism HOD Interview- "Only students who have the rigour, interest & energy to pursue journalism should take it up," says Vartika Nanda
LSR Journalism HOD Interview - Unlike popular perceptions, Journalism is not about glamour, but more about social and public service says LSR Journalism HOD, Vartika Nanda. It is this sentiment and ethical thinking that underlies the tutelage given to the students of the three years undergraduate level course of journalism at Lady Shri Ram College for Women. In addition, students are trained and equipped with all the latest developments in the field of journalism. In an exclusive interview with Careers360, LSR Journalism HOD, Vartika Nanda, discuss media ethics, teaching methodology including rigorous internships, admission process and other aspects that are part of the widely popular course offered by the institution. Read the complete interview of Vartika Nanda, HOD of Journalism department of Lady Shri Ram College for Women.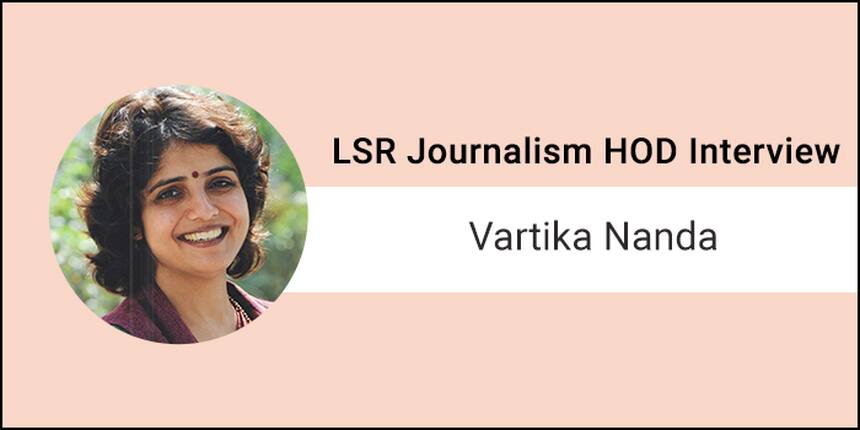 Careers360: Tell us about some of the accomplishments of the journalism department at LSR in the past few years.
Vartika Nanda: Our biggest achievement is that we attract some of the best students from across the country belonging to different streams, backgrounds and interests. They end up passing out as extremely confident people with an expansive refined knowledge of journalism. For example, the glamorous side of journalism beckons them and with passage of time studying the course, their outlook changes such that they get inclined to pursue serious research, academia or interdisciplinary programmes. With the rigour of the course, they come to believe in media ethics and start looking at serious issues generally ignored in mainstream journalism.
Careers360: In the present day, we see anyone and everyone vying to be a journalist.According to you, who should take up journalism? What factors should students consider while choosing a college for journalism? Alternately what factors does an institute consider while considering students for admissions?
Vartika Nanda: Here education should start with the family rather than the individual.The rigours of the course are unknown and so students forced by peer or family pressure end up being unable to cope up thus leaving a vacancy that may have been taken up by a serious student. All parties involved like family, students should be aware of the seriousness required and the demanding nature of the programme rather than the glamorous part. To do so, it is vital to assess the capabilities, strengths and weaknesses of the students in addition to their commitment. It is in reality a social and public service that is highly demanding that students should think well before joining it.
Careers360: Please tell us at length about the process of admission to the journalism course?
Vartika Nanda: We follow the norms laid down by University of Delhi which declares the cutoffs that forms the basis for admissions. The seat intake is 23 out of which 12 seats are for the general candidate and the remaining are for reserved category candidates. After the announcement of the cutoffs, the allotment is made and if there are vacancies, we conduct subsequent rounds for the same. That sums the admission process and I may tell you here that there is no interview for admissions.
Careers360: Please tell us about the teaching methodology that is adopted at LSR. Considering that media and journalism are more practical in nature, how differently is this course treated in LSR from the other regular ones? Also, does specialized guest faculty come to teach in this course?
Vartika Nanda: The University of Delhi decides the syllabus which we are bound to follow. When it comes to the teaching methodology, LSR is significantly different from the others. Each class is not just for learning but also a base for a meaningful discussion between the students and the teachers. Assignments are such that they require a certain degree of thinking and at the same time are engaging. Innovation is a key factor in our teaching. In short, the course is designed to act as a bridge between the academia and the industry.
Guest faculty is invited if required. For example, the New Media is one area where we call upon people from the industry to appraise students about the latest tools, trends. Students can also suggest the faculty whom they would like to learn from.
Careers360: Journalism is more about practical skills than theory. So, how does LSR integrate this?
Vartika Nanda: Our main focus is on theory with inclusion of the practical aspects where required. For example documentary making involves learning to handle a camera, understand photo journalism. It could be creating a blog or a website. Our belief is that journalism cannot be restricted to four walls of the classroom so engagement is incorporated in practical methodology as needed. You see, a balanced learning is important and this is what we focus on.
Careers360: With the passage of time journalism has witnessed a lot of transformation. Considering digitization is now the in thing, how is it reflected in the course?
Vartika Nanda: "JUXTAPOSE" is a two day festival organized by the journalism department on the basis of a theme. Then workshops are one media that allow students to be exposed to the new trends and tools. All these are in addition to our regular classes. Most of these activities are held during the ECA (extra co-curricular activities) classes.
Careers360: Today, it is observed that cut throat competition has resulted in sensational news, breaking news culture with many a times nil verification of facts. What is your opinion on this? Do you think in the process, the core values of journalism are being threatened?
Vartika Nanda: Fake news is now a common thing to see. This in turn has affected all the streams of journalism in a significant way. In spite of a large number of newspapers across the world, there is erosion of media ethics. We look to teach the students about it in the second year through an exclusive paper called 'media ethics and law'. We try to inculcate these values in the students considering that the world outside has no such worries. As a teacher and a practitioner I believe that one needs to be ethical. I also believe that being unethical can only give success in the short term. Such journalism won't survive in the long run.
Careers360: What specialisations are available to students pursuing Journalism (Hons) course at LSR?
Vartika Nanda: We offer have an interdisciplinary course as the students are just out of high school. They are offered a foray of subjects and the decision to choose the specialization is left for a later period when they are better equipped to do so. It is important that they learn the basics before making the decision. The course covers vivid and varied areas if interest and that is the beauty of the course.
Careers360: Tell us something about "Spectrum" and 'Countertalk'? Since these are the two newsletters which are an in-house publication, are students involved; what is the learning process that is chalked out for them from this?
Vartika Nanda: "Spectrum" and 'Counter talk' are the two newsletters which are published with the involvement of the students. Since our aim is to inculcate as many skill sets as possible, we also get them to work on a newspaper or a booklet. The newsletters are in house publications and published at least twice in a year.
Careers360: In the present scenario, journalism is being segregated in niche fields like sports journalism, travel journalism, travel and tour to name a few.  Do you think this should also reflect in courses offered by institutes so that students can directly move on to the fields they wish to pursue a career in? Does LSR have a proposal in this direction or is it already incorporated in the course?
Vartika Nanda: The syllabus is pretty broad. The idea is to encompass all elements but we do take up niche areas if required. There is no rigid or fixed approach to this. We are open-minded and incorporate such areas if they are needed. To get the practical aspect of it, we also end up organizing a two day or three day workshop for the students to understand it all.
Careers360: Internships are a crucial stage for every budding journalist? What is the process followed by LSR to support students in enrolling for internships? Does the institute place the students or is it the onus of the students? What kind of internships are allowed and encouraged?
Vartika Nanda: Our placement cellis involved in internships and not the department. The placement cell is more in touch with the industry and hence is the main go-between the students and the companies. Students are informed at all stages about the openings, details. Interested students take these up and are shortlisted accordingly if they meet the criteria. The entire process is very transparent. This holds tru for internships and placements as well.
Careers360: Does LSR support its Journalism students with placements?  Please elaborate. Can you also give some statistics for the same for the past few years? Kindly give details of the type of companies, average package?
Vartika Nanda: Some companies that come to mind when we talk of placements are CNN IBN, NDTV. Well, a lot of advertising and public relation companies also come to the campus for recruitment purposes.
Questions related to Lady Shriram College for Women, New Delhi
Showing 64 out of 64 Questions