Mass Communication Courses after 12th
Mass Communication Courses after 12th– Most students completing class 12 are at a threshold of their lives where they make the crucial decision that will impact their lives for a lifetime. Choosing the next course to pursue and make a career is that very big decision that has to be taken after careful thought. While traditional choices like engineering, medicine, accountancy etc have always been there, with the open communication channels have come a series of career choices that are increasingly being looked at by many students as an alternate career choice. Mass Communication is one of those. A generation where internet, TV, Videos, Films and such are a part of regular life, it is no wonder that mass communication has slowly grown to encompass all of this and more. It is here that students faced with a plethora of choices need to decide which mass communication courses after 12th they should take up. While one may have a passion for journalism, someone else may have a flair for writing. Some thrive with passion for films and such media while others may choose to get into advertising. The choices are many and the question is just one- What should be my choice of mass communication courses after class 12? Careers360 attempts to break down the major choices with all the necessary details for students to make their choice of which mass communication course after 12th.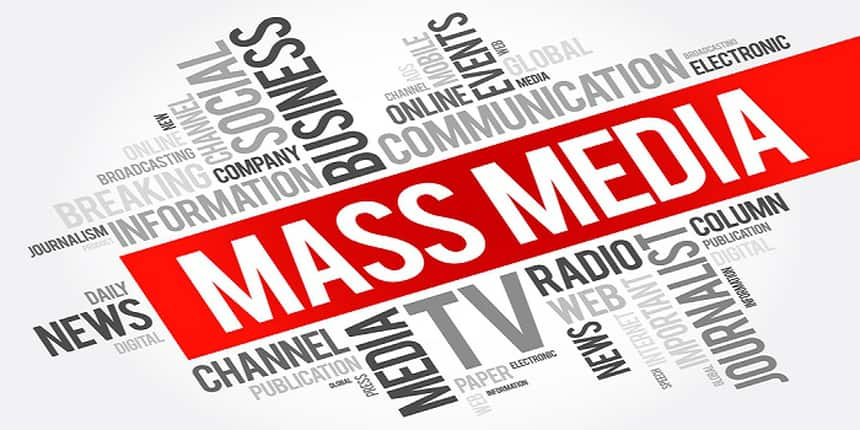 Before starting off let us try to decipher what Mass Communication really deals with and what are the mass communication courses that are available after class 12th. Once the details of the different mass communication courses after 12th are clear, the next step would be to check the institutes that offer these courses before applying for admissions. Also check out the details of the top mass communication courses offered in India.
What do you want to be?
This is the first question to answer. Mass Communication is a vast field and many are the specializations under it. The decision of which mass communication course after 12th you need to pursue will be dependent solely on this. So ask yourself – do you want to be a journalist, TV presenter, writer, reporter, film producer, editor, photographer or advertiser? There are many avenues that are open to you. What you want to be will primarily decide the mass communication course you should study after class 12th. If you are not sure of what you want to pursue that's ok too. You can take up the course and choose a specialization at a later point once you start the course and reflect on where your interests lie.
What is Mass Communication?
Media is now an integral part of our lives. In layman's terms, mass communication is the process through which information is exchanged or imparted from a single source through media to a larger audience. However that is just a small description of what it entails. Mass communication is generally associated with journalism or print media, broadcasting through TV or radio, films, advertising or public relations. With more diverse options, mass communication has come to include social media and new media
Eligibility Criteria of Mass Communication courses after 12th

The eligibility criteria are pretty flexible for all the mass comm courses offered after class 12th. You can come from a science background, commerce, arts or any other- you will still be able to take up mass communication. The reason is simple. Mass communication courses after 12th do not require a thorough knowledge of science which is the case for engineering or medicine or commerce unlike accounting etc. For students after class 12th, these mass communication courses will be the stepping stones to a career in the mass comm field they are interested in.
Most institutes ask for a basic knowledge of English, general aptitude and a good reasoning ability from mass comm aspirants. This is gauged from an entrance test conducted by the institutes. So you need to be good in your reasoning ability, have a good command over English and be abreast of the current affairs. If you qualify, you may need to face an interview too. Check the top mass communication entrance exams to get an idea of the various entrance exams for mass communication in the country.
Mass Communication courses after 12th Commerce
Candidates who have taken up commerce in their plus 2 and feel the need to shift their career path to mass communication can do so without any hassle. Mass communication courses are not discipline centric and allow students from any background to take them up. So commerce students after 12th can take up any of the mass communication courses mentioned on this page.
Mass Communication courses after 12th Arts
Arts students after 12th can take up mass communication courses of their choice. There is no eligibility restriction for them. Many mass communication courses are offered as Bachelore's in Arts in Mass Communication which may seem as an extension of the study in arts.
Mass Communication courses after 12th Science
While many science students may go for science degrees in mass communication, it is however not mandatory for candidates to be science students to take up mass communication. Mass communication may be offers as a B.Sc programme and candidates who feel the need to complete a science degree in mass communication can do so. Not only that, they can also pursue the B.A or BFA programmes if they wish too. The eligiility for all these courses only asks for a pass in their 10+2 with 50% marks with no special emphasis of the background.
Mass Communication courses after Class 12th

While mass communication programmes are generally searched for on the basis of specializations, the degrees that are offered vary from institute to institute as well as the university. A career in mass communication is generally dictated by the specialization that is chosen by aspirants namely –you. Most of the courses are Bachelor's in Art or B.A. However increasingly mass communication has seen changes with some specializations being offered as arts programmes, some as science and some in the form of diploma programmes. What you choose should be on the basis of what you perceive your career to be.
Some of the Mass Communication Degrees can be listed as
1. Bachelor's in Arts or B.A as it is popularly known. Most mass communication courses after class 12th are offered as B.A programmes
2. Bachelor's in Science or B.Sc is being offered in specializations that are perceived to require some scientific precision and studies. Increasingly institutes and universities are offering B.Sc courses in media.
3. Bachelor's in Design programmes are some that are also offered in areas of mass communication which deal with design and related aspects. These are specialized niche mass communication courses after 12th that are now an option for those who wish to combine their designing skills with media.
4. Bachelors's in Fine Arts – another option for students who wish to pursue mass communication after 12th in specializations that are part of fine arts.
5. Diploma or Certificate programmes – while graduation is an important and crucial part of the one's education, you could also look at pursuing shorter diploma courses to get a feel of the filed you wish to make your career in. However a word of caution that must be spelt out here is that graduation is the best path rather than certificate or diploma courses as graduation carries more weightage when it comes to career chances.
While these are degrees that can be pursued by students wishing to study mass communication courses after 12th, the choice of programme generally is dictated by the ambition that drives a student to choose a career. Some of you would wish to become journalists, some radio jockeys, film producers while other may wish to take up advertising, public relations. Some may be more into photography while others may wish to edit or write scripts. Whatever be the ambition, choosing the correct mass communication course after 12th is very important. We bring some career paths that you could opt for.
1. Journalism
The daily newspaper which is a fixture in our lives to the news that is watched at night on television – well journalists are the people who bring all of that to us. Considering that we know all that is happening in the country thanks to the journalists, it is not surprising that journalism is looked at by many students as a very attractive and lucrative career. So, how to become one? There are many institutes that offer journalism as part of the mass communication courses after 12th while there are others that allow you to specialize in it.
Where can I study Journalism after class 12th?
There are many universities and institutes which offer journalism as a specialization in the mass communication courses they offer. The above list is of some of the more popular ones.
2. Film Making
Films represent the dreams of many on celluloid. The script writer, photographer, producer, director, actor, musician and many more come together to create one film. Many careers and one destination! Well film making was and still is a lucrative career for many. In recent years, film making courses are being offered with specializations that suit the career dreams of all individuals who join them. Some of film making courses that can be taken up after class 12th are given below. The comprehensive List of Film Making Institutes in India can be checked for more details
Some Film Making Institutes in India
Name of Institute

Course

B.Des in Animation and Film Design 
B.Des in Film and Video Communication

B.Sc./B.A. in Filmmaking

BFA (Film Making)

B.A. (Film & Television Production)

B.A. Programme In Film, Television And New Media Production

B.Sc. In Film Making

B.Sc. Honours (Mass communication and Videography)
3. Other Specializations:
Some of the widely preferred specializations in Mass Communication can be listed as
Radio & Television Production 

Advertising & Public Relations

Photography

New & Convergent Media

Communication

Visual Media
While the above mentioned are some specializations, the fact is that these specializations are part of the mass communication degree course. You may be asked to choose one of these as your specialization while completing your graduation or you may even have specialized courses. Some of the mass communication courses after 12th with specializations offered are listed below.
List of other Mass Communication Specializations
Institute

Programmes offered

Osmania University

BFA Photography

Jawaharlal Nehru Architecture and Fine Arts University

B.F.A (Animation)

B.F A (Photography & Visual Communication)

B.Sc Photography

Symbiosis School Of Photography

B.A (Visual Arts and Photography)

Bachelor In Film And Television Production (BFTP)

Symbiosis Institute of Design 

B.Des in Communications Design

B. Sc. in Visual Media

BA in Media & communication

VIT University

B.Sc in Multimedia and Animation

BA In Animation & Computer Graphics/ Still Photography/ Video Editing & Videography

Department of Media Sciences, College of Engineering, Guindy,  Anna University

M.Sc. Electronic Media (5 Years Integrated)  

Bachelor of Communication, Journalism & Public Relations
Read more on Top Mass Communication Courses in India