Experience life at Symbiosis with Ayushmita Rao: "Internships across different media sectors are stepping stones to build good career"

A photographer by passion, Ayushmita Rao, aspired for a profession where she could stand up for issues and voice her opinions. So, when it came to opting a professional programme, what better than Media and Mass Communication. She pursued her Bachelors in Media Studies with a specialisation in Audio Visual Communication (Film and TV Studies) from Symbiosis Centre for Media and Communication, Pune. In an interview with Careers360, Ayushmita shares her experiences of learning at SCMC Pune and her campus life. She elaborates on why internships across sectors aid students in making an informed decision about their career path. She talks about the hectic campus life that at first is overwhelming due to student diversity but actually transformative for a student. Read on to know more about the campus life at SCMC Pune, its facilities, infrastructure support structure and more. Also read about Ayushmita's take on the challenges faced by the media graduates in the industry.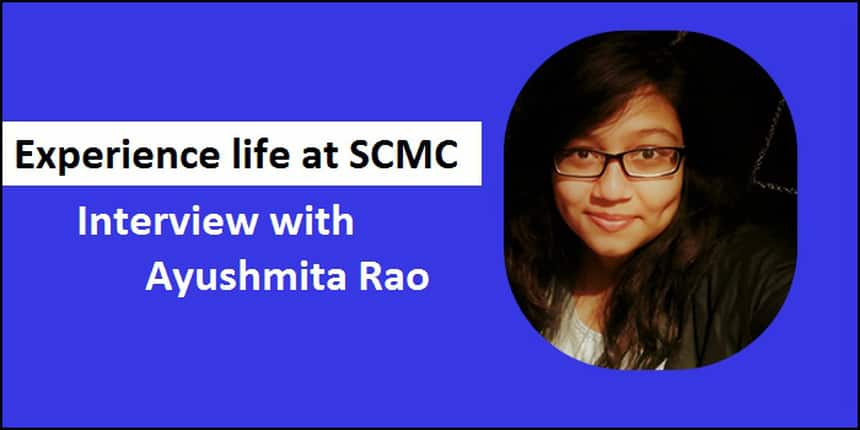 Careers360: Tell us about your educational background, your hobbies, and a few interests?
Ayushmita: I've done my 12th specializing in Science (PCME) simply because it was deemed as a safe option. Considering that I was interested in law and media (I applied for both), media took the place of a better option in my mind. I then went on to complete my Bachelors of Media Studies with specialisation in Audio Visual Communication (Film and TV Studies) from Symbiosis Centre for Media and Communication, Pune. During my life at SCMC, I discovered my love for photography and started pursuing it in a professional capacity.
My hobbies and interests, well… I love travelling reading, photography, indulging in discussions regarding most of everything, following good television and films and oh, I'm a closet singer and food enthusiast.
Careers360: What influenced you to study Media and Mass Communication?
Ayushmita: I went through a process of shortlisting, eliminating and then finalising the programmes and institutes. I wanted a profession where I could stand up for issues I believed in and voice my opinions. So I appeared in the requisite entrance tests and finally got into the Symbiosis media programme. My experiences and study here have shaped my current viewpoint that there are many ways of voicing an opinion.
Careers360: Share your experience of SET, how the test was entrance test was like and how future students must prepare for the same?
Ayushmita: SET is a simple exam. It has English, Quants, GK and Reasoning. My strong suit was English so I didn't have to prepare much for that. But for future aspirants, my advice would be a tried and tested one – to read, as much as one can – preferably newspapers/magazines etc. Quant was something I had to pull my socks up for, but it was nothing new. The level of Quants questions is that of a 10th standard. Students should do as many mock tests to get a fair idea about the test and also to get a good amount of practice to clear the exam.
Careers360: How were your initial days in the college? Was it tough to cope up or was fun and exciting?
Ayushmita: I still remember the first time I walked into the campus, saw that huge red brick building and fell in love with it. My college has a very aesthetically tasteful structure. The college has a diverse set of students from different countries, so it was a bit overwhelming initially. However, you gradually realise that it is a great experience to interact with many different mindsets and attitudes all at one place. This combined with a sense of freedom is also a great test to yourself as an individual to set aside your prejudices and interact with an open mind. 
Careers360: What made you select a specialisation in Audio-Visual Communication (Film & TV)?
Ayushmita: Initially, I thought I wanted to do just Journalism, but over the 3 years I spent there, I realized that I express better through images than words. In all honesty, it was as simple as that. My specialization is misleading as many think that Audio-Visual is for those who want to make films; well it is not. There's a reason it's called Audio-Visual. It involves everything that comes under that medium, films, TV, documentaries, digital, animation etc. and hence the name. It's also great for anyone who wants to not just study the practical aspects of the field but also about the great directors who've made a mark in this world and study the movements in cinema inspired by the happenings in the world.
I discovered my love for TV during that final year and am now looking to get into the same industry full-time.
Careers360: How was your campus life? What was the normal routine like? Would you elaborate on how you balanced your studies and other activities?
Ayushmita: Campus life was great! The timings are sort of staggered so there isn't a rush during lunch or for the lift etc. So class starts at 9:30 am for the first years, 9:45 am for the second years and at 10 am for the final year graduates. The day is done by 4:30-5 pm unless you stay back for the extra-curricular clubs. This left us with plenty time to head back, grab a cup of coffee, get to work on assignments, any projects we were working on or any other social events we wanted to attend. It's a balancing act. And it's not that difficult to do. 
Careers360: Have there been any new programme initiatives by the University for supporting the course?
Ayushmita: Well, there's the Lecture Demonstrations that were held every month. These are basically cultural events ranging from music to dance. We even had a Lec-Dem on Western Classical Music by Korean Opera Singers. Renowned performers would literally lecture through demonstrations introducing us to various facets of our culture that we were not even aware of.
There's also a mandate to do an internship after every semester. The first two are supposed to be NGO internships, the third one an NGO or a CSR and the last two industry internships. I think that's the best initiative by the institute so far because landing these internships is not just great experience and exposure but also the opportunity to establish contacts. It also adds value to your resume.
Careers360: How is the balance between theory and practical sessions at the Institute? Share details about your media studios, equipment for practical exposures etc.
Ayushmita: Theory and Practical sessions are well balanced. The college is equipped with a Sound Lab, an Edit Suite, a green screen studio with PCR, a track, trolley and several cameras/DSLRs. We were given practical sessions in Photography, Lighting, Camera, Editing and Sound Editing. The college also lends lights and other equipment for any shoots. We can also use the suites to carry out our edits in case we don't have the software with us. It also ties up with the Design Institute for Animation classes and use of their labs.
Careers360: Are there any guest lectures or industrial visits to industries, to equip media students with the current industry trends and challenges?
Ayushmita: Most of our faculty is either visiting or guest lecturers. During my college days, we had a lot of industry people coming in for lectures.
Our field trips were monthly in nature. During my time, my batch got to visit the sets of KBC and India Poochega Sabse Shaana Kaun. We also visited NDA, Ralegan Siddhi, Lavasa, INS Shivaji, AIR and Dawn Studios. Our Study tours took us to Panchgani for an Effective Leadership Program with Initiatives of Change, to Kune Mission and to Hyderabad. These varied trips ensured that we were not just limited to our field of study but also got to learn and experience different things.
Careers360: Share one most memorable experience of your campus life.
Ayushmita: That's a tough choice to make. I can say the lectures with our Television and Broadcast professor who is a guest faculty. Those 3 days every year that he comes down are well attended and liked by all.
Another experience is the time when our college has organised 'Jugaad'. It's sort of a filtered down version of Beg, Borrow, Steal where we're provided with clues and navigate the city without any money, solving one clue after another, hitch-hiking, solving the challenges in front of us. What an experience it was!
Careers360: As a media student, what do you think are the challenges faced by students after completion of their programme? What steps should be taken to ensure that this gap is resolved?
Ayushmita: I think the biggest challenge is cracking a foothold in the industry, which is why internships become so important. The contacts you make there, the work you do works out a lot of times for students. One thing I have learned is that the industry looks at your quality of work. It doesn't care much about your scores but it does care about the exposure and experience you have and the projects you have worked on. You can have all the degrees in the world but if you can't differentiate between the nuances in the field, then there's no point of them.
I think that working on your skill set is important, working on projects, learning about software and working on them, gathering as much experience as you can
Get real-time alerts on exam & colleges at your fingertips with Careers360 App!
Click Here to Install or Give a missed call on 08080944727 to get app link.
Read more about Media and Journalism on https://media.careers360.com
Symbiosis Centre For Media and Communication, Pune Updates and Articles
Questions related to Symbiosis Centre For Media and Communication, Pune
Showing 115 out of 115 Questions