MICA President & Dean Interview- "We are a School of Ideas"

If you are a media aspirant then you must have heard of MICA (formerly known as Mudra Institute of Communications, Ahmedabad). The institute was set up with an aim to facilitate the presence of worthwhile professionals in the world of Business, Communication, Design, Entrepreneurship and Innovation. Started 26 years ago, MICA has come a long way and is one of the sought out institutes of the country. Courses offered by MICA have special focus on strategic marketing and communication, branding and consumer insights, media and entertainment, innovation, entrepreneurship, design, digital and data analytics. Careers360 caught up with MICA President Shailendra Raj Mehta and Dean Dr. Preeti Shroff to talk about the institute, its DNA, what students can expect at the institute and a wide range of student relevant issues. Read on MICA President & Dean Interview to know more.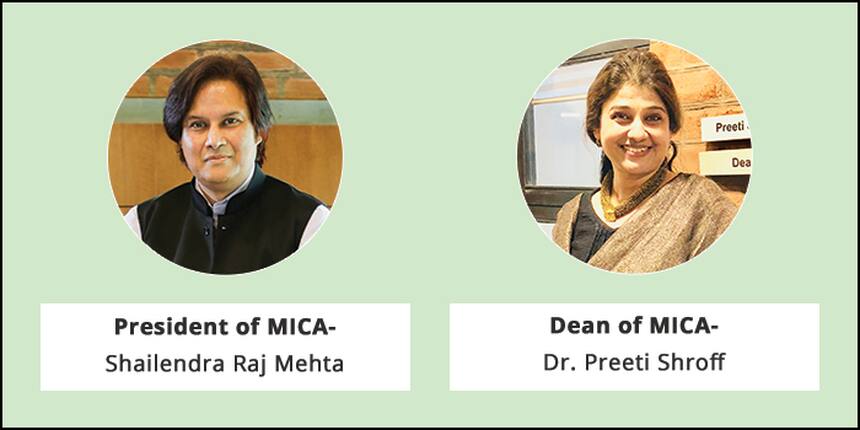 Careers360: MICA is dedicated to Strategic Marketing and Communication. Why has this particular specialization been chosen by MICA and why should students choose it?
Shailendra Raj Mehta: MICA's Vision is to be the Premier Management School for Marketing, Communication, and Creativity in a design-driven and digitally enabled world. Our mission is to develop empathetic leaders and thinkers who are creative and adaptive problem-solvers for a rapidly changing world.
We take our tag line – 'The School of Ideas' very seriously. MICA was conceived as a school with a difference; comfortable at the intersections like creativity and rigor, data and narrative as well as logic and intuition. Our graduates are equally comfortable in thinking and leading; and have rapidly carved out a niche for themselves. Our Alumni have a very close bonding with MICA.
Not just Strategic Marketing and Communication we also have a strong focus on Branding and Consumer Insights, Media and Entertainment, Innovation, Entrepreneurship, Design, Digital and Data Analytics. The course has been designed to responsive to the global environment while remaining in tune with the rapidly changing needs of the customer. Communication, especially in digital and multimedia world is what helps brands connect with the right target audience and strategies to find a competitive edge and position themselves in the most effective manner. We prepare students to become thought leaders. Strategic marketing and communication in a global context is what sets our students apart as leaders and professionals, with their understanding of consumer behaviour, culture, connections, communication and all of this in the digital age!
Careers360: What was the underlying principle behind MICA and how far has the institute achieved the same since its inception?
Dr. Preeti Shroff: The underlying principle behind MICA was to combine creativity with management and communication for innovative problem solving in the corporate, academic, government and social sectors. A core principle at MICA is rapid adaptation to the emerging business, social and economic challenges. MICA was set up in 1991 just as the liberalization process was starting in India and the process of globalization was spreading across the world. As a result, MICA was among the first institutions in the Asia Pacific region to heavily emphasize the integration of design and digital technologies, across all specializations and its research.
Careers360: Mostly PGDM courses are associated with B-Schools; can MICA be called as one under this umbrella or is it a media school considering its programmes are more oriented towards media programmes?
Shailendra Raj Mehta: MICA is a B-School with an emphasis on Strategic Marketing & Communication Management. Our PGDM Program is equivalent to an MBA. The course offers students a specialization in Media and Entertainment Management. It is one of the four specializations that we offer. The other specializations are Advertising & Brand Management, Digital Communication Management and Marketing Analytics.
Careers360: What does the institute look for in students during the selection process which consists of a group discussion and personal interview?
Dr. Preeti Shroff: MICA requires candidates to take any one of the AICTE mandated CAT/XAT/GMAT Tests. In addition, they have to appear for MICAT, Group Exercise and a Personal Interview.
MICAT, or the MICA Admission Test, has been designed comprehensively to assess the analytical and verbal ability, logical reasoning, divergent thinking, emotional intelligence, written communication skills, creativity potential and general awareness about contemporary social and industry related issues. The Group Exercise assesses the candidates' ability to work in groups to solve concrete problems. The objective of the Personal Interview is to assess the suitability of the candidate for a career in Business Management, Strategic Marketing and Communication domains and to be innovative leaders and professionals.
Careers360: MICA has international tie-ups and collaborations as well as student exchange programmes. How does a student at MICA benefit from these? How frequent are these exchange programmes? Do they include any internship or practical training?
Shailendra Raj Mehta: MICA has put in place, international research and program collaborations for faculty and students. MICA faculty travel abroad for academic pursuits and visit various institutions to learn the best practices in teaching, research and consulting. This is to encourage collaborative research, teaching and consulting projects. Each faculty is given funds to attend international conferences. Distinguished global faculty is also regularly invited to MICA for workshops, classroom sessions and seminars. All these collaborations and learning have led to joint research papers and pedagogical innovations in the classroom. Currently, MICA has strong partnerships with Michigan State University (MSU), Emory University and USC, while other partnerships are under development.
MICA has launched the International Student Immersion Program with MSU that will include on-campus learning, interaction with MSU faculty and a practical learning component with industry. Conversations are underway to design and deliver international immersion programs in collaboration with USC, Northwestern and Emory Universities.
Different International Immersion Programs are available every year for our first and second year students of the two year PGDM Program.
MICA Fellowship Program in Management (FPM), which is our Doctoral level program, places students abroad for three months to work in collaboration with a faculty member at a foreign university of their choice. All expenses for this program are borne by MICA.
Careers360: How are the industry expectations and requirements incorporated in the programmes at MICA? Are there internships and practical training for students that facilitate this?
Dr. Preeti Shroff: Industry and alumni representation and guidance starts from MICA's Governing Council, which has very strong representation from industry with several board members being MICA alumni.
Industry insights are also woven into the curriculum through alumni & industry participation in our yearly curriculum reviews. At MICA we have a significant number of industry professionals (including alumni) teaching pre-defined components of various courses, thus enriching them with current industry applications and practices. Many of our faculty bring industry experience and continue to provide consultancy and executive education to multiple sectors of industry.
Our students undertake an 8 to 10 week summer internship in leading companies across different sectors of industry, and the feedback is formally shared with MICA. Many companies use it to make them pre-placement offers (PPO).
We regularly invite industry leaders to speak to our students under the aegis of MICA Leadership Series, this includes well known industrialists and promoters, CEOs and other senior leaders.
Our graduates work in leadership positions in some of the most iconic companies and brands in India and globally. We continually engage with them to incorporate their insights and experience into our curriculum and program designs.
Besides internships, MICA students do industry research projects through MICAMINDS, our student research committee.
Over the years, students at MICA have consistently won global corporate competitions, while going head-to-head against their counterparts from leading business schools worldwide.
Careers360: The institute also offers fellowship programme as well as the Crafting Creative Communication Programme. These are the other residential programmes apart from PGDM. Who should opt for these and why?
Shailendra Raj Mehta: The Crafting Creative Communication (CCC) Program is a one year residential certificate program and is specially designed for people who want to pursue careers as ideators, content developers, graphic designers and brand strategists across multiple industries. Today, the need is for conceptual thinkers who are also 'executors' and 'managers'. This includes industry roles such as copywriters, art directors, designers, animation specialists, creative directors, TV commercials makers and web designers. The ability to write well and visualize is seen as a major advantage. Those selecting the program are expected to have some industry experience or industry relevant knowledge.
The FPM is an AICTE approved doctoral level program that encourages both fundamental and applied research in the fields of Marketing and Communication. Scholars can specialize in any one of the following areas:
1. Marketing Management
2. Culture and Communication
3. Media Management Studies (includes New Media)
4. Social Change and Development Communication.
Scholars are encouraged to pursue interdisciplinary research, given the training and mandatory areas of course work. Through this program, MICA aims to encourage both fundamental and applied research in the marketing and communication domain. The program produces 'Fellows in Management' who meet international norms of research and education.
Fellows of MICA's doctoral program currently work at Management and Communication Institutes and University departments as faculty members as well as leading consulting companies.
Careers360: There are also online programmes offered by MICA. Who should enroll for these and what is the benefit of these programmes?
Dr. Preeti Shroff: All online programs at MICA whether short term or long term are aimed at working professionals, who want to upgrade their skill sets or add relevance to their resumes. MICA offers online programs in the area of Advertising and Brand Management, Public Relations, Marketing and Consumer Insight Mining, Digital Marketing, Business Management and Research Analytics. The participants get to learn directly from MICA faculty and highly experienced industry professionals and get an opportunity to move up to the next level in their careers. They get exposed to the MICA way of learning and global case studies and live projects.
Selected programs also bring online students to MICA campus for cohort learning and face-to-face exchanges with MICA faculty.
Careers360: What is the role of the placement cell at MICA in preparing students for placements? How are the students prepared and trained to face the interviews?
Shailendra Raj Mehta: The Placements Committee at MICA is a student run body, mentored by the Associate Director for Marketing and External Relations. They invite and interact with companies for campus based participation, recruitment for summer internship and final placements at MICA. The Committee schedules and runs the activities of the placement week and facilitates selection process including completion of all documentation, as required by the companies.
Throughout the year, the Placement Committee mentors all students and offers guidance for resume building, facilitates sharing of internship experiences, connects students with alumni and organizes industry insight lectures, so that the students may be better prepared to face interviews during placements.
Careers360: What are the future plans of the institute in terms of new programmes, new campuses if any? What more can students expect from MICA in the future?
Dr. Preeti Shroff: MICA is planning to expand the enrollment in its PGDM Program in the next couple of years. Students at MICA can expect a much more global, research and industry oriented, entrepreneurial, rigorous and innovative institution going forward.
We have developed several new cutting edge courses that significantly expand the curriculum in ways that are unique. This has been done in collaboration with several leading companies, MICA alumni and partner institutions. Through this process of co-creation of new knowledge with institutions that are facing the newest challenges in a rapidly evolving global environment, our students can expect to receive and benefit from knowledge and perspectives not available anywhere else.
Questions related to MICAT
Showing 53 out of 53 Questions