MICAT 2020 Students Reaction
MICA Ahmedabad is conducting MICAT for the first phase. At the test centre, there were mixed reactions of students as they gear up to prepare to appear for MICAT which will be conducted in computer-based mode. Some of the candidates are well prepared for the exam and they share their experience about how they have prepared for the entrance test, the books that they have consulted during the course of preparation. Careers360 brings to you the student's reaction pre and post the exam wherein we will get to know after the exam the overall difficulty level of the entrance test, the sectional difficulty level and what are their prospects of making their way to MICA.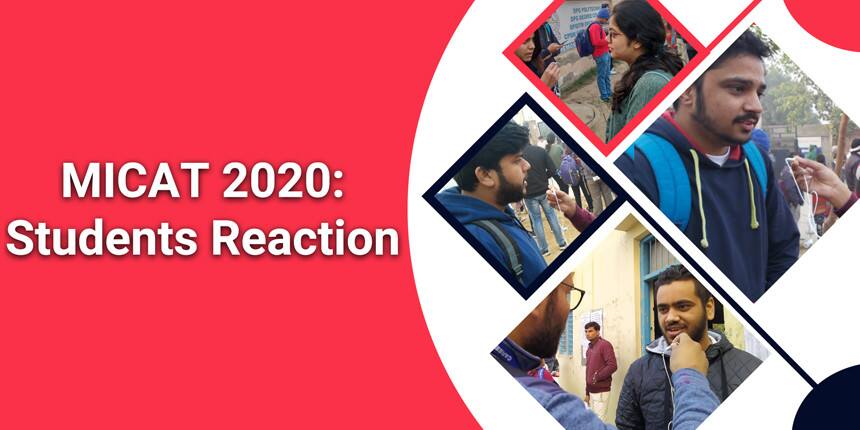 Post-Exam MICAT 2020 Students Reactions
According to Divyansh, "The difficulty level of MICAT 2020 was moderate and some of the sections were quite easy and nothing appeared to be very difficult. There were 150 questions in the psychometric section. The easiest section was English. I believe that I was a bit slow in typing and would have been able to do better if I was a bit fast.."
Speaking about different aspects of MICAT 2020, Ajay stated, "Difficulty level of the exam was moderate and basically it was about time management. The quantitative section was easy for me."
Akash who was a working professional stated, "Difficulty level of MICAT 2020 was easy to moderate and some of the sections were tough for me especially general awareness section. In quantitative sections, the calculation was very lengthy and complex. The easiest part was the Diversion and Conversion questions.
Pre-Exam MICAT 2020 Students Reactions
Speaking about her preparation, Soumya says, " My Preparation for MICAT is pretty good. I will try to answer those questions which are my strong areas and then will focus on creative writing questions as scoring well in this section will increase my chances for qualifying for the second round.
Another candidate Nitesh, who will be appearing for MICAT today, talks about his preparation strategy wherein he says, " For MICAT, I have been preparing for three to four months. My preparation for MICAT is decent. I have no particular strategy that I will follow as I take the exam. However, firstly, I will try to answer questions which are easy and then will answer the remaining ones depending on the difficulty level. Also, I am expecting 90% percentile in my MICAT entrance exam.
Mohit who is appearing for the entrance exam mentions that he will also target easy questions first and added that his preparation for the exam is relatively decent, "My preparation for MICAT is good. I will try to solve the Descriptive section first then proceed to answer questions in other sections. Also, I am preparing for XAT and CMAT entrance exam. I am expecting more than 90% percentage in my entrance exam."
Rishabh while talking about his strategy for MICAT 2020 says, "As of now I do not have any strategy for the exam. Maybe I will have a more clear-cut plan when I take the exam in February. Also, I am preparing for IBSAT and XAT entrance exam because I am eligible for those entrance exams."
In conversation with the correspondent of Careers360, Raschel talked about his strong and weak areas and added, "I have prepared very well for the MICAT. I am confident about my English, so my focus will be on the verbal ability section and then I will attempt the quantitative ability questions. I am expecting more than 95% per cent in this exam. Also, I gave the CAT entrance exam."
Siddharth is preparing for other exams apart from MICAT 2020. Talking about how his preparation strategy, He stated, "My preparation for MICAT is good. I have no particular strategy for the exam. I will try to solve the verbal ability section and then proceed to answer questions in other sections. I am expecting more than 90% percentile in my entrance exam. Also, I will give SNAP entrance exam which will be conducted on December 15."
Questions related to MICAT
Showing 53 out of 53 Questions