Director Interview- "Our Focus is on research & collaborative learning" says Dr. Triveni Mathur (SSMC Bengaluru)
Director Interview- Owing to rapid technological developments that are taking place, dissemination of information at a swift speed has transformed the study of journalism and mass communication. Dr Triveni Mathur, Director, Symbiosis School of Media and Communication, Bengaluru talks about the impact of this and more in an exclusive interview with Careers360. Dr Mathur highlighted the growing importance of big data analysis and digital communication and how it has helped in the evolution of media studies. She emphasizes about the methodology of the institute that is a combination of interactive sessions, lectures, backed by case studies, guest lectures with a strong industry connect. Dr Mathur also talks about the placements trends, support to the students in this as well as a range of student-related issues in this interview.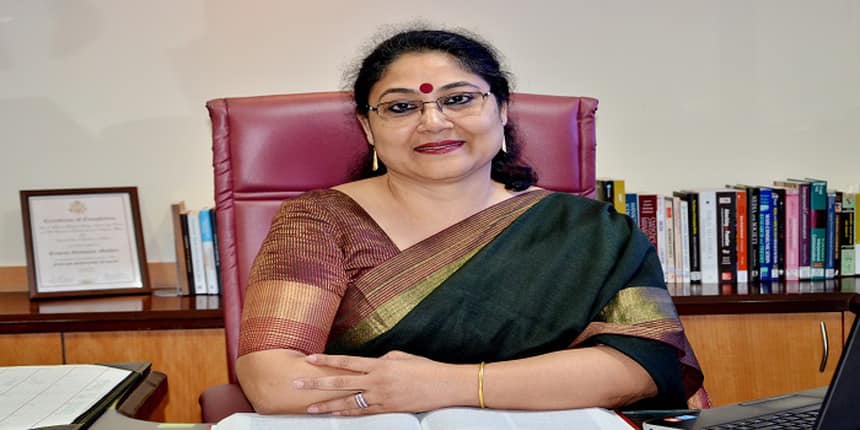 Careers360: How do you see media studies evolving as a core stream in near future? What is the important development or change you witnessed in media studies in recent years?
Dr Triveni Mathur: The access to information and the dynamism of media, as we know today, has only catapulted the study of media as a core stream. The key development being rapid technological strides that has impacted the way information is being disseminated today. We are truly living in a multi-media set up today. The skills of both information gathering and information dissemination has changed with technology playing a critical role. The importance of big data analysis and digital communication has also made media studies evolve further as a core stream.
Careers360: What is the difference in mass communication and media communication or mass media? Is there any major differentiating factor between these three terminologies? Kindly explain it?
Dr Triveni Mathur: Often times we see people using these terminologies as synonyms. While Mass Communication is a process of communication to a large number of people or organizations through a channel of communication - broadly classified as broadcast, print, audio, audio-visual and digital, Mass Media is the technological tool used to store the information and data which is then communicated to the public through the channels of communication.
So, to simplify, Media Studies or Mass Communication Studies teach students the whole gamut of information comprehension, collection, dissemination, technological tools, methods and processes to communicate with the larger audience – the masses and the management of media businesses.
Careers360: What according to you is a primary requirement for a student who wishes to pursue mass communication? Is there a certain factor that student should possess if he/she is willing to opt mass communication course?
Dr Triveni Mathur: A student wishing to pursue this program must have a passion for media studies, impeccable writing skills, extensive reading. This is an exciting and dynamic field, and so, it is not just a run-of-the-mill course.
Careers360: Could you elaborate a bit on courses and programmes offered?
Symbiosis School of Media and Communication – Bengaluru offers only ONE program as of now. It is a two-year full-time MBA (Communication Management) with specializations in Advertising, Public Relations and Media Management. This is an MBA for people who are passionate and keen to understand, learn and work in the business of media. In the first year, we expose the students to various components of media, culture and society including economics, business statistics, marketing management, research, digital marketing, communication solutions for businesses, integrated marketing communications besides introduction to the specializations that we offer in the following year.
In the following year, specific to the specializations, students learn deeper aspects of strategic management in advertising, Public Relations and Media Management, evaluation of communication strategies and models, corporate communication, campaign planning, media investment management, digital communication solutions, brand valuation, business model for digital future, media laws and ethics etc. Besides, Social Responsibility project which is integrated into the curriculum helps our students to be socially sensitive.
Careers360: Apart from the entrance exam, what does the institute look for in a student during the admission process?
Dr Triveni Mathur: We conduct the Group Exercise (GE), Personal Interview (PI) and the Writing Ability Test (WAT) after a candidate has been shortlisted based on merit in the entrance test. We test the candidates' comprehension ability, creativity and writing skills, team work, imagination, innovative/ creative bent of mind. An applicant who has over the years shown an inclination for media studies through the acquisition of skills or participation in various activities during their previous academic or professional career is a value-add, but not compulsory. Neither is previous work experience compulsory. A candidate can be from any stream of under-graduate studies.
Careers 360: How is the programme curriculum devised? Is there any industry connect to the programmes offered and how?
Dr Triveni Mathur: We take into consideration feedback from the industry, faculty, alumni and students regarding the learning outcomes and industry applications. This helps us in taking inputs to update our curriculum at regular intervals which then follows a stringent process of curriculum revision as outlined by our Symbiosis International (Deemed University).
Careers360: How does the institute equip students with the industry knowledge through its degree programme? What is the curriculum, the pedagogy followed?
Dr Triveni Mathur: We have regular sessions with industry experts aligned to the subjects that we offer. Almost every subject has an industry expert who 'joins the dots' of theory and practical understanding. In addition to this, students undertake industry projects, followed by internships. The pedagogy that we follow is a fine blend of lecture and interactive mode, strengthened by case studies, real-time scenarios, guest lectures by national and international academicians and industry experts. We encourage a lot of research and collaborative learning and industry interface to make this process of learning enriching.
Careers360: Are internships a part of the programme? If yes, how does the institute support its students to get internships?
Dr Triveni Mathur: Internships are an integral part of the programme. The institute supports the students in getting internships in leading media organizations and corporates.
Careers360: Can you give some details about the accreditation for the courses that are offered by the institute?
Dr Triveni Mathur: Our University is NAAC accredited, UGC recognized.
Careers360: Tell us something about the placements. Is there any cell to prepare or groom students for the placement process?
Dr Triveni Mathur: We conduct sessions and interact with our students on a regular basis to prepare them for the placement process. This process includes, not just personal grooming, but also industry insights to equip them to face the outside world besides training in soft skills including the right attitude, presentation skills, group discussions etc. The Corporate Relations Cell is headed by an executive staff and includes students' representatives.
Careers360: Also, throw some light on the top recruiters of the institute? What kind of companies visit the campus, what jobs do they offer the students? Please provide some figures of the past year.
Dr Triveni Mathur: Recruiters include leading media houses as well as corporates. To name a few, the companies who recruited the batch of 2015-2017 include are Tata Services, Biocon, ABB, Huewie, The Practice, McCann Health, Genesis B&M, Weber Shandwick, MSL Group, Kestone IMC, Group M, Yahoo Ethos, Langoor, Gozoop, Infiniti, Hansa Research, Happay, Watconsult, Wings, Trescon to name some.
93% of our last year students were placed. The remaining either opted out of the process to pursue higher studies or entrepreneurial activities.
Over the years, our alumni are successfully placed in esteemed corporate houses such as Zee TV, Infosys, ABB, HCL, Biocon, Group M, Time Inc, ITC, Ogilvy and Mather, Coral Research,Zomato, Zivame, The Practice, Madison PR, DDB Mudra, Draftfcb ULKA, Genesis B&M, Wizcraft, Grofers and such others.
Careers360: When it comes to media studies, Symbiosis has two arms- SCMC and SSMC. Why is this separation? Is there any particular difference, apart from the course offered?
Dr Triveni Mathur: SCMC is an under-graduate college of media and communication in Pune, SSMC-Bengaluru and SSMC-Pune are post-graduate institutes of media and communication. All the three institutes are constituents of Symbiosis International (Deemed University)
Careers360: What should students look for while applying for a mass media course in a particular institute?
Dr Triveni Mathur: The accreditation and recognition by statutory bodies, brand image of the university, the curriculum, pedagogy and most importantly whether it is a course that the student wants to pursue such that it fulfills their career goals and objectives.
Careers360: Could please share any key changes in the institute's course structure that will be introduced within the next few months? What are the future developments which institute is going to come up with?
Dr Triveni Mathur: We do not intend to change the course structure in the next few months as it has been revised very recently. We look forward to enhancing academia-industry collaboration and focus on media research and application.
Questions related to Symbiosis School of Media and Communication, Bangalore
Showing 120 out of 120 Questions