TV Journalist Interview: "A journalist should have commitment to facts, audience and be courageous," says Manoj Raghuvanshi
Visuals still appeal to the human eye and are more captivating than any other means of communication. Even today broadcast journalism holds a lot of value as television has penetrated in rural households. This is the best form of entertainment as well as a source of information for people residing in rural India. However, one needs to know that broadcast journalism has a wide spectrum as the audience are able to see, hear and analyse. Hence, it is able to create a more powerful impact. Plethora of spheres that have opened for broadcast journalists as they can carve a niche for themselves not only on television but also on you tube and other mediums. In a candid conversation with Careers360, Manoj Raghuvanshi, a veteran journalist, with more than four decades of experience in this field, shares his experience and provides valuable tips to all those who are aiming to make a career in the field of broadcast journalism. Manoj Raghuvanshi is currently teaching at Amity also and during his interaction, he also talks about the essential traits which a broadcast journalist should possess. Read the complete interview of Manoj Raghuvanshi on this page.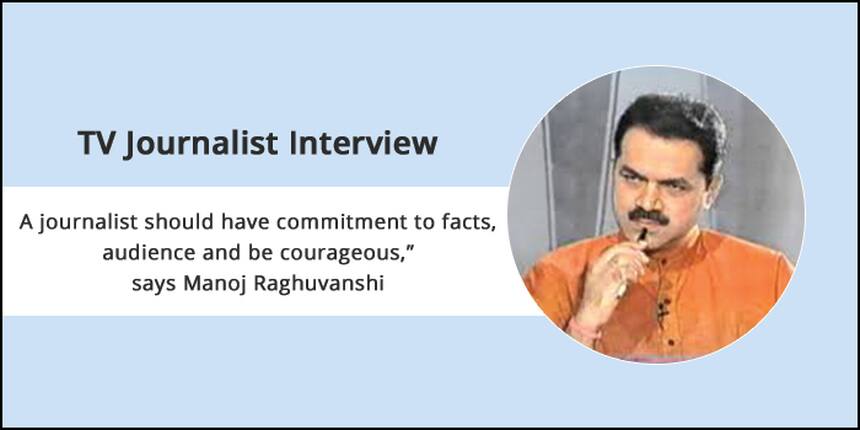 Careers360: Tell us something about yourself? How and when did you decide to take a plunge in the field of broadcast journalism?
Manoj Rahuvanshi: I was studying in University of Delhi and my friend Vinod Dua invited me to take part in few of the programmes which he was conducting on Delhi Doordarshan in 1978. I participated in the programme which was a panel discussion. The producer of the programme liked my performance and so she asked me if I would be interested in anchoring the programme. I grabbed the opportunity and I started anchoring the show. Later on I also got an opportunity to work in radio. Later on I also got to work as a freelancer with the magazine called "Probe." They liked the stories I wrote for them and asked me to work for them on a permanent basis as a regular correspondent. My journey into the field of journalism began in the reverse direction as normally people begin their career with print journalism and then move onto television journalism. In my case it was just the reverse.
Careers360: According to you, how would you define broadcast journalism?
Manoj Rahuvanshi: Broadcast journalism is a wide spectrum. It has the power to make impact through words, through visuals as well as through non-verbal communication. It is one of the most powerful means of communication among all the three. The very fact that the audience gets to see the body language, it makes a lot of difference. The spectator is able to judge better when they are able to see him or her speak. In broadcast journalism, there is no limitation which is there in the print. Though things have changed even in the print as earlier it used to take long to get the newspapers printed. However, today with the advancement in technology, news or any other information is available quickly even visually.
Careers360: What are the various spheres in which one can venture into broadcast journalism?
Manoj Rahuvanshi:One definite area is news. However, apart from broadcasting, there is narrow casting also. Today, people can venture into sports journalism, travel journalism, crime. The areas which are yet to make their mark in the field of broadcast journalism are education and the health domain. If we look at it, education is something is of concern to everyone. Under the initiative of Ministry of Human Resources and Development, "Swayam" was launched which provided videos related to the education domain. However, the quality of the videos was not good. The end result is that they are not good substitutes for either class room teaching or the text books. In the near future, I am pinning hope that there will be a full-fledged education channel.
The other area which needs to be covered is law and justice. There are a lot of wrong doings that are taking place in courts and by lawyers as well, which needs to exposed. The reason why people can excel in this field is that no one wants to be exposed as they are scared to be either photographed or videographed. Hence, those who are trying to make their mark in broadcast journalism, people can venture into this sphere of law and justice and make a mark.
Rural area is also unexplored. Today the people staying in the cities, they are unaware about the rural life and culture as well as the agriculture. Moreover, important issues such as suicide by farmers need to be highlighted to a great extent. The reporter and the camera person need to travel to the villages and showcase the plight of the farmers. There is absence of storage as well as procurement facilities. Once it is exhibited on a large scale, then steps would be taken to address their problems at a swift pace.
There are very few television channels who take up problems affecting the health sector. It is observed that in every family at one point or the other someone falls sick. Hence it is important to work in this sphere also like take up the issues of the exorbitant amount of fees that is charged by the patients in private hospitals as well as the soaring prices of medicine.
Earlier television was an urban phenomenon. If there are audiences in the rural areas then you will also be able to attract the audiences.
Careers360: Social Media has taken over other forms of communication such as broadcast and print. So how relevant in today's context is broadcast journalism. Do you think that with the emergence of social media tools like going live on Facebook, broadcast journalism will take a back seat.
Manoj Rahuvanshi: It is not a very good situation that social media is overpowering broadcast journalism as it is being used to spread rumours and there is no regulation. When we compare it with broadcast journalism, people or news channels can be held accountable for any misinformation. Though social media is being overtaken by broadcast journalism, the saddest part is that facts are being misconstrued. The reason I feel is that a vaccum is being created by traditional means of media.
Voicing your opinion on social media is fine but it should be backed by correct facts as it would be misleading. The problem that needs to be addressed is that this random talking and getting away with it. The issue is to ensure that the information being disseminated by you to the people at large is correct because people are relying on you.
Careers360: It is observed that in broadcast journalism, television channels are going in for increasing their TRPs and breaking sensational news. There is lack of substance while discussions are taking place. What do you have to say about it?
Manoj Rahuvanshi: Participants feel that by shouting they would be able to draw the eyeballs. However they fall into the trap of those anchors who raise the voice. By not shouting, there are people who are doing an incredible and sober job and still attract a good audience. The anchors are biased but if you talk in a decent manner, then also people will watch you. Without shouting also, one can draw attention. This allergic reaction among people to the shouting and screaming that takes place on the television is in fact having an adverse impact on broadcast journalism.
News bulletin should not be restricted to one perspective. One should know both points of view. What needs to be seen is whether your intention is to show the news or to create jingoism. Presently the audience does not have alternatives, so they are watching it. However, the moment audiences find alternatives, this will fizzle out. The audience will not take time to change their preferences. However this will happen in two scenarios. First one is when the audience is really bored of some programme but since they do not have an alternative, they continue to watch the programme. Secondly, if they get a good alternative, they will switch without wasting time.
Careers360: What are the specific qualities should a broadcast journalist possess and how should they enhance it?
Manoj Rahuvanshi: First and foremost there should be commitment to facts. Those who are planning to take up a career in broad cast journalism should cross check the information doubly before they report it. Second is commitment to audience; if you do not possess this, then even if you have the facts, you will not report it and your vested interest will come to the fore. There are times when you do not report the facts as you fear that the repercussions might be adverse. The other trait that you should possess as a broadcast journalist is that you should have the courage to report the facts. In the initial stage of one's career, there might be fear. However, one needs to overcome that fear. With the passage of time, the more you report; you will realize that your fear was baseless. Another important quality is to have curiosity. Unless and until you are bubbling with curiosity, you will not be able to give your best. You should be curious to know more and this is something which we have inherited. In the past we would have discussions without raising our voice. The discussions would take place on the basis of gravity. The more this quality is developed by our journalists, the more the audience will benefit from it. A journalist should also possess the quality to observe. The observation should be made not only visually but they must listen also very carefully.
Careers360: 24x7 news coverage of present day is repetitive and monotonous. With the absence of good content, proper analysis of the event or a story and verification of facts, it is seemingly pointless. What can be done to improve this?
Manoj Rahuvanshi: There is no dearth of stories. However the reason we feel the dearth is because there is lack of imagination. There are number of issues that need to be covered in rural India and the OB vans are not reaching there. We are busy showing some baseless stories. The biggest problem is that we are not ready to address facts. We are also not using our imagination to show news that is actually affecting people. Today, there is an absence to carve our own path. We are just treading on the path already taken by others instead of using our own methodology to carve our niche.
Mind you, I am not asking to ignore the TRPs. A bit of imagination can aid one to discover a healthy formula to increase the TRPs.
Careers360: What tips would you like to give new entrants to build strong networking skills to extract information from various sources?
Manoj Rahuvanshi: Your spectrum should be so wide that you should be able to talk to the prime minister as well as to an unemployed labour. Address the other person as a human being and establish a human connect. Any event from a wedding to a press conference, there are a large number of people whom you will meet. Just exchange cards with three people at every event and by the end of the year you are likely to connect with at least 1,000 people. To start networking wish these people at least on two to three occasions each year and it is likely that at least one third of them will revert. At the end of five years, you will have established a wide network. This is how it works.
Careers360: From one Doordarshan to innumerable news channels that have up, the prospects have increased manifold. So what kinds of career prospects are available for the broadcast journalists?
Manoj Rahuvanshi: A number of news channels have come up and if you consider YouTube, Instagram, the possibilities are huge. A range of job opportunities exists and one who capitalizes on theme will kick start a good career. Choose the platform that works for you and start.
Careers360: The past few years has also seen emergence of a number of media schools. What parameters should students take into account while selecting the institute?
Manoj Rahuvanshi: It is essential that the students do certain amount of research pertaining to the faculty of the institute before they decide to take admissions. Placements is another area to keep in mind. Infrastructure ofcourse is important as the facilities to learn should be right. For example a studio and cameras that can be used by the students at the time of practical training is a need.
Careers360: You also teach in various media schools. Share your experience. How has the change been over the years in terms of curriculum and students?
Manoj Rahuvanshi: Presently I have not observed the syllabus and it will be a bit difficult for me to comment on it. However, whatever little I have observed, my feeling is that regular updations of the syllabus are a necessity to keep up with new and emerging technology. I can observe the current curriculum and propose changes but I can't comment on how the curriculum has evolved. It is just that recently I have started teaching at Amity so I know what the curriculum is like and I can propose on changes wherever required.
Click here to Read Media and Journalism Interview Series by Careers360