Visual Communication Courses
Visual Communication Courses: There is a saying that "an image is worth a thousand words". So is the case with visual communication, a medium through which a message or information is conveyed effectively by using different modes such as images in different forms. With the rapid developments that are taking place in the technological sphere, it is imperative to know the approach that needs to be adopted and the technique needed by which content could be displayed and designed. With an aim to excel while developing the content that needs to be showcased or exhibited, students can pursue visual communication courses. While pursuing either a B.Sc or a B.A in visual communication, candidates will learn how to make optimum use of technology both in the digital format as well as print. Courses in visual communication also cover aspects of digital design as well as traditional topography as well. Some of the areas where the students can make their careers after having completed the visual communication courses include those as an illustrator, as a design artist, as well as a graphic designer. To know the colleges which offer visual communication courses, candidates can read the article that is given below. Read the complete article which is given below on this page to know different aspects of visual communication courses.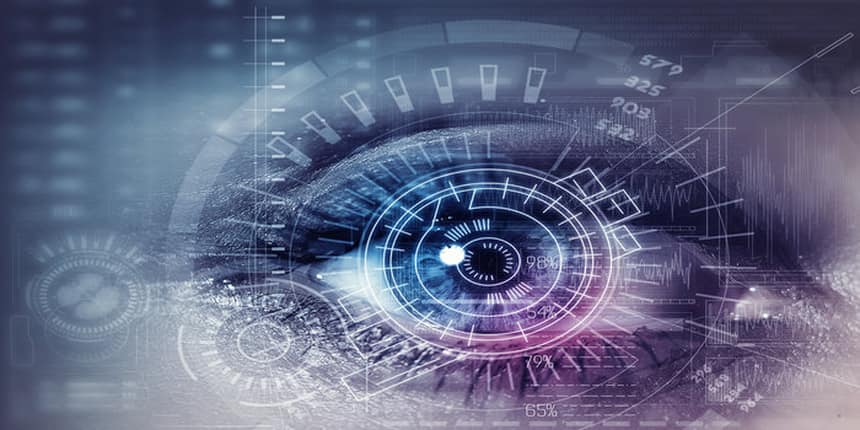 Definition of Visual Communication
Before one decides to pursue a course in visual communication, they should know what exactly it is. A simple definition about visual communication is when a message is being conveyed by using images and symbols. Among the tools that are used to communicate visually are books, graphs, screen-based media posters, short films as well as advertisements on television.
According to a research, people merely remember ten per cent of what they hear, however, if the information is backed by an image, then the retention level goes up to 65%.
Examples of Visual Communication
Some of the examples of visual communication are listed below:
Animation

Interactive web design

Short film

Graphic design

Books

Print

Signs

Typography

Videos

Slide presentations

Infographics
Examples of Visual communication related to social media
Of late social media has become an effective tool to communicate visually as well as instantly. The tools of social media which doing rounds currently and have acquired a lot of popularity are:
Snapchat

You Tube

Pinterest

Instagram
Importance of Visual communication
Over a period of time visual communication has acquired a great of deal of significance.

More than the words individuals are able to remember the graphics and are able to assimilate the information

Individuals can use graphics in narrative form and tell a story

There is a persuasive impact which visuals have as it will enable the audience to see and then decide the next steps they have to take.

Visual communication aids the establishment of an emotional connect. It is observed that with the aid of the visuals, images, the emotions and imagination of a person can be affected.

The ability to comprehend increases with the help of visual communication.

Images to be processed by the mind at a swifter rate rather than text. It is observed that children are able to relate as well as recall the images faster even before they start to speak.
 Colleges offering degree in Visual Communication
 Some of thepopular colleges in India where visual communication courses are offered are:
S.No

Name of the College

City

Degree

1.

Chennai

B.Sc in Visual Communication

2.

Women's Christian College

Chennai

B.Sc in Visual Communication

3.

St Joseph's College

Bangalore

BA in Visual Communication

4.

Delhi/NCR

M.Sc Visual Communication

5.

Amrita School of Arts and Science

Kochi

 

B.Sc in Visual Communication

6

Bharathiar University

Tamil Nadu

B.Sc in Visual Communication

7.

Chennai

B.Sc in Visual Communication
Eligibility Criteria to Pursue Course in Visual Communication
Students from any stream will be eligible to apply for the entrance exams which are offered by different colleges offering either degree or diploma courses in visual communication.
For B.Sc in visual communication, some institutes specify Mathematics and Physics as compulsory subjects in Class XII. However, this is not the case with those who are planning to take up B.A in visual communication.
Moreover, candidates must be creative and should have a certain degree of aptitude for drawing, ability to work with graphics, interest in the field of photography.
Colleges offering a course in visual communication, normally conduct an entrance test, followed by interview as well as review of a portfolio.
Visual Communication Syllabus
The syllabus for visual communication course is varied and it is related to varied media related subjects. Students get exposure to different kinds of tools. While they are pursuing course in visual communication, candidates have the option to learn the basics pertaining to computer graphics, animation, writing script, appreciating of art.
Some of the topics which are an integral part of visual communication syllabus across most of the institutions are:
Graphic Designing course

Visual Designing

Typography

Semantics and communication Theory

Video editing

Film editing

Videography

Advertising

Script Writing

Editing of Script

Photography
Visual Communication Degrees
Students who want to take up visual communication course, they can either pursue a B.Sc in visual communication or B.A in visual communication from the institutes that are listed above.
Careers in Visual Communication
If later on students decide to pursue a higher degree in the field of mass communication or journalism, then having pursued a course in visual communication, will give them a better exposure. Students who would have pursued a course in visual communication, they would also be able to make mark in the field of journalism. Such students could also take up career as a:
Reporter

Graphic Designer

Illustrator

Photographer

Script Writer
The other areas where the students can make their career after having pursued a course in visual communication are:
Broadcast Firms

Publishing firms

Film Production Houses

Advertising Agencies
Salary Packages in Visual Communications
If one is having interest in the field of photography, then they can develop a portfolio and can apply for jobs in magazines, news papers as well as in the field of digital media. Today a lot of tools are also available by which the budding photojournalists can enhance the quality of the image. They can innovate and make the pictures all the more attractive. A photojournalist who is a fresher, can earn close to Rs 15,000 per month. Moreover, there are a number of websites where one can sell their images. Depending on the downloads, the photojournalist is paid a royalty.
Students who have done a course in visual communication, they can also take up career as a animator. Their monthly salary could be anything between Rs 20,000 to Rs 50,000.
Bollywood is one area where everyone wishes to venture into and make a mark. There are students who are eager to know the nitty-gritty of direction either for commercials or for movies. It is a challenging field and one may not be paid very well initially. They can work with senior directors and know the traits of the trade.