VP M Venkaiah Naidu Inaugurates Delhi School of Journalism; Urges budding journalists to avoid sensationalism
Vice President of India M Venkaiah Naidu formally inaugurated the Delhi School of Journalism on December 21 at a function that was organised at the Convention Hall of Vice Regal Lodge at University of Delhi. Addressing the gathering of distinguished guests, faculty and the first batch of students, the Vice President hailed the launching of the journalism programme both in Hindi and English.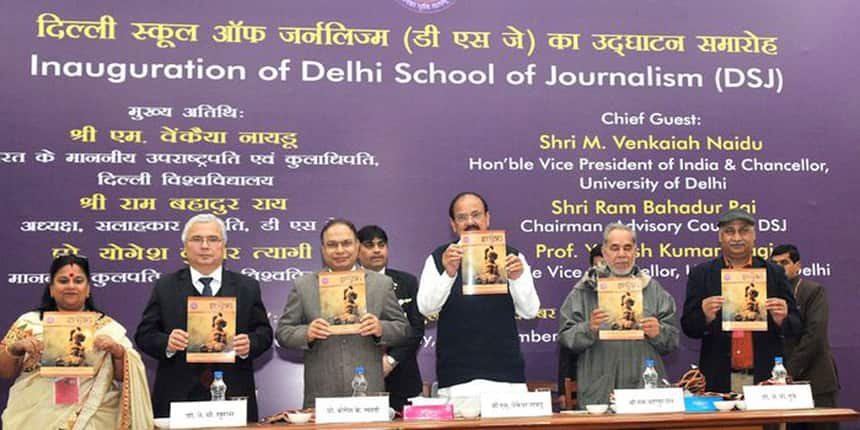 He highlighted that it is matter of pride that DSJ is among the first institutes in the world to launch the five year integrated journalism course. He stressed that knowledge of two languages will broaden the scope of the students and their reach and will help in national integration.
The Vice President said that with the launching of DSJ he is optimistic that they would get a new breed of journalists who will help in strengthening the democracy. He highlighted that journalism is called the fourth pillar of democracy and serves as a watchdog. He added that journalists should bring out the truth, work ethically and avoid sensationalism as the need of the hour is to focus more on basic values and upholding of integrity.
Naidu along with other dignitaries on the stage also released the first copy of the "bilingual and biannual" newsletter of DSJ, titled, Srijan.
Earlier Ram Bahadur Rai, Chairman of the Advisory Council of DSJ stated that a vacuum has been filled with the setting up of Delhi School of Journalism at University of Delhi. He added that the curriculum is of international standards and DSJ will uphold the tradition and culture of India.
Rai added that there is a need to be unbiased while reporting an event and added that a journalist should first investigate, then analyse and finally draw an inference.   
Prof . Yogesh K Tyagi, the Vice Chancellor of University of Delhi described the moment of the launching of DSJ by the Vice President as a historic moment. Tyagi said this institute gives the students an opportunity to learn both regional and international language.
The dignitaries also paid tribute to late Dr Savita M.Datta , who was the chairperson of the syllabus committee for DSJ. She had played a pivotal role in developing the syllabus for the course and had chaired more than a dozen meetings of the syllabus committee.
In the vote of thanks, Prof. (Dr.) J.P. Khurana (in Chair), Interim Pro-Vice Chancellor & Director, South Campus, University of Delhi expressed his gratitude to Vice President M Venkaiah Naidu for taking out time for the inauguration and inspiring the budding journalists.
Earlier Dr Manasvini M Yogi, the OSD of DSJ had welcomed the dignitaries on the stage.
Questions related to DU DSJ Entrance Exam
Showing 4 out of 4 Questions