Career in Radio Jockey: Once the question crops in your mind as to "how to become a radio jockey," the second thing which you must ask yourself is what are the qualities required to become a Radio Jockey. So, let me tell you that your voice quality is very important if you want to make a career in Radio Jockeying. All of us want to hear a voice that is soothing and pleasant to the ears. Another important quality is to be knowledgeable and well versed with a wide array of things to be able to talk about anything and everything. If there is no substance to the talk and communication is not right, the audience connects will be missing. To sum up, RJs should be well versed with literature, require sound general knowledge and awareness of current issues all the while presenting it in an acceptable manner to the audience. So, before proceeding to the career in radio jockey, let us first understand what exactly is a radio jockey and what fields it covers.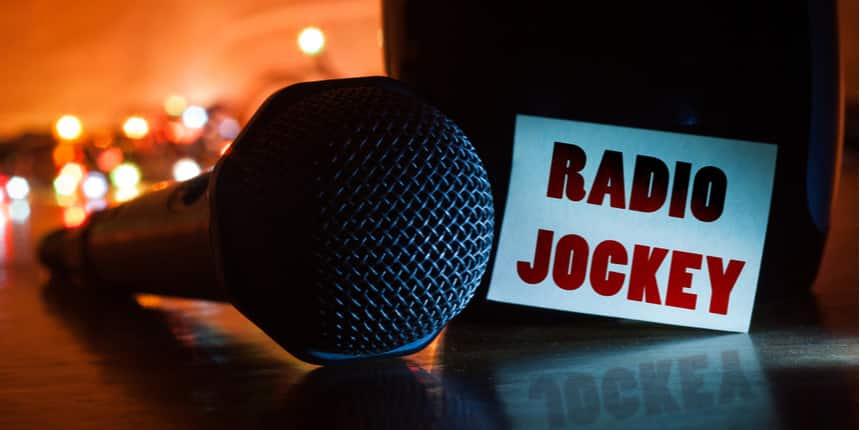 What is Radio Jockeying?
Radio Jockey is a person who hosts a talk show on radio. In simple terms, he/she is the 'sutradhaar' of an assigned show on radio. He/she hosts the show, reads the script, plays the music and audio advertisement at specific intervals, raises topics of concern, designs subjects for discussion and interacts with callers and listeners via telephone, email, social media and SMSs. Everything that he/she does should be appealing and entertaining. The RJ should be able to engage the audience with his/her voice and selection of words and how he/she presents the content before the audience does matter.
In other words, besides having a soothing-to-the-ears voice and fabulous diction, a Radio Jockey career is most apt for those who have the skill to make simple/plain topics engaging and creative for people which is relatable to them.
Radio Jockey Career
In the entertainment and media industry, there are a lot of job opportunities to make a career as a Radio Jockey. The radio industry offers a gamut of career opportunities, ranging from the job of an RJ to scriptwriting and creative visualizing. Some other popular careers also include sound engineering, marketing and promotions and becoming a radio producer.
An audio or sound engineer is in charge of handling equipment to record, synchronize, mix or reproduce music, voices, or sound effects and edits tracks using sound mixing boards. They also typically deal with converting the recordings into different formats. Their chief role is to manage the sound quality and volume. Nowadays, a lot of background music and sounds are also desirable and are handled by the audio engineer.
Radio Jockey Job Profiles
The job of a Radio Jockey is of a diversifying nature. The different roles in a Radio Jockey can take up are listed below.
FM/AM Radio Jockeys: The role of FM/AM radio jockeys is to interact with the audience, play music or talk or both. They usually work on public radio stations.

Talk Radio Jockeys: The role of talk radio jockeys is to only talk for all the time of the show, and to discuss different social and political issues. They also interact with the audience and viewers of the show.

Sports Talk Radio Jockeys: The Sports Talk Radio Jockey is required to interact with viewers to discuss different types of sports news and happenings. The Sports Talk Radio Jockeys have to be either a former athlete, a television anchor or a sportswriter.

Satellite Radio Jockeys: The role of a Satellite Radio Jockey is similar to FM/AM radio jockeys. They usually talk or play explicit content without considering the sensitivity of the issue. They are not regulated by any board.
Apart from that, there are some of the highest paying and reputed profiles in this field:
FM/AM Radio Jockeys

Play music or live talk shows

Interaction with an audience

Public radio station jockeys

Satellite Radio Jockeys

Same as FM/AM Radio Jockeys

Can talk or play explicit content

Not regulated by any board

Talk Radio Jockeys

Discuss various social & political issues

Interaction with an audience

Only talk for the entire time period of the show

Sports Talk Radio Jockeys

Discuss sports news

Interaction with an audience

Jockey has to be either a television anchor, a former athlete or sports writer
Radio Jockey Careers - Top Recruiters
With the opening of the airwaves, radio jockeys are in demand of the private sector. They can work with the various leading FM channels and private radio ventures such as AIR, Radio Mirchi, Big FM, Red FM, Radio Mid-day, Radio Wani, Times FM, Radio Star, and many other independent radio stations.
Not only this, but many FM stations/channels have also been mushrooming up in even small towns. With several FM radio channels coming to the forefront and the increasing backing by big corporations, the radio industry today is all set to achieve great heights. We already have about a hundred FM stations all over the country today and the number is expected to grow to about three hundred after the current process of giving out new licenses to FM stations is completed. Here are five prominent community radio stations that have truly evolved to become the voice of the voiceless in India.
Radio FTII 90.4 FM, Maharashtra

Radio Udaan, Punjab

Apno Radio, 90.4 MHz, Rajasthan

Vidyavani, 107.4 FM, Maharashtra

Vasundhara Vahini, 90.4 MHz, Maharashtra
Radio Jockey Salary
Radio is a creative field and Radio Jockey is a creative profession; therefore salary is completely dependent upon the brand that you build for yourself. Some popular Radio Jockeys today earn hefty packages that can range up to 12 to 15 Lakhs. However, if you are a fresher you can expect anywhere between Rs 1.8 to 2 lakh as salary, which can grow exponentially as your skills, experience and brand image grows.
What does a Radio Jockey do?
The role of a Radio Jockey is to inform, update and entertain. Also known as Radio DJs, their work involves presenting various music programmes and entertaining the audience through other elements like interviews of guests - musicians, artists, and well-known personalities, either related to the music/film profession or even otherwise- providing commentaries related to a music piece and manage requests of listeners
Radio Jockey Skills
Becoming an RJ is one of the topmost, in-demand career options for many youngsters. It has become a trending career since the past decade. Just interacting and playing soundtracks doesn't; make one successful radio jockey. There are a few qualities which one should have. Some of them are,
Have a good voice

Ability to modulate as per the situation

Accurate diction

Clear pronunciation

Language Fluency

Control the voice pitches

Good sense of humor

Creativity

Spontaneity

Good knowledge of music and things related to the music

Down to earth nature

Approachability

Friendly
Radio Jockey Eligibility Criteria
There are no entrance exams available in order to enroll in a course for making a career in radio jockey. Candidates can also do short-term certificate and diploma programmes in this field. What matters most in this career path is, of course, your voice. Your diction and pronunciation should also be clear. If you want to make a career as a Radio Jockey, then you should meet the basic eligibility criteria of the following radio jockey programmes:
Diploma in Radio Programming and Broadcast Management (DRPM): Candidates should have passed class XII examination or equivalent in any discipline from a recognized university/board.

Diploma in Radio Production and Radio Jockeying (DRJ): Candidates should have passed class XII examination or equivalent in any discipline from a recognized university/board.

Post Graduation Diploma in Radio and Broadcast Management (PGDRBM): Candidates should have passed a bachelor's degree in any subject from a recognized university/institute.

Certificate Course in Radio Jockeying (CRJ): Candidates should have passed class XII examination or equivalent in any discipline from a recognized university/board.
Note: Those who have participated in media-related internships have a better chance of landing an entry-level Radio Jockey job.
Radio Jockey Courses Offered
Certificate Course in Announcing, Broadcasting, Comparing and Dubbing (ABCD)

Certificate Course in Radio Jockeying ( CRJ )

Certificate Course in Radio Production Programme

Diploma in Radio Jockeying ( DRJ )

Diploma in Radio Management

Diploma in Radio Programming and Management ( DRPM )

Diploma in Radio Station Operations and Management

Post Graduate Diploma in Radio Programming and Management (PGDRM )
Top Institution in India offers certificate and diploma courses in Radio Jockey and Video Jockey
Radio City School of Broadcasting, Mumbai

Academy of Radio Management, New Delhi
Books and Study Material to Become a Radio Jockey
Here's a list of some of the top books to increase your skills and knowledge in the Radio Jockey field:
How to Become a Radio DJ: A Guide to Breaking and Entering by Mike Staff

Encyclopaedia Of Journalism And Mass Communication by OM Gupta

Fundamentals of Radio Broadcasting by John Hasling

Romance the Microphone: Be a Radio Jockey by Swaty Gupta

The Radio Jockey Hand Book by Simran Kohli
Also Read
https://media.careers360.com/articles/how-to-become-radio-jockey-by-rj-anuraag-pandey
https://media.careers360.com/articles/top-mass-communication-courses-in-india
https://media.careers360.com/articles/top-mass-communication-entrance-exams-in-india
https://media.careers360.com/articles/career-in-mass-communication
https://media.careers360.com/articles/top-mass-communication-colleges-in-delhi