Career at Thomson Reuters: "Journalism is all about passion" Says Sunil Kataria, Senior Producer/Correspondent at Reuters Television, India
Thomson Reuters is an international news agency, where the journalists are taught to combine their expertise with innovative technology and deliver the news. The crew is positioned at strategic positions across the world and are on their toes 24x7. In a candid conversation with Careers360, Sunil Kataria, Senior Producer/Correspondent at Reuters Television, India, who has been associated with it for close to two decades, delves on the parameters which the agency takes into account while hiring journalists. With the stress on ethics and hard work, Sunil Kataria highlights that only those students should take journalism as a career who are passionate about it, those who have the zeal to immerse themselves into a story and not get bogged down by odd as well as long working hours. Read the complete interview of Sunil Kataria given below where he also talks about photojournalism, development of content which is not only suitable for television but is also mobile friendly.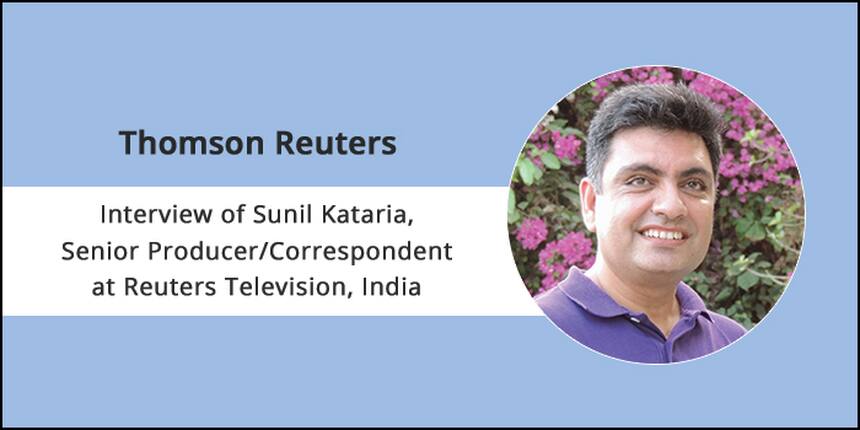 Careers360: Kindly elaborate about Reuters Television. How is it different from other similar media?
Sunil Kataria: Reuters Television is the visual arm of Reuters News Agency, with text and pictures being the other two. Popularly known as Reuters Video News (RVN), it delivers over 200 video news stories per day to global clients that include major international broadcasters like the CNN, BBC, NHK, Doordarshan, Zee TV, TimesNow and CCTV among others.
Reuters multimedia crews are strategically positioned all over the globe, 24/7. Their local knowledge and ability to act rapidly allows Networks to broadcast and live stream up-to-the-second footage of every major international news event. The material is available raw or ready-to-run, and accompanied with detailed scripts and shot lists.
Careers360: In India, what kind of presence does Reuters have? What is the role envisaged for the Indian office of Reuters? In addition to the political and economic fields, what are the other areas Reuters India is looking at?
Sunil Kataria: Reuters has been present in India from pre-independence era and has been one of the pre-eminent sources of information and news for news papers, television networks, and online portals.        
Reuters has full-fledged offices in New Delhi, Mumbai and Bengaluru. While New Delhi bureau primarily takes care of the political and general news, Mumbai looks after the Indian financial news while Bengaluru serves as the back office for the European and US operations of Reuters.
Apart from political and economic news Reuters India also looks at in-depth investigating reporting, coverage of social and sporting trends among other things.
Careers360: Where are your offices in India? The careers section of Reuters mentions Trainee Journalist and internships. What are the parameters of selection for students interested in these and how should they go about it?
Sunil Kataria: As I explained earlier, Reuters has offices in New Delhi, Mumbai and Bengaluru apart from a vast network of stringers spread across the country from Srinagar to Thiruvananthapuram and from Ahmedabad to Guwahati.
Trainee journalist and internships are primarily catered to from our Bengaluru office.
Careers360: In this context, could you give some details on the selection criteria of students in the various divisions of Reuters like Television, Print, mobile?
Sunil Kataria: Apart from graduate/post graduate degrees, there are entrance exams and interviews conducted to screen potential candidates for print and online desks. Here I must say only the very brightest are chosen by Reuters. For Television we have a partnership with ANI (Asian News International) which has its own system of interviews and written tests for selecting potential employees.
Careers360: Reuters has it's a distinctive style of reporting which is more towards taking a "value-neutral approach." How are the interns, trainees trained to adapt to this?
Sunil Kataria: Reuters firmly believes in being absolutely unbiased and objective in its reporting. We will not report a news in which one party is accusing the other if we do not have the corresponding version of the accused party. Also, at Reuters everyone is taught the value of being neutral and non-judgemental – our job is to report the news and not preclude it with our own views.
Careers360: Television has a wide reach. While radio was the media before TV came in, it has been relegated to take the backseat thereafter. With social media like Facebook, Twitters and more, how do you think Television will sustain a strong place and not go the way radio did?
Sunil Kataria: Reinvention is the name of the game – with evolving technology and changing viewer behaviour, the news formats also need to transform themselves to stay relevant and Reuters is doing just that by adopting to technologies that make its content not only suitable for television but also mobile and internet friendly. Increasing presence of Reuters content on the internet is a testament to that transformation.
Careers360: What according to you are good traits of a journalist and how should students develop them?
Sunil Kataria: A good journalist must be able to differentiate between PR and real news. He should be completely open minded before taking up a story and should not start working on a story with a sense of bias. A good command of the English language and proficiency in writing are welcome traits. An eye for detail, keen interest in current affairs and love for reading are also welcome traits.
Careers360: Photojournalism is one of the latest fads amongst journalism students. More and more students are interested in a career as a photo journalist. What kind of career prospects do such students have at Reuters?
Sunil Kataria: With the breakthroughs in technology and the quality of gadgets available, photo journalism has become far more accessible and trendy among the youth and some of them have exceptional skills when it comes to capturing moments and events on camera. To make a career at Reuters they would need to hone their skills at narrating the whole story through a series of photo essays rather than a few stray or stand alone photographs. Good writing skills are also mandatory for them to find their way in the Reuters world.
Careers360: News these days has reached a new low with no ethical involvement and more of breaking news, content development at the cost of actual facts. Do you think that this environment is killing the very basis for reporting and news namely a flair for writing and factual analysis?
Sunil Kataria: Every generation has its low and high points, while we can always blame some news outlets or media organisations of lowering the guard and not conducting their internal checks before putting out news that might be biased or factually incorrect, there is also some exceptional journalism happening at the same time. Reuters is so proud that two of its Indian photographers have been awarded Pulitzer prize for photo journalism this year (Oscars of Journalism).
Careers360: What is the one message that you have for those aspiring to take up journalism as a profession? What are the things that they should keep in mind when they decide to take the plunge?
Sunil Kataria: Journalist should be a career option only if one is really passionate about it, otherwise it can be a very stressful profession with uncertain working hours and frustrating mindset. One should immerse oneself completely into the story – that trait would guarantee the person getting the due recognition and accolades – sooner or later.