Campus Life at IIMC Delhi - Experience it with Sandesh Chaurasia
Sandesh Chaurasia from Bhopal, was pretty excited when he was selected for admissions to the Radio and Television Journalism programme, IIMC, Delhi. His thoughts after his selection involved questions about the campus life, facilities and life in the capital city. It is a fact that the campus life shapes a student's outlook towards a career and life in general. It was only natural that Sandesh was excited and apprehensive about life at IIMC Delhi. In conversation with Careers360, Sandesh Chaurasia shares his campus life experience for future IIMC aspirants. Sandesh feels that IIMC students get better exposure and good placements in big names like TATA Steel, Accenture, Economic Times etc. He talks about the unique features of the IIMC campus here which also includes a community radio "APNA RADIO 96.9". He also talks about various student concerns like infrastructure, hostel facility, extra-curricular activities and more that make campus life at IIMC exciting and one to look forward to. Read on to experience campus Life at IIMC Delhi with Sandesh Chaurasia.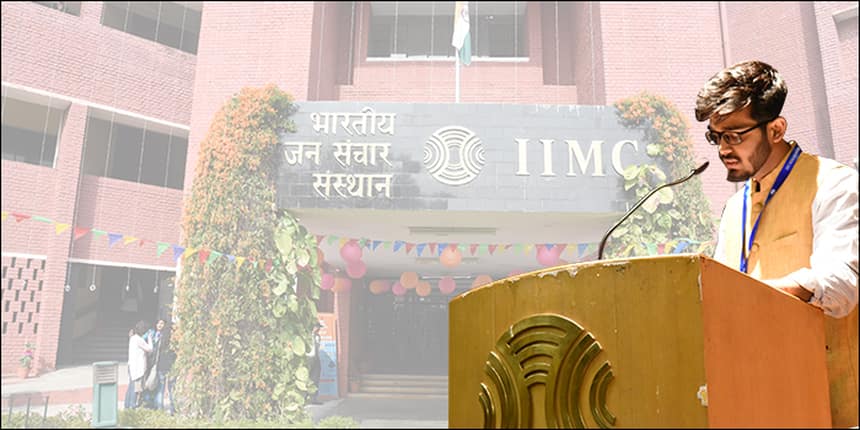 Careers360: Tell us something about yourself, your interests, academic background and hobbies?
Sandesh Chaurasia: My name is Sandesh Chaurasia, I am from the city of lakes, Bhopal. I did my schooling from Bhopal and graduation in B.Com from Shaheed Bhagat Singh College, Univeristy of Delhi. I was inclined towards journalism and therefore choose to pursue my post graduate diploma in Journalism from IIMC Delhi. In my free time you'll find me watching documentaries, cooking or probably travelling.
Careers360: Which programme are your pursuing and what inspired you to take it up? Tell us something about the programme which you are pursuing?
Sandesh Chaurasia: I am currently pursuing Radio and Television Journalism from IIMC Delhi. During my internship, I started covering major news stories in Delhi University circle. After the internship, I was certain that I wanted to get into Journalism.
I chose Radio and TV journalism because I want to get into electronic journalism. Since this is the only course in IIMC which teaches Television anchoring, production etc in detail I opted for it even after being selected for the Hindi Journalism course.
Careers360: IIMC is one of the oldest mass communication and journalism institute. How do you think is IIMC different from other media and mass communication institutes?
Sandesh Chaurasia: IIMC is a college under the Information and Broadcasting Ministry. It is also a training institute for IIS officers and Indian Army and this gives students here the edge of conversing with these professionals to learn better. Since IIMC also offers Development Journalism course to established foreign journalists from all over the world, the exposure for students is much higher than any other institute. The strong alumni network of IIMC is the biggest support after college. Some of the big names in the Indian media are from IIMC and we have the privilege of their teaching and experiences through guest lectures.
Careers360: Over the period of time, IIMC has built its regional branches also. Was IIMC Delhi your first preference? If yes, then why?
Sandesh Chaurasia: IIMC has regional branches too but students from different regional branches are hardly in touch with each other. While AD PR and Radio and TV Journalism are only Delhi based course, Hindi Journalism and English Journalism course can be studied in regional branches too. Since I wanted to go for RTV course, my preference was IIMC Delhi.
Careers360: Apart from the regular curriculum, what are the other activities organised by the institute? Do you take part in them?
Sandesh Chaurasia: AtIIMC every festival and event is celebrated like a family event starting from Republic Day to Holi / Diwali or IIMC's Foundation Day. The institute is decked up like a bride on these days. Co-curricular activities are organized at regular intervals. Debates, Nukkad Natak, Quiz, performances etc are regular activities. College administration is even more supportive of students who come up with different ideas of celebrating a festival or organizing any event.
I took part in anchoring for almost every major event at IIMC. I was also the student President for IIMC's first ever "Media Mahakumbh '18" fest which was one of a kind event held for the first time at IIMC Delhi. We hosted students from 8 different states during the two day festival.
Careers360: What is the daily routine of a student at IIMC?
Sandesh Chaurasia: At IIMC classes start at 10 am till 5pm, Monday to Friday for every course. The routine is pretty hectic but that's something expected from a short 9 month professional trainee journalist course. In the first semester students learn more theory but focus more on the practical aspects from the second semester onwards.
Careers360: Tell us something about the curriculum that is taught at the institute. Has the institute been able to successfully maintain balance between theory and practicals? Is the institute equipped with the latest technology and equipment?
Sandesh Chaurasia: IIMC's syllabus is already available on their website. The balance between practical and theoretical aspects of the syllabus is well defined in a two semester curriculum where the first semester covers mostly theory while the second semester encompasses practical aspects. IIMC has its own community radio "APNA RADIO 96.9" and provides students with fairly good quality cameras and other equipment, though the quality of equipment can be improved.
Careers360: Do you have guest lecturers visiting your institute? Does the institute organise visits to news channels, newspaper offices or even to parliament where you get an idea about how to cover such proceedings?
Sandesh Chaurasia: Interacting with guest lecturers is a daily routine at IIMC especially for courses like AD PR as eighty percent of the course is taught by guest lecturers. Various established media personalities like Ashok Shrivastava etc. often visit the campus as guest lecturer.
Visits to news channels and newspaper offices are organized by course coordinators and course directors. RTV batch of 2017-2018 recently visited BBC News, All India Radio and Doordarshan, while Hindi Journalism students got a chance to visit the parliament.
Careers360: Since internships are very much integral to a media student, does the institute facilitate internships?
Sandesh Chaurasia: Actually college placements commence even before internships starting the last week of March. Most of the students who have been placed go to their respective allotted channels and offices for internship. For the rest of the students, the academic performance is the deal breaker for allotment of channels. However, some channels do conduct an entrance test or interview for the internship.
Careers360: What are the main challenges faced by media students especially those in journalism?
Sandesh Chaurasia: It won't be wrong if I say that media industry needs a "Jack of all trades and master of none". This is the biggest challenge for all media students. One needs to know almost everything that's happening around the globe and also enhance his/her skills in different aspects of media. The diminished availability of jobs is an added challenge for present day journalism students.
Careers360: What according to you are some of the biggest challenges that are faced by IIMC today and what measures would you like to suggest so that the institute can overcome them and prepare the students well for any situation.
Sandesh Chaurasia: Inspite of the limited seat intake at IIMC, one can feel the lack of personal touch between students and the teachers. Every opportunity is up for grabs. I feel that more personal focus should be given to students who are weak in certain areas. This of course is a common scenario in all institutes where your growth totally depends on how you work for it. One plus point is that if you approach a faculty member for any kind of help, they'll be more than willing to help you anytime, day or night.
Careers360: How is the overall infrastructure of at IIMC in terms of accommodation and food?
Sandesh Chaurasia: IIMC is one of the most beautiful campuses in New Delhi and especially in the JNU area. The college has two auditoriums, seminar rooms, TV Studios, Radio room, computer labs and everything that a media institute needs. In terms of accommodation and food, in the current batch only girls are offered hostel facility and their reviews in terms of food and accommodation are pretty great. Rooms are well lit, perfectly organized and safety of the students is given prime importance.
Careers360: What is the ratio of teacher and students?
Sandesh Chaurasia: Since IIMC invites visiting faculties almost regularly and the staff in itself teaches the students, therefore the ratio of teacher and students is fairly good.
Careers360: When does the placement season begin? Which are the companies that come for recruitment? Is there any kind of assistance provided by the institute to help the students perform well during the placements?
Sandesh Chaurasia: Placement season usually begins in the third week of March and goes on till the first or second week of April depending on the channels and companies visiting the campus. The college plays a huge role in placements with a placement officer/coordinator taking charge to invite companies for placements. All the companies interested visit the campus and the students enrol for those placements in which they are likely to get a job they wish for.
This year companies like TATA Steel, Accenture, Economic Times, Nav Bharat Times and NDTV etc visited the campus and hired students from different courses.
Careers360: Is there any in-house magazine or journal that is available? If yes, do students contribute to it and how?
Sandesh Chaurasia: English Journalism and Hindi Journalism students have different groups responsible for the journals every week which are made by these students entirely and available in the departments for the students to read.
In addition to this IIMC's own publication "Communicator" is also available for the students for purchasing and reading.
Careers360: Tell us some of about the popular hangouts at the campus. Which are the places in close proximity to the campus that are visited a lot by the students?
Sandesh Chaurasia: IIMC has a huge campus surrounded by nature. A small area near the canteen popularly known as "Rocks" is a favourite on campus hangout spot for students. IIMC students are fond of their loving "Dahiya Dhaba" near Brahmaputra hostel at JNU, which is just a 15 minute walk from IIMC. Apart from these one can always visit Ber Sarai for the best "King Rolls" or the Institute of Immunology's canteen which is adjacent to the college.
Careers360: What do you do during the Leisure time?
Sandesh Chaurasia: During my time at IIMC, leisure time for us meant to sip Dahiya uncle's "special tea" with friends. Moreover if a class got cancelled one could always sit in the production room and learn editing, or issue a DSLR and enhance their photography skills. The curriculum of IIMC doesn't give you much of "Leisure Time"; you are constantly working and learning new things.
Questions related to IIMC Entrance Exam
Showing 20 out of 20 Questions