IIMC Entrance Exam 2019 - Students' Reactions
Indian Institute of Mass Communication 2019 is conducting the entrance exam for english journalism course in different parts of the country. Candidates came to the test centre of IIMC well ahead of the scheduled time.There were strict measures adopted by the authorities to ensure that candidates do not carry with them any electronic gadgets with them to the test centre. Careers360 bring exclusive coverage about the entrance exam for which the students are appearing and here we will also bring how the students found the difficulty level of the question paper, whether there were any glitches or so, whether there were any incorrect questions that were asked in the entrance exam.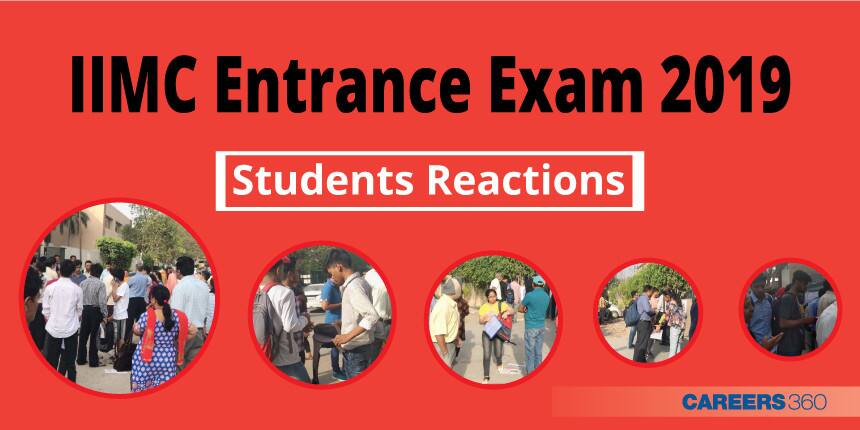 IIMC Entrance Exam 2019 Post Exam Reactions of Students
According to Rahesha, the exam was difficult and she said that to score well in the exam, it needs at least 2-3 months of rigorous news reading. The questions were based on political and social issues. There were also questions on Pulwama attack' such as describe the events from feb 14 2019 onwards i.e pulwama attack ending in India and Pakistan Air Force battle in the skies in J&K. She could complete all questions vaguely. When asked if she is appearing for any other journalism entrance exam, she said, 'I appeared for Asian College for Journalism and I got through the exam, but my preference is IIMC. Currently, she is doing her college from Delhi University.
Shipra found the paper interesting as majority of the questions were current affair based on the events that happened recently in March and April 2019. The questions were basics, one of the questions was based on Pulwama attack. There were also questions wherein students had to write short notes on period, end of sentence, JetAirways crisis. She, however, could complete the paper on time.
Apporva said that the questions were based on elections and the events and crisis that took place since 2018 till March 2019. Apporva said that the paper was easy for her. She also added that if test- takers are thorough with the current affair and country's current condition, they would score well in the exam. According to her, the questions were basic and she had opted for English Journalism.
IIMC Entrance Exam 2019 Pre-Exam Reactions of Students
Tanya who is from CBSE board has prepared well for the exam. When asked which section she is strong and weak at , Tanya said, 'I am good in General knowledge and my weak area would be subjective questions that I have to answer as well as the current affair. To the question, 'How much marks she is expecting'? Tanya said, as the exam is held for 75 marks, she is aiming to score at least 55 marks.
Puneeta could not devote much time for the preparation of the IIMC entrance exam as she had to appear for her college exam as well. She has done her schooling from CBSE board and today she is appearing for English Journalism. She could not prepare well for the current affair well. When asked about how much score she is expecting, she replied that she is not sure as it completely depends on the difficulty level of the exam.
In conversation with Shefali, she said, 'I focused more on current affair and I did not refer to any particular book. When asked about which section she is strong at, she replied that it's English and her weak area is current affair. Shefali is from CBSE board. She has not set any expectation for the marks she is going to score.
Rakesh said that he is from CBSE Board and he prepared only the basics for English and General Knowledge. He said that he might score good in English. He is not confident in current affair section and it might hurt his overall. He is hoping to obtain as much marks as it is enough to clear the exam.
Questions related to IIMC Entrance Exam
Showing 20 out of 20 Questions