Our teaching methodologies align with latest industry practices, says Pratish Nair
Branding and advertising are crucial in almost every aspect – be it individual or a company/brand. From selling a product to services, from targeting the right kind of audience to converting the general audience into captive, everywhere brands and products rely on advertising and branding. However, how skilfully a brand can be marketed or advertised, would be entirely determined by the people behind those marketing or advertising campaigns. And that's where the role of the educational institutions offering branding and advertising knowledge comes into play. Pratish Nair School of Branding and Advertising of NMIMS is one such institute responsible for training minds to be absorbed by the advertising and marketing industries. In an interaction with Careers360, Pratish Nair, the Founder and Director of the school shared about the holistic education offered at the institute and the methodology and techniques used to train students.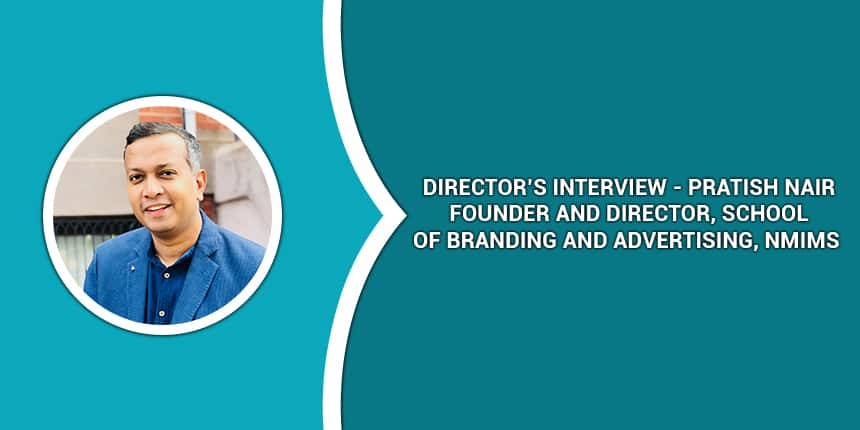 Careers360: What kind of courses does Pratish Nair School of Branding and Advertising offer and what's the demand in market for these courses?
Pratish Nair (PN): Our institute currently offers a Bachelor of Business Administration (BBA) course with a specialization in Branding and Advertising at the Vile Parle Campus of NMIMS. With people becoming increasingly aware of the importance of advertising and branding in their daily lives, they have begun to seek out avenues to learn more about these subjects. This shift in perception has led to considerable demand for our course.
Careers360: What type of students should think about pursuing courses in branding and advertising?
PN: Any student who is creatively inclined should consider pursuing this course. A knack for storytelling and the ability to connect with others are also ideal traits, as branding and advertising are ultimately all about building a connection between a brand and a public by weaving a tale. Another important factor is passion. Passion is the key to success in any profession – if you love what you do, you'll work all the harder to succeed and overcome any challenges in your path.
Careers360: Why should students opt for School of Branding and Advertising and not your peers?
PN: The NMIMS School of Branding & Advertising is the first institute of its kind in the country. While assembling our curriculum, we made a conscious effort to ensure the lessons we imparted were radical and revolutionary, while also staying as industry relevant as possible. We are committed to the success of each of our student, and work hard to equip all of them with the latest theoretical and practical advancements from the industry. This ensures that all of our students are prepared to join the workforce upon their graduation.
Careers360: How do you prepare your students that they become industry ready?
PN: Our institute provides students with a holistic educational experience that combines theoretical knowledge with practical application, giving students the opportunity to work on real-life industry projects alongside their academics. This is complemented by our wonderful staff, all of whom are dedicated professionals with years of experience. In addition to this, each of our subject has a practicing industry expert as a visiting faculty member. We also host regular masterclasses and workshops conducted by domain experts, giving students the chance to interact with them and deepen their understanding of the industry at large.
Careers360: How does the college disseminate education by adopting diverse teaching methodologies which balances the right amount of practical and theoretical knowledge?
PN: We place a great deal of importance on strategic and experiential activities, all of which dovetail into our curriculum. These experiences expose our students to a wide range of opinions and viewpoints, and include everything from working with MSME entrepreneurs in Dharavi and running a podcast company to learning horse-riding, mountaineering, and skydiving. We mean it when say we're radical, but there's always a method to our madness.
Careers360: What kind of exposure do students get at School of Branding and Advertising?
PN: Every project assigned to our students is a real life scenario. These learnings are reinforced by the advisory board to the faculty, which is comprised of industry experts who conduct frequent masterclasses. Students have the opportunity to learn first-hand from legends of the business. Branding is taught by the guru of the industry himself, Prahlad Kakar, while advertising is overseen by prominent directors such as KV Sridhar, Amit Sharma, and Prakash Verma, among others.
Careers360: What new projects, programmes or learnings have you implemented at the institute during your tenure so far?
PN: Upon the opening of this institute, it was our intention to evolve with the times and in line with the industry's requirements. This approach has proved especially relevant given the COVID-19 pandemic and the impact it has had on the sector, and has seen us implement several key learnings. The most important of these learnings is that an educational institute's teachers are its most valuable assets. To that end, we have put a great deal of effort into training our staff to the highest of standards. They are exposed to the most relevant studies and topics in the market, group discussions and meetings are frequently held, and the development of an empathetic bond with their students is prioritized. This methodology allows them to have the maximum possible impact in the classroom.
Careers360: Which form of adverting and branding are more fruitful these days and why?
PN: We've witnessed a radical change in the advertising landscape over the last decade. With the rise of OTT platforms, television viewing has declined. People spend less time watching cable TV, and when they do they frequently change the channel when an ad appears. Advertising on the digital front is also challenging, since most ads can be skipped after 5 seconds. Anything that can convey the message within that time and engage the viewer in the story being told is a good advertisement. Branding has been, is, and always will be a form of value addition. Any company, entity, product, or service that understands this will be able to reach new heights of success. Although the times may change, branding is forever.
Careers360: How are you keeping up pace with the changing times and the industry needs?
PN: The advertising and branding industries exist in a constant state of flux, with new technologies and ideas constantly introduced. As an institute we are well aware of these challenges, and take proactive measures to ensure that our courses are always up-to-date. Our curriculum is subject to multiple reviews and upgrades over the course of its lifecycle. Since most of our advisory members are active industry veterans, this process guarantees that our teaching methodologies align with the latest industry practices.
Careers360: Since the entire world has been impacted by CIVID-19. How's School of Branding and Advertising coping with it and still ensuring that learning is not hampered for its students?
PN: With the onset of COVID-19, our institute rapidly made the transition to digital lectures and projects. This early adoption of technology saw to it that academic sessions continued uninterrupted and that the learning of students stayed unhindered. We have also taken steps to keep the morale and enthusiasm of our students and faculty alive, by organizing virtual get-togethers, parties, and talks.
Careers360: How do you see the future of advt/branding schools in India in the near future? How do you envision the sector evolving in the next 5-10 years?
PN: The world is evolving, and so too is the industry. The need for smart and effective professionals is on the upswing, and this will doubtless lead to the opening of many more schools with the same specialisation. However, the education sector is extremely challenging, and the only institutes that will survive are the ones where the founders and working industry professionals are actively engaged.
Questions related to NMIMS Mumbai
Showing 721 out of 721 Questions