How to become a Journalist?
How to become a Journalist? Which college to choose, what programme to do, are some of the questions that come to the minds of young aspirants who wish to pursue a career in this field. Before looking at the means to become a journalist, one must look at what the profession entails the reason for its popularity, the specialisations offered and the courses in demand. With the advent of popularity in this field, Journalism has come to the fore as a good career choice. In recent times, Journalism has emerged as a dynamic and diverse degree option among the students. Journalism involves gathering, interpretation, and presentation of news and other information of current interest. It includes various core subjects and specialised fields of study like print, radio, television or even web. With a rampant rise in institutes and universities offering Bachelor's degree in journalism across the country, its popularity is now an established fact.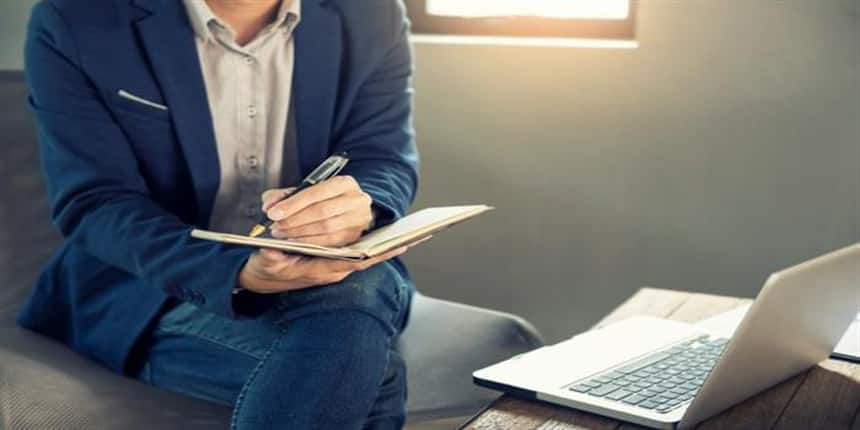 "I think in today's competitive world of journalism where skills are important and so is niche reporting with a focus on content, a journalism course is more than relevant and significantly useful if you wish to join the field," said Anubha Yadav, Assistant Professor in Journalism Department, Delhi University. With such challenges, diverse career sectors, research options, students today are inclined towards Journalism Studies. Careers360 demystifies the question – How to become a Journalist by listing all facets to enable aspirants to make a good choice.
Who is a Journalist and what do they do?
A Journalist is also called as a Reporter or a Correspondent. A writer who investigates current events, issues, and trends, and then generates a story uncovering the facts, and disseminating it to the masses through mediums like print, broadcast or online can be broadly termed as a journalist. While generating a story, a journalist has to attend press meets, conferences, and conduct research before drafting a story line. Once all this is done, a journalist reviews the notes for relevant details, writes the story copy, corrects grammar as well as structure content, and finally files the copy. Journalists often work in particular areas, like entertainment, politics, business or sports etc. While some journalists work in a media industry or a news agency, many journalists work freelance that allow them to contribute stories to many different publications or broadcasters at once.
How to become a Journalist?
While some might believe that the power of the pen is something inherent that cannot be taught but has to be developed with practice, but journalism courses promise to teach the "craft of journalism" through learning. Journalism as a field has seen huge changes in every aspect in recent times. Therefore it has become the norm to learn about it before stepping forth to make it a career. The first step towards becoming a Journalist is to apply for a Bachelor's or a Master's programme in a media institute or university. A degree in Media and Journalism is important for aspirants of this field. The degree prepares the aspirants and hones their knowledge base while helping them gain practical skills. Prof. B. K. Kuthiala, Vice Chancellor, Makhanlal Chaturvedi University of Journalism and Communication (MCNUJC) Bhopal said, "Today, it is all about journalism and communication. Major job opportunities are in the area of content production, both text and visual. Like any other education system, a media institute requires a variety of courses and students require a full-time degree to learn the practical aspects of the field."
Steps to become a Journalist
| | |
| --- | --- |
| Step 1 | Select a Course and Institute/University |
| Step 2 | Apply for the programme and Appear in the Entrance Exam |
| Step 3 | Appear in the Selection process and secure merit |
| Step 4 | Take admission, clear semesters and become a Journalist |
| Step 5 | Try to incorporate practical training while studying through internships |
Journalism Eligibility Requirements
| | |
| --- | --- |
| Degree | Eligibility |
| Bachelor's degree | Passed 10+ 2 with minimum 50% |
| Master's degree | Passed graduation with minimum 50% |
| Specialised Journalism programme | Passed graduation or masters with minimum 50% |
Most of the media institute or universities, at graduation level, offer programmes like BA (Hons) Journalism, Bachelor of Journalism, Bachelor of Mass Communication or Bachelor of Journalism and Mass Communication. Some of the Universities offering postgraduate and undergraduate journalism programmes are in the table given below.
Top Journalism Universities
| | | | |
| --- | --- | --- | --- |
| S.No | Institute/University | Programme Offered | Entrance exam |
| 1 | | Masters | JMI Mass Communication Entrance Exam |
| 2 | | Bachelors and Masters | Amity Entrance Test |
| 3 | Makhanlal Chaturvedi Rashtriya Patrikarita Vishwavidyalaya (Bhopal) | Bachelors and Masters | MCU Bhopal Admissions |
| 4 | | Masters | Entrance exam |
| 5 | | Bachelors | Mass Communication Entrance Exam |
| 6 | | Bachelors and Masters | BHU PET |
| 7 | | Bachelors and Masters | IPU CET- Mass Comm |
| 8 | | Bachelors | DSJ Entrance Test (BMMMC) |
Check more institutes- Media and Journalism Institutes list- Programme and Duration
The first step is to check the eligibility of the candidates. While the broad eligibility has been mentioned, it is advisable to check the eligibility specified by the institutes where candidates wish to pursue their Journalism course. Once a candidate has checked the eligibility criteria, the next step is to appear in the selected university's entrance exam. Usually, every university conducts its own entrance exam, to shortlist candidates for admissions. Shortlisted candidates are then called for the selection rounds. Final admissions are based on the overall performance of candidates at all the admission stages. Usually, such entrances are of moderate to difficult level, with General Knowledge, Media Aptitude, Reasoning and English language sections.
Once a candidate has selected a programme and the university to pursue a Journalism degree, the next step is to study hard, get an internship and complete the course. After completing the course, students can start working with a media house, as per their preferred medium and learn from the industry.
What are the skills required to become a Journalist?
Students need to have some basic skills to be a successful journalist and make a mark in the industry. This is to cement the foundation only. Further, it is not just passion but also a nose for newsworthy issues that can make students a successful Journalist. Dr Tarjeet Sabharwal, Head, Department of Journalism at Delhi College of Arts and Commerce, University of Delhi, advises, "A nose for news and an eye for facts are important for every budding journalist. You need to develop news gathering skills and the ability to write precisely and succinctly. A broad interest in political, economic and social aspects of everyday life is crucial. Exposure to any media platform to understand the rigors and processes of the industry are a must."
Some requisite skill sets required by Journalists are
Have a talent for writing- To become a journalist; one has to have an inquisite mind with good English writing skills or the other languages in which one aspires to write in. For example, if one is interested in fashion reporting, one must know how to use the jargon used in the fashion world.
Technical skills- Most of the writing is nowadays done on the computers. Hence a basic knowledge of computers like word editors, usage of internet and such are considered a pre-requisite.
Communication and Investigative Skills- Most of the good stories have come to the front because of the tips received by journalists. So social networking is a mandatory skill. Communication channels must be honed such that no lead is missed. All this starts with the internship where students connect with mentors, classmates and move further in the chain. Some must be developed on account of the work done over the years.
Research, Analysis and Team Skills- Research and analysis are important facets to a career in journalism. Grasping of facts and data , analyzing them must come as second nature to journalists over a period of time. The technical skills of interpreting the data on hand become a necessity then.
Should you have more doubts on how to become a journalist or have further queries that are unanswered here, we would love to hear from you. You could write to us at careers360.com or drop your comments below.
Get real-time alerts on exam & colleges at your fingertips with Careers360 App!
Click Here to Install or Give a missed call on 08080944727 to get app link.
Read more about Media and Journalism on https://media.careers360.com