Keen eye and consistent learning are crucial to succeed, says Jassi, former 92.7 Big FM RJ
If you love music, have a way with words, and an ability to grab people's attention with something unique and personal — it could be humor, life experiences, expertise on a subject, even interesting opinions and ideas would do — then a career as radio jockey may just be the right fit for you.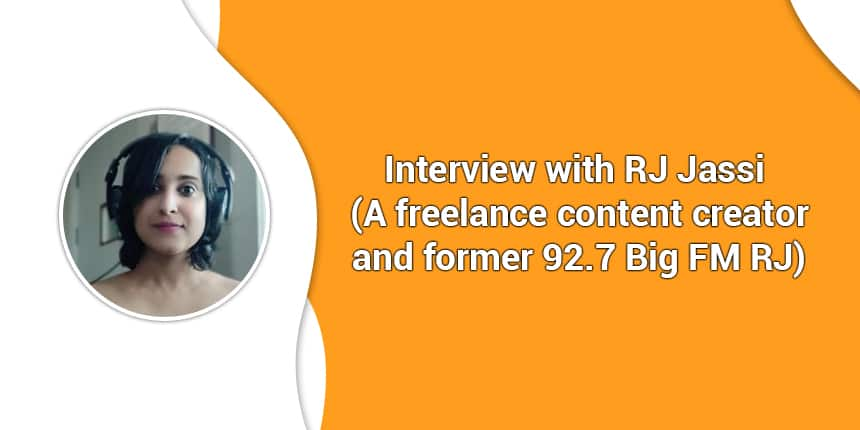 A radio jockey hosts an on-air broadcasting show. RJs play your favorite songs and in between regale you with interesting, and often fun, stories and observations. They are accomplished story-tellers and know how to keep you hooked, which means that you may not always be aware of the hours flying by in their company. Such is the power of their charmed voices.
But how do you become an RJ? Do you enroll in a special institute for training? Do you hire a voice modulation coach? Is it even a viable career option? To get answers to all these questions and more, Careers360 spoke with Jassi, an independant content creator, a soon-to-be podcast host, and former 92.7 Big FM RJ.
Excerpts from the Interview
Careers360: Could you tell us how you came to become an RJ? Was it something you had always wanted to do or did it just happen by accident?
RJ Jassi: Honestly, I don't think I would have had the confidence growing up to believe I could become an RJ. I used to get mocked quite a bit for my voice at school, which has a slightly throaty texture. It was after I completed my bachelors in journalism from Delhi University, and while the rest of my friends went on to pursue masters, that I found myself applying to a month-long internship with Radio One in Delhi.
Careers360: And how was the experience at Radio One like for you?
RJ Jassi: It was amazing. I liked it so much there that I ended up staying for nine months. There was a lot of grunt work involved as you can imagine, but I learned a great deal in the process. I kind of knew right away that this was what I wanted to do.
Careers360: So what would you say to an aspiring RJ who is conflicted about whether to get an internship — like you did — or take special classes to learn the craft?
RJ Jassi: I would definitely suggest going down the internship route. Consider the pros: you can find one virtually for free, get hands-on training, and if you don't like it, get out easily. A lot of my colleagues in the industry have backgrounds in a wide range of different fields. There are MBAs, engineers, media professionals, science students —it is a mixed bag of a variety of different people. Having said that, I'm sure joining an institute and getting a diploma or degree has its benefits too. I just personally didn't take the road.
Careers360: What do you think are the qualities necessary for becoming a successful RJ?
RJ Jassi: I think the most important quality is the ability to generate good, engaging content day in, day out. You can't expect the listeners to tune in if you're rehashing the same old stuff all the time. Eventually they will get bored and move on. One of the ways to do interesting work is to identify and stick to your strengths. Personally, I have found that I'm a good observer. I use my keen eye — even though I wear glasses — to produce fresh content for my show. If any of your readers listen to my show, they will know what I mean.
Careers360: There is a perception among a lot of people that you need to have a very good voice in order to be an RJ, how far is that true?
RJ Jassi: Well, radio is an auditory medium, so a good voice surely helps. But it can't just be that. You need to have something interesting to say as well. You could have the most mellifluous voice and still not do well because the audience fails to respond to your content.
Careers360: How did your parents react when they first learned what you were doing?
RJ Jassi: They were a bit confused at first because it was kind of uncharted territory for them. As it was for me, I should add. But other than that initial confusion, they were and continue to be quite supportive.
Careers360: If there is one piece of advice you would want to give an aspiring RJ, what would it be?
RJ Jassi: My advice would be to stay aware of what's going on around you. An RJ is not an announcer; we are expected to speak at some length on our programmes. You can't just play the next song and think your job is done. We run campaigns sometimes on really important issues like air pollution, water scarcity, domestic violence, childcare. You can't speak on any of these issues effectively unless you have invested time to learn about them.
Also, I would say listen to a lot of radio. You would be surprised by how much you can pick up by just listening carefully.
Careers360: Final Question —What does RJ Jassi do to unwind?
RJ Jassi: Well, I like to trek and spend time in the wild. I find that quite soothing. I actually took a break from work after my stint at Radio Mirchi and took a course in mountaineering. Yeah, I can be quite outdoorsy.
About RJ Jassi
RJ Jassi has been working as a Radio Jockey for the past ten years. She has worked with some of the most prominent radio stations around, like Radio Mirchi, Fever 104 FM, and until most recently 92. 7 Big FM, where she hosted Sunset Soch between 4 and 7 pm.
Also read:
How to become Radio Jockey with RJ Anuraag Pandey (Picture Pandey)