Alumni Speaks: Interview with filmmaker, Abhishek Jain
Even if you possess a little knowledge about the Gujarati cinema, it's almost certain that you would know Abhishek Jain. A Whistling Woods International (WWI) graduate, Abhishek is quite a popular name in the Gujarati film industry mainly because of making cult Gujarati movies like Kevi Rite Jaish and Be Yaar. Recently, the filmmaker has co-founded the first Gujarati streaming platform, OHO Gujarati. Besides this, he is also a part of the first passout batch of Whistling Woods International. The filmmaker turned producer owes his success to his film school training. "Everything that I know and do not know about films is all because of the film school," says the filmmaker as he unfolds the chapters of his life journey. Initially a management student, Abhishek tells us how he ended up joining a film school, which turned out to be a career defining moment in his life and why it is imperative to take an academic route.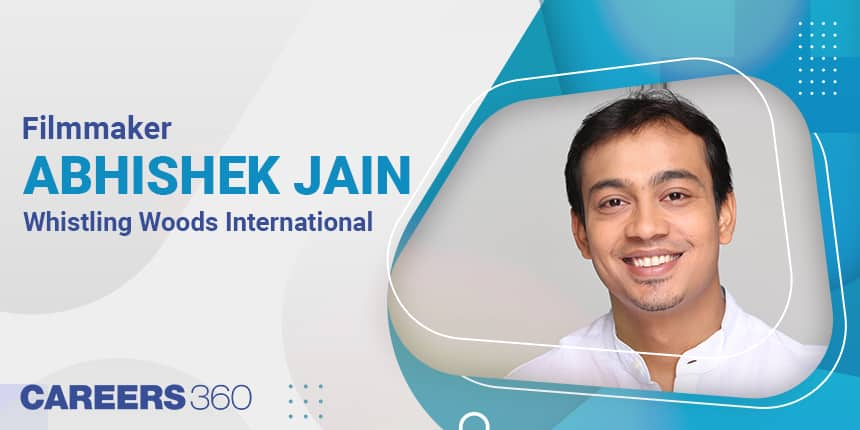 Excerpts from the interview:
Careers360: Tell us a little about the institute you learned film studies at and how it has shaped you as a filmmaker?
Abhishek Jain (AJ): I went to Whistling Woods. Before Whistling Woods, I had no idea about the films and how films are made. Coming from a city like Ahmedabad, there is not much exposure about films. It was very unlikely for me to get into a film school. But, when I took admission in Whistling Woods International, it completely opened a new world for me. The most important thing that I feel grateful about getting into the film school is that anyone can enroll and come out as a film professional. You don't need a family background or favouritism. Being into WWI has been a great learning experience.
Careers360: What are your key learnings from the film school? Do you think it's imperative for aspiring filmmakers to pursue film studies academically? Has joining a film school enhanced your creative ability and thought process?
AJ: There are a few things to answer in this one question. One is, obviously people say creativity is not something that you learn but you already have it, it's about unleashing that or trying to channelize it in the right direction. The film school helped me do all of that. Secondly, I have always been a great engrosser of academics. In life, it's imperative to go for academics no matter what you pursue because that's your primary research and first hand experience. It is where you learn, unlearn, make mistakes and then learn again. I strongly believe that mistakes make us learn better.
We were told at the film school to learn everything about films. This statement looks very simple, however, in the practical world of films you might need to unlearn many things that you had learned at the film school. So that you can adapt yourself to the constant change, demands and developments and not get stuck in one limbo or loop.
Careers360: What made you interested in filmmaking? Growing up, who were the filmmakers you were influenced by?
AJ: With a little knowledge about films, I was just like a normal viewer who would go for a film when it releases and was not very enthusiastic about it. There were no filmmakers that I followed and film school was like an accident that happened to me. I was a management graduate and wanted to take up studies further, but I didn't want to get into quantitative subjects, so I was just exploring. And while exploring, I came across an advertisement for film school. I appeared for the examination to enroll but miserably failed. That's what intrigued me and I decided to take an academic route to tell the stories. However, I have done children's plays as an actor. But that was just for fun. For nine years, I have worked in Gujarati theatre, but that didn't really propel me to get into film school.
Also Read:
Careers360: How did you get your first project? Did your film school training help you in landing with the offer?
AJ: Today whatever I know about the films is all because of the film school. I think I got my first project because of the film school. Right now the placements are a little organized - there are recruitment companies which are coming and recruiting but when we graduated there were no recruitment processes. We had to go door to door, showcase our work and if some director or producer liked it, we assisted them. So, I started assisting people and that's how I got in.
Careers360: Does the film school assist in getting internships in the industry? What type of placement assistance does a film school provide?
AJ: We were the first batch of WWI. Even though they tried really hard to find placements and internships for us, the industry was not open to hiring people from WWI. There was a certain bias but now it has been blurred. People hire from WWI and on an average, at least one crew member from every film is a WWI graduate. We didn't have a very strong recruitment cell and internship programme. However, we did intern with a couple of filmmakers. We used to go and talk to our admin departments and professors, if they had any friend whom we could assist. That's how we connected, there was no formal structure.
Careers360: What kind of transformation do you foresee in filmmaking five years down the line?
AJ: In the last ten years of filmmaking, I have seen a drastic change. Now, with social media and strong digital media presence, we have all sorts of techniques and technology all across. The biggest challenge is to be able to tell a story in the right duration through the right medium. The irony is that we have everything that possibly can help us make a film but on the other hand, inherently finding a true calling and finding a right story has become more challenging.
Careers360: How should one choose a film school? What parameters should one consider while taking admission in a film school?
AJ: Film school is not a very popular choice per say. There are a couple of reasons. First and foremost, the fee is not going to be very reasonable because the film schools have a lot of recruitments and they invest a lot in infrastructure. If someone has to join the school, then he or she must also think about the budget. If the budget issue is not there, then I suggest that you must choose a film school located in the region or centre influenced by the language that you are going to tell your story. A lot of people probably graduate from the film schools in New York and then come back to India and start working here. They do face a little issue. I would suggest if you want to make films in Hindi and be in the mainstream Bollywood, choose a film school in India. It will give you a certain kind of exposure. There are a couple of parameters like geographical parameters and monetary parameters. Apart from that, I don't think any film school differs from the others. You must choose a film school that gives you an equal balance of theoretical as well as practical knowledge.
Careers360: What qualities and traits do you think a good filmmaker should possess?
AJ: Just being a good human being is the first key quality that one must have as a filmmaker, because we are dealing with human emotions. If we are not good and responsible human beings, then it is going to put us in soup. Other than that, good communication is the key. You also have to be a good listener which I think a lot of youngsters who come out of film schools really lack because they want to tell so much that they forget to listen.
Careers360: Lack of handholding and proper guidance throw the students in a state of confusion once they graduate from a film school. What is your take on this?
AJ: It is because of what kind of projects you get involved in right at the beginning of your career. What you've learned at the film school is not going to be the same in the practical world. You need to really choose who you want to be around with, so that whatever learning there you get is going to be followed up in your practices. To give you an example, if you don't like a certain kind of film and you are assisting the filmmaker who is making that kind of film, it is not going to be fruitful. Just, because you got a placement doesn't mean you should work. Choosing the right kind of mentor or filmmakers who are making the kind of films you probably want to make is very crucial, otherwise you can easily get digressed.
Also Read:
Careers360: Do you think OTT platforms have broadened the scope of filmmaking for aspiring filmmakers and have emerged as a good parallel industry to offer work to artists/technicians from all areas? How good or bad is it?
AJ: Certainly, OTT platforms have opened up a plethora of opportunities for every sort of technician and creative people who are willing to tell their stories or willing to be a part of the storytelling process. But a word of caution out there is that this is a very new medium and all this while we have been familiar with a particular medium that is either theatrical, independent cinema, long format cinema or just a feature length cinema. To adapt to a newer medium which is a little flamboyant and more lucrative, you need to really hold your horses well and adapt. But, for anyone who wants to tell a story, OTT platforms or the other medium have opened up great opportunities.
Careers360: What scope do you see for digital filmmaking in India?
AJ: The strongest point about this country is that it is so diversified. It is such a wide and vast country with so many cultures, different kinds of people and languages around you. There are so many stories that we will have. These are contemporary stories and observations around us and apart from that there is so much we have as a part of our literature that needs to be told to the world. Be it our mythology, our literature or classical literature. India is currently sitting on the gold mine of the content. It is up to us to extract the maximum amount of it and tell as many stories as we can and put out in the world.
Careers360: What advice would you like to give to the budding filmmakers who are trying to make it big in the industry?
AJ: I think I am also a budding filmmaker per say, I don't have any such word of advice. But I would say one thing that there are so many things that can lure you towards making films but the core is to understand your intent and justify yourself for the content. It is very important that you know why you are making a film or why you want to tell a story. When you choose to tell a story you must be able to justify yourself completely. If you are patient enough, things are going to be alright, but you have to keep your intent tight and focus completely on your content.
Read More:
WWI Mumbai Updates and Articles
Questions related to WWI Mumbai
Showing 1 out of 1 Questions
44 Views
which college is best in guntur ap
Hi vamsi,
There are many good colleges in Guntur and their some of them are as follows.
RVR and JC College of Engineering
KL University
Vasu Reddy Venkatadri Institute of Technology
Vignan Lara Institute of Technology and Science
Vigilance Nirula Institute of Technology and Science for Women
Malineni lakshmaiah womens Engineering College
Chalpathi Institute of Institute and Technology
I hope your question has been answered properly.
All the best for your future!