Filmmaking is an amalgamation of technology, art and business: Rahul Puri
Not all students aspire to be engineers, doctors or academicians. Some are good at sports, while others are inclined towards storytelling. At the student stage, all have different interests and aspirations. While storytelling is an art that eventually translates into various forms – books, theatre, FM, advertisement or filmmaking, the craft has been scaling new heights after its amalgamation with technology over the past few years. Filmmaking in current times has been witnessing a shift with the technological advancement every now and then. It's no more a storytelling business alone, technology has changed the way we would look at filmmaking a few years ago. Thus, to be a learned person in all the aspects of filmmaking, professional, formal education is needed. Amongst a few other film-making institutions in the country, Whistling Woods International has been offering a range of courses pertaining to this craft. In a conversation with Careers360, Rahul Puri, Head of Academics, Whistling Woods International (WWI) shares his observations about the changes that are taking place in the film-making business, why formal education is must in filmmaking and why the arena of cinema or films must be viewed not only from the art perspective but as an amalgamation of technology, art and business. Among other areas, he also shares about the academics, internships, placements, etc. at WWI.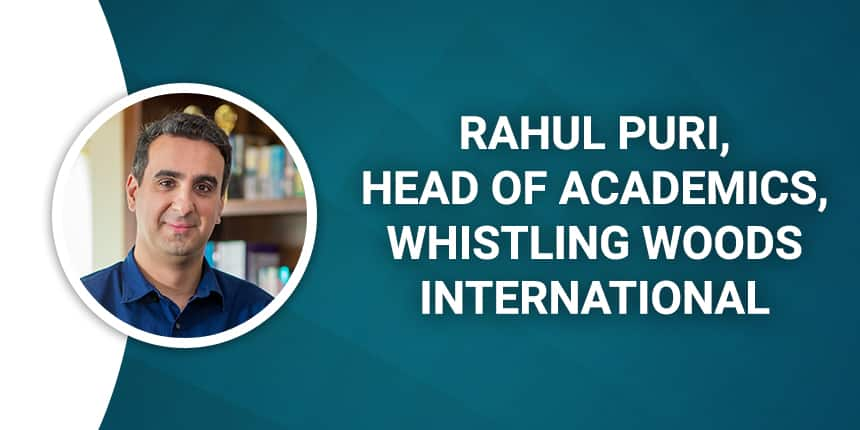 Excerpts from the interview:
Careers360: What kind of students should join filmmaking courses?
Rahul Puri (RP): Filmmaking programmes are professional courses that require students to be creatively inclined, while also possessing inherent talent. These courses emphasise on both practical training and theoretical knowledge, so a model student would need to have a knack for storytelling and should be able to connect with others, as the art of storytelling interweaves every other area of filmmaking. Passion is the driving force to succeed in any profession and one should be hardworking and willing to take up any challenges that he/she may face. There is a lot of glamour involved in this industry, but an equal or more amount of hard work is needed to achieve one's dream in filmmaking.
Careers360: Tell us about the admission process and fee structure.
RP: At Whistling Woods International, we offer degree as well as diploma programmes. The basic eligibility criteria differ depending on the programme the student aspires to apply to. To begin with, we look for candidates with an academic qualification of HSC or equivalent from a recognised board. Following this, the applicants are required to undergo an entrance exam. The entrance exam constitutes of General Aptitude Test, Creative Ability Test, and the submission of Statement of Purpose, in addition to Personal Interview. Applicants are also required to submit a portfolio of their previous work. Subsequently, our faculty committee takes a decision on whether they should be admitted to the school of their choice. Depending on the chosen course, the fees for a three/four-year programme ranges from Rs. 15 to 27 lakhs.
Careers360: What is the USP of the institute?
RP: WWI's unique selling point (USP) is that we are an institute intrinsically connected to and supported by the nation's film industry. What this means is that we are closely connected to and aware of any-and-all developments in the business, including the latest technologies and equipment, the newest techniques, and so on. WWI believes in training students for the industry of tomorrow, and our curriculum is designed to have a perfect balance between practical training and theoretical knowledge. This is further reinforced by our faculty, which is also comprised of working industry professionals. Additionally, WWI is also renowned for its weekly masterclasses, which sees industry experts from a wide swathe of domains visit our campus to share their knowledge and expertise with our students.
Careers360: Why should one opt for WWI and not other peer institutes?
RP: Since its inception, our teaching methodologies have consistently been praised for reshaping India's creative arts framework, and our faculty have received plaudits for their contributions to advancing their respective fields of expertise. We also help the aspirants expand their possibilities as a creative person, by exposing them to various aspects of film communication and creative arts before they specialise in a particular subject area. The students are also taught the rules and how to disrupt them along with the tricks of the trade. Apart from all this, they also get a chance at building a network of like-minded media and entertainment professionals and enthusiasts. Apart from that, WWI has been recognised as the Ten Best Film Schools in the world by The Hollywood. WWI has also been rated one of the 'Top Institutes of Influence' globally by Forbes India. Also, our faculty have received numerous national and international accolades for their achievements. Anjum Rajabali, Head of Department for Screenwriting, recently received the CILECT Teaching Award 2019 for his work at WWI over the past 14 years.
Careers360: What is the greatest achievement of WWI as a film-making institute?
RP: Apart from the numerous awards and accolades, WWI's greatest achievement has been the success of its alumni, with over 2200 such individuals playing a key role in India's rapidly growing Film, Media, Entertainment and Creative Arts industry. The institute's alumni body also includes highly successful professionals working in the media & entertainment industry around the world. Overall, we've played a major role in reshaping the media and entertainment industry in India and globally – and we don't intend to stop anytime soon.
Careers360: What would you say - Is film-making an art or a business?
RP: Filmmaking is a combination of both, along with many other factors. In order to be truly successful in this field, entrants need to master every aspect of it. That can only be achieved by individuals with a deep and abiding love and passion for their craft. They need to be motivated, business savvy, and artistically inclined to make their mark.
Careers360: What has changed in the field of film-making and which profile is more in demand and why?
RP: The past few years have witnessed a very rapid growth in the fields of technology, art, and business. The film and media production industries require a blend of all three fields. As a result, I believe job opportunities in this field are endless. You see the growing developments call for equally skilled and polished artists and technicians, who can make the most of this progression and do their best to put forth the end result effectively. As long as you are talented and passionate about your work, you will find success in any media domain.
Careers360: How should candidates prepare themselves to get a film as an actor/director or cameraman?
RP: In today's highly competitive climate, your success is determined solely by your talent and your determination to succeed, no matter your specialisation. I would recommend that candidates take every opportunity offered to them – meet new people, volunteer for different projects, and always be open to learning and absorbing new information and skills.
Careers360: Is a degree really needed to be filmmakers?
RP: Filmmaking is a very complex subject as it is an amalgamation of technology, art, and business. A specially designed course will provide a solid foundation to the students and let them understand what is really involved in the filmmaking process. From using the camera to writing a script and to selling it to a producer, everyone needs to learn how to do all these. Of course, talent is needed, but the talent is to be honed to provide longevity to their career. Education has a lot to offer in every field and film and media are no exception.
Careers360: How would you foresee the film-making industry evolving in the next 5-10 years and how should aspiring students prepare themselves for that?
RP: The media industry is generally a very dynamic industry and keeps changing from time to time. It is not season-driven, but an audience-driven industry, as audience's choice matters a lot when it comes to content and storytelling. However, over the last three years, technology in filmmaking has changed a lot. Earlier we use to put up sets, spend a lot of time in pre-production, while now we rely a lot on special effects and VFX. Films such as the Baahubali series and many others are being made on a large scale with the help of these technologies. It has added a new area for the creative people and another field has been added in the curriculum of the film and media students.
With that in mind, a multi-faceted education in the various fields of filmmaking is vital for any student wishing to pursue a career in the industry. By achieving an overall understanding and appreciation for every aspect of the field, students can future-proof themselves for any change in the industry.
Careers360: Tell us about the institute & industry tie-up and how do you prepare your students to be market-ready?
RP: At WWI, the placement and future success of our students is our highest concern. To that end, all of our programmes include internships or live projects, allowing our students work alongside industry experts.
We also have a special department of determined and passionate individuals assigned for placements. This department helps mentor students in decision making and choosing the right career option, keeping in mind their academic journey and core competencies. The team guides the students on the various companies and job profiles they should opt for and attempt to place them as per their unique talents and sensibilities. At present, there are more than 2200 highly successful alumni playing key roles in India's burgeoning media, entertainment, and creative industries, many of whom frequently offer placements to graduating students.
Careers360: Are all the students in each batch placed or get to work in the desired profile/field?
RP: WWI makes every possible effort to ensure the future success of our graduates, and we always try to ensure that our teachings align with their interests and aptitude. However, the institute cannot guarantee a placement in a specific profile upon graduation. We prioritise producing graduates who are immediately employable. Through industry events, practical lessons, internships, and interactions with notable figures from the industry, all our students are granted the opportunity to gain talents and connections vital to their future success. This ensures that, upon their graduation, they rank amongst the most desirable of new hires in any given field of film, communication and creative arts.
Careers360: Tell us about the placement records of the last 3 years with salary packages.
RP: WWI has witnessed a steady rise in terms of opportunities and remuneration for students graduating from WWI over the years. 98% of our graduates are successfully placed with top media and entertainment companies like Bling Entertainment, PVR Cinemas, The Culture Machine, The Glitch, McCann, Republic Media Network, Weber Shandwick, Social Kinnect, Mukta A2 Cinemas, Greenroom, Perfect Relations, Event Capital, Jack in the Box Worldwide, Mukta Arts, FCB Ulka, Kwan Talent Management, Balaji, Arré, among others.
Careers360: What message would you give to the aspiring filmmakers?
RP: Do what you love! I truly believe in this mantra by Steve Jobs, so much so that it is also the motto of WWI. This is the most important element budding aspirants should believe in and practice. In addition, the old saying about talent bringing success is true; but for long-lasting success one needs to be consistent, have the right attitude. So, follow your passion, work hard with the right attitude towards your work and people around you, make wise decisions, and success is sure to follow!
Whistling Woods International, Mumbai Updates and Articles
Whistling Woods International Admissions 2020 - The conducting...
09 Jul 2020
Career in Filmmmaking: Careers360 brings an exclusive intervie...
11 Dec 2017
Questions related to Whistling Woods International, Mumbai
Showing 1 out of 1 Questions
21 Views
which college is best in guntur ap
Hi vamsi,
There are many good colleges in Guntur and their some of them are as follows.
RVR and JC College of Engineering
KL University
Vasu Reddy Venkatadri Institute of Technology
Vignan Lara Institute of Technology and Science
Vigilance Nirula Institute of Technology and Science for Women
Malineni lakshmaiah womens Engineering College
Chalpathi Institute of Institute and Technology
I hope your question has been answered properly.
All the best for your future!