Campus Life at Whistling Woods International - Thwisha Bhutani shares her experience
Thwisha Bhutani is a third year student of BSc Filmmaking at Whistling Woods International. All her life she aspired to become a sportsperson, but unfortunately, due to some physical injuries she couldn't follow her passion of becoming a tennis player. It was when she was pursuing a course in media college that she realized her inner calling - direction and film making. Initially a little skeptical about her decision to join the film institute, that's when her close family friend, Shashan Khaitan (A well renowned bollywood director and producer) also an alumnus of WWI pushed her to go learn filmmaking at WWI. Thwisha is finally graduating this year. As she looks forward to boarding a new flight in her career, she shares her film school journey with Careers360 and explains why it is important for the aspiring filmmakers to take first hand experience at a professional film institute.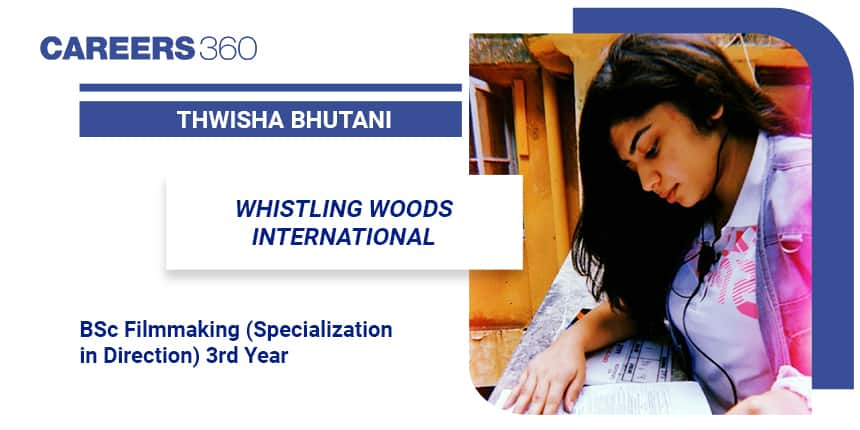 Careers360 - Tell us something about yourself. Where are you from?
Thwisha Bhutani (TB) - I hail from Nashik, Maharashtra, and from a young age, my interest was building a career in sports. Being a sports fanatic pursuing filmmaking was never in the cards for me. I had always dreamt of being a sports personality, a tennis player. But owing to some injuries I couldn't pursue my passion. So, I applied for filmmaking at Whistling Woods International (WWI) and another media college. Following my mother's advice, I opted to join the media college, but unfortunately, I didn't have a good experience.
But while being there in the media college, I soon realized, I want to do filmmaking, which made me re-apply to WWI. I feel, after a few stops, I finally arrived at my destination with WWI.
Careers360 - Which discipline and year are you in?
TB - Currently, I'm in my 3rd year of BSc in Filmmaking and specialising in Direction.
Careers360 - Were there any initial problems and hiccups that you faced during the initial months when everything at the institute was new? How was the support from the college and seniors? How has your journey been so far at the institute?
TB - Owing to my not-so-great experience with the previous media college I was in, I was very sceptical about Whistling Woods International. To be honest, it was a tad bit frightening. But when I entered the campus, you tend to get a certain vibe of a place, especially about belonging somewhere, and that was exactly what I felt, I knew I belonged here and that gave me confidence.
I have great mentors, but some of them ensured I was comfortable, one of them being WWI's student counsellor, Radhika ma'am. I would just visit her if I were bothered by anything. The other was my ex-faculty from the Producing department, Abha ma'am. These two mentors provided me with great support all along.
I also made a lot of friends, even with my seniors, everyone was extremely welcoming. And what mattered was the fact that it's not only me who had the passion for cinema, but a lot of students here share the same passion. So, this leads not only to be friendly but a lot more intellectual conversations.
My journey at WWI has been so amazing, that I am upset that I am graduating (I'm kidding). I feel upset because due to the pandemic, for a year and a half I wasn't on campus and soon I'll be an alumnus. I'm going to miss my campus days at Whistling Woods International.
Careers360 - What activities are offered in the institute? Are there any clubs etc for the various extracurricular activities? Which ones have you taken up and are a part of?
TB - Apart from intensive education being offered in various sectors of the media & entertainment (M&E) industry, the institute offers several co-curricular avenues for the students to participate in and nurture their skills.
For me, I have been a part of almost every activity offered by the institute and my fondest memory is of the WWI cricket league. Due to the cricket league, I not only interacted but got to know many people, and eventually made new friends.
I am also a part of the film club, where we organise film screenings followed by enlightening discussions about the film. I have actively participated in Inbox, a 2-day intra-department cultural fest. I have also served as a member of the organising team of Celebrate Cinema, yet another 3-day annual festival celebrating the world of media & entertainment. I have ensured to be a part of every extracurricular activity that was offered at the institute.
Careers360 - Describe a typical day at your institute – what do you do from the time you wake up till you hit the bed?
TB - My usual pre-COVID days were something like this. Post waking up in the morning, if I am not feeling lazy, I would go take a run, and then get ready for college. I prefer having breakfast at college, because of the South Indian menu offered at the cafeteria and also because of the gorgeous view outside the cafeteria. I prefer to spend my mornings there, soon after which, I head for my first lecture which begins at 9:30 am.
During my first break of the day, I prefer to rejuvenate by connecting with the faculty at the campus, as most of the WWI faculty are working professionals with a reputation that precedes them. So, I have a first-hand chance to interact with them, like Anjum Rajabali sir. I also later spend some time connecting with my friends and batchmates or networking my way through my seniors. Or my last resort would be heading to the library, to catch up on my studies.
I follow the same routine for lunch, where I either sit with my friends or some of the faculty members. Our lectures end by 5:30, so till then, I have my hands full with the classes. After the end of a day at college, depending on the situation either my friends and I decide to hang out, or just call it a day. There are many instances where after college, we have film clubs, where we select a film, then screen and analyze it together. On other days, I would just head home post classes, watch Netflix on my own, unwind a bit and then turn in for the night.
Careers360 - Tell us about the faculty-student ratio here and about the teacher-student relationship in your understanding?
TB - I can't quantify the ratio as it depends on the students opting for respective specialisations, but I can say for sure the batch size for each class or subject is perfectly balanced, wherein the faculty can give equal attention to each student.
Speaking about the student-faculty relationship, the best thing about WWI is how approachable the faculty are even though the faculty body comprises leading industry professionals & instructors from renowned global film schools. You can have open conversations with them, as the faculty are receptive and open-minded, which is not the same at other colleges. I believe because of the expression of art at our institute, we can talk about what we want to and also our opinions are taken into consideration. Even during lectures, we are given the liberty of expressing our opinion, without the fear of being ridiculed.
Apart from education, if a student approaches any faculty member for any sort of help or advice, I have personally experienced healthy and amazing interactions. You can approach them even with a life problem and they are there to help you out.
Careers360 - Describe facilities at the campus in brief? What do you like the most here? What is the most unique and differentiating feature here?
TB - Whistling Woods International is equipped with a world-class campus and state-of-the-art facilities. For me, I love the library. Though I am not an avid reader, yet the library is like a treasure chest to me. The number of books available at WWI's library is immense. So, when I was looking into filmmaking, before joining WWI, there were some books that I wanted to buy, but they were expensive. And now, I have the liberty to refer and read any number of books of my choice on respective subjects. There are numerous books on various topics. Apart from that, just on one director/subject, there are more than 10-15 books available at the library to learn from.
Though I love the library, the I-Pray room is my personal favourite. I usually go there to unwind, especially during breaks after lectures or even if I just want to meditate. I don't think other colleges even offer such a facility. The I-Pray room is very calm, peaceful and the whole vibe of the room is pure positive energy.
Careers360 - What made you opt for this college? Are your academic requirements being met fully?
TB - When you realise your passion for filmmaking, usually, you tend to have the internal debate on whether you should pursue studying or just take up work on a set if you get the opportunity. So, while discussing this with a close family friend, who is also an alumnus of WWI, Shashank Khaitan, he gave me the push to attend Whistling Woods International. He encouraged me to have the film school experience and know how film school education helps. So that's what got me to this institute, and I am more than thankful.
Any set or any film school can teach you about art in general, as filmmaking happens to be a form of art. But here, at WWI, you learn the interpretation of that art, you get a chance to talk to various artists, you open up your mind to adapt to a different kind of art and I wouldn't have gotten this experience otherwise.
In addition to the academic requirements being fulfilled, well I'll say, it's more than fulfilled. Being a direction student, when I graduate, I know for a fact what it feels like to run a set on my own. Being a director, owing to what I have learned and the knowledge I possess is astounding. So, when you step into the world, you are immensely confident as you are prepared, because of the intensive programme offered at Whistling Woods International.
Also Read:
Whistling Woods International Courses
Whistling Woods International Facilities
Careers360 - Is the curriculum apt for you to be industry-ready? Does the institute prepare you accordingly?
TB - As I mentioned earlier, owing to my education at WWI, I'm confident to venture into the professional world, without many struggles and roadblocks.
The institute follows a holistic model of education, which places equal importance on theoretical knowledge and first-hand practical experience. As a result, they have created a curriculum that produces both award-winning practitioners and award-winning researchers. Every student who graduates from Whistling Woods International is ready to work in the booming media & entertainment industry, nationally and globally. Everything taught at WWI is ahead of the curve and incorporates the latest trends.
Careers360 - How advanced or latest are the equipment and machinery at the institute? Explain with some examples?
TB - One of the major things that differentiate Whistling Woods International as an institute is its commitment to always remain at the forefront of the latest technologies. This has led to collaborative associations with various leading technology giants such as Sony, Adobe, Foxconn, Apple, and Canon, which has seen the institute utilise some of the latest and most advanced technologies in the world as part of its curriculum.
For example, WWI is home to India's first academic VR lab set up in association with Reliance JIO. The institute also houses the Sony Media Technology Centre; and Foxconn Lab. WWI has also partnered with Red Digital Cinema to set up Asia's first RedEducation platform offering Red HD Digital Cinematography Cameras for us to learn and enhance our skill sets. Additionally, WWI also offers 40' x 60' Film Studio, Animation & VFX labs for students to sharpen their skills, amongst other state-of-the-art facilities.
Careers360 - Tell us in detail about the classrooms, labs, library and auditoriums in detail?
TB - Whistling Woods International is a big supporter of industry research, and hence, has several R&D labs on campus set up in conjunction with global tech leaders such as Sony, RED, Google, Jio, and Foxconn. The collaboration grants students open access to the latest technology. The students can undertake research in future M&E technologies and workflows, participate in ongoing R&D research, and receive training and education in tech workflows of the future.
WWI has a 250-seater auditorium with Auro 11.1 3D surround sound, a 4K projector & a 35mm film Projector. Apart from that the institute also has a Film Studio with a fully automated lighting grid, Multi-purpose studio floors, a Music recording studio and Dolby Digital Film surround Mix Studio. It also has DAW suites and ADR suites along with the latest location sound recording equipment.
WWI has Pro Tools 101 Lab, Video Labs, specialised Edit Labs, HD Edit Suites and Producing Lab with Movie Magic Budgeting & Scheduling. Labs for 2D and 3D animation and VFX are equipped with the latest software such as Maya, Nuke PF Track, Particle Illusion Boujou, Silhouette & Adobe After effects and more. For students pursuing a fashion design programme, we have Apparel Construction Room, Pattern Making & Cutting Room and also Grooming & Draping Room.
Apart from all this, Whistling Woods International also has a total of 30 classrooms, 3 foundation halls, workshop rooms, acting and dance studios, music production & composition rooms, design studios, theatrical make-up & costume rooms, film, text and periodical library, and much more.
Careers360 - What's the DNA of the college - the academics or the overall development of a student?
TB - According to me, because I experienced this, I had a different perspective about what I wanted to do. So before joining Whistling Woods International, I was advised by Shashank Khaitan, 'to go with an open mind, don't fix your mind on wanting to be a director. Just give everything a shot.' It was indeed one of the best pieces of advice I have ever received. So, when I joined WWI, I realised how our course doesn't just start with what you want to opt for. It starts with the whole foundation process for a year. The foundation year is so strong that I am still banking on the knowledge that I received then. And though I'm studying filmmaking, I am also exposed to media, events and many other aspects of the M&E industry. It's like an all-round development happening. Even the masterclasses conducted really helps you, as you get first-hand information from the legends visiting the campus, and they educate us. At other places, I would have only been stuck with YouTubing various questions, but here I can ask my questions and get proper answers from the industry experts.
Even the extra-curricular activities are designed in every aspect, be it sports, music or acting, to help in the overall development as a student. Being at WWI, you just don't learn about filmmaking but undergo a complete personality development.
I would say the institute lays equal importance on both. They are just as focused on your academic growth as they are on your personal development and devote a great deal of effort to ensure the two halves are aligned.
Careers360 - How comfortable are your hostel facilities in terms of cleanliness, service? What do you do if there are any problems?
TB - When I first came to Mumbai from Nashik, for the first year I stayed at a housing accommodation that is a tie-up with WWI. I had a wonderful experience there. When you come alone from a different city, and as a student, you're still figuring to settle in a new place. And at that time, you don't want to be bothered about the chores, or the salary to pay your help, plumbing issue, Wi-Fi and many other things and most importantly, the rent are too high in Mumbai, you cannot afford a flat all by yourself. To find flatmates in a new place also becomes difficult. The housing facility offered by WWI in association with Your Space helped me find the right flatmates and took care of all the other things, so I could just focus on college and come back to a clean apartment. They are also very trustworthy. I couldn't be happier with them! The apartments they offer are extremely clean, well-maintained, and comfortable. They're also very conveniently located and make reaching the campus very easy. The institute also has a very receptive helpline. If we face any issues, we contact them, and the problem is solved quickly and easily.
Careers360 - What type of companies come for campus recruitment and what percentage of students get placed every year?
TB - It has always been clear to me that WWI places the welfare of its students above everything else. As such, they have established a fantastic support system to help their students and alumni break into the media & entertainment industry. The Career Resource Center at WWI has a very strong industry connection and reaches out to this network to fetch opportunities for the students at our various schools. The students, during their academic sessions at WWI, also have an opportunity to work on various live projects, events, and other avenues in different capacities. They work on festivals and events like MAMI, Comic-Con, Jagran, FICCI Frames, Big Boys Toys, and many others. Students of filmmaking work on their projects, and, make diploma films in their final year, which is promoted at various national and international film festivals by the institute, and can also be streamed on Disney+ Hotstar.
Each school also offers its students internships and opportunities to work with some of the biggest names in the business. The School of Media and Communication offers an 8-week summer internship to students as a part of their BBA and MBA curriculum, while filmmaking students, post their course completion, work with TV, Digital, Film Production Houses and Studios, Wedding companies etc. As a result, you can find WWI alumni in senior posts in practically every business in the wider industry. To date, 2500+ alumni are successfully placed in various organisations in the media & entertainment industry, in India and across the globe.
Careers360 - What are your future plans? Any advice to other students who are looking at colleges before taking admissions?
TB - Due to the pandemic, I do not know what the future holds for me, I am looking to assist with production houses. I also believe that I may have an upper hand compared to other people, who haven't attended film schools, solely because when I graduate, I graduate with confidence, and the importance of understanding how to run a set, or how a set is made, or how important teamwork is, which anyone who just heads to a set will not know. It's not difficult to find a job, but you need to find a job that demands you to be responsible, and for that Whistling Woods International has prepared the students, including me, well.
And my advice to any other student would be, if you are passionate about arts, don't restrain it to yourself, rather share it. Only then you would be more mature and knowledgeable, to exchange ideas and perspectives. So, when you come to an institute like Whistling Woods International, you meet various like-minded people, you even meet faculties with the same interest as you, and then you realise that the passion you have, you are sharing it with other students and faculty, who are also working professional, it does help you. Your perspective towards life will change when you're a student of film, communication or creative arts. And at WWI everyone including the Head of Academics, Rahul Puri sir, will help you prepare well for your future. My advice and suggestion, to all the aspirants looking forward to building a career in the media & entertainment industry, is to definitely choose Whistling Woods International!
Careers360 - Any specific area where the institute must catch the pace of the times?
TB - Whistling Woods International is always ahead in terms of curriculum and facilities offered on campus and has functioned with the pace of time. The team at WWI has ensured our learning stays unhindered even during these unprecedented times, with online education. My suggestion though is, it will be grateful if the institute can equip students to work from home, as we are unsure when the on-ground production work commences. Also, though our alumni and students have already carved a niche in the digital entertainment space, an additional inclination towards insights into the functioning and production for OTT platforms, compared to film and TV, will enable the graduating students to expand their horizons.
Also Read
Whistling Woods International, Mumbai Updates and Articles
Questions related to Whistling Woods International, Mumbai
Showing 1 out of 1 Questions
42 Views
which college is best in guntur ap
Hi vamsi,
There are many good colleges in Guntur and their some of them are as follows.
RVR and JC College of Engineering
KL University
Vasu Reddy Venkatadri Institute of Technology
Vignan Lara Institute of Technology and Science
Vigilance Nirula Institute of Technology and Science for Women
Malineni lakshmaiah womens Engineering College
Chalpathi Institute of Institute and Technology
I hope your question has been answered properly.
All the best for your future!