MICAT Mock Test 2021 - MICA has released the MICAT 2021 mock test in online mode. To ace the MICAT preparation, candidates must make a proper exam strategy and practice MICAT mock tests on a regular basis. There are various sources online that offer free mock tests for MICAT. The mock tests of MICAT 2021 will help the candidates broaden their knowledge about the exam and will help in recognizing their weak and strong areas. Taking mock tests also improves time management skills and helps in identifying the questions that should be attempted first. With the help of MICAT mock tests, candidates also become familiar with the exam pattern and syllabus of MICAT. In order to practice the MICAT test series, you should also go through these helpful MICAT Preparation Tips.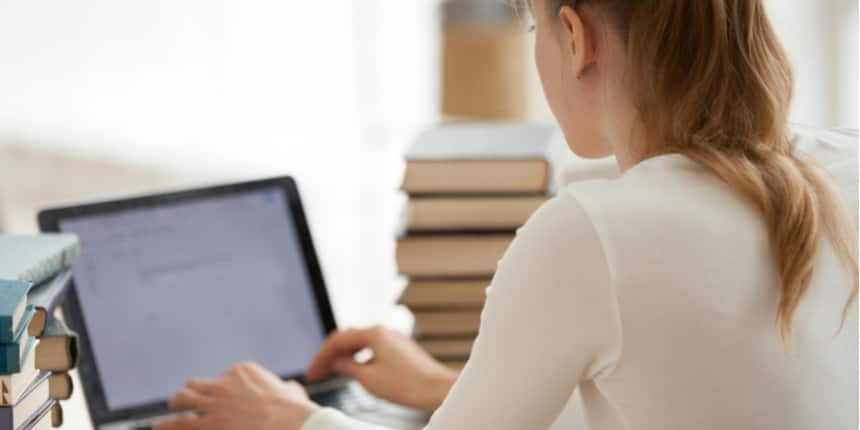 How to Access MICAT Mock Test with Solutions
The steps to access the MICAT Mock Test are mentioned below:
Go to the official website of MICAT and click on the link (g01.digialm.com//OnlineAssessment/index.html?1468@@M1)

After click on the 'sign in' tab, you can start taking the exam.

After completing your exam, click on the 'Submit ' tab.

Once you submit the exam, your exam score will be displayed on the screen.
What are the steps to solve MICAT 2021 mock test
Candidates can check the steps that are given below as they practice the MICAT mock test.
Step 1: Enter The Login Details
Candidates have to enter the login id and password to access the mock test of MICAT 2021. The link to take MICAT mock test 2021 will be provided above in this article as soon as it is released by the authorities.
Step 2: MICAT 2021 Instructions Page
Once the candidates click on the sign-in tab, they will be directed to the instructions page of the mock test. On this page, each colour scheme will indicate which are the questions that have been answered by the candidates, which have not been answered by the candidates and how many have been left for review.
Step 3: Other Important Instructions in MICAT 2021 Mock Test
Candidates can now read the other important instructions that are given on this page. In the mock test of MICAT 2021, there is a sectional time limit due to which candidates will not be allowed to move to another section in between. They will be able to move to another section of the mock test only after having completed the first section. Candidates will have to move in the order in which the sections are given in MICAT 2021 mock test.
Note: Go through the instructions and select, "I agree" button and then click on the tab, "'I am ready to begin'.
Step 4: Demo Question in Mock Test of MICAT 2021
Candidates will be directed on the page of the demo question. On the right side of the computer, aspirants will get to see the countdown timer.
Step 5: MICAT Mock Test 2021- Psychometric Test Group Instructions
Go through the instructions that are given for the psychometric section of MICAT 2021.
Step 6: MICAT 2021 Mock Test Psychometric Test
Candidates directed to the psychometric test section wherein they will have to answer the questions within a specified time.
Step 7: MICAT Mock Test 2021- Descriptive Test
This section contains descriptive questions. Candidates can mark the responses as per the instructions that will be given at the beginning of MICAT 2021 mock test. Click on the 'Save and Next' button.
Step 8: MICAT 2021 Mock Test - Aptitude Test
In the aptitude test section of MICAT entrance exam, candidates will have the option to navigate between different sections.
Step 9: Feedback Form
Once the candidates will successfully finish the entrance exam, they will get a feedback form on the screen, wherein candidates have to rate their experience on digital examination. After giving the ratings on a scale of 1 to 5, candidates will have to click on 'Submit Button.'
Step 10: Exit From MICAT 2021
After clicking on the submit button, candidates will get to see on the screen that they have successfully completed MICAT 2021 and now they will have to click on the 'exit button.'
Importance of MICAT Mock Test
Mock tests are important because they help you become familiar with the test-taking environment.

With the help of mock tests, you get a fair idea of how the actual exam looks like.

By solving mock tests, you can analyze the effectiveness of your preparation and work on areas that need improvement.

Another advantage of taking MICAT mock tests is that you learn to manage your time well, which is an important factor during the exam.
MICAT Syllabus 2021
Candidates who are aiming to take admission at MICA, Ahmedabad can go through MICAT 2021 syllabus as it will give them an idea of the topics and subjects which they need to prepare. MICAT 2021 syllabus is set on similar lines as that of other top management exams like CAT, MAT, etc. Before starting your preparation for MICAT, it is necessary that you should completely know the syllabus of MICAT. As a result, you can make a timetable for the studies accordingly, which is easy for your preparation for MICAT 2021. After checking the syllabus, candidates should analyze their strong and weak areas and work on them accordingly.
MICAT Sample Paper 2021
MICAT sample papers are an important tool of preparation where candidates can practice it daily and get familiar with the questions in the test. This helps candidates score good and crack the examination easily. Moreover, it helps candidates analyze their strengths and weaknesses and overcome them with daily practice of sample papers. Candidates aspiring to appear in MICAT 2021, must have all the sample papers for better MICAT 2021 preparation. Following we have provided MICAT 2021 sample papers.
Frequently Asked Question (FAQs) - MICAT Mock Test 2021
Question: Who will release the MICAT 2021 mock test?
Answer:
MICA will release the MICAT mock test 2021. Both registered as well as unregistered candidates can take up the test in online mode.
Question: Does a candidate need to pay any fees for giving MICAT 2021 mock test?
Answer:
Candidates will not be required to pay any fees in order to give the mock test of MICAT 2021. However, registration of MICAT 2021 is required.
Question: How many questions will be there in the MICAT mock test 2021?
Answer:
MICA will conduct MICAT mock test same as the actual exam to give candidates alike environment.
Question: Does MICAT 2021 have a syllabus for exam preparation?
Answer:
No, the MICAT exam does not have a defined syllabus for MICAT preparation. However, you can attempt the mock test to understand the exam pattern and types of questions. Check the MICAT website regularly for the announcement of the mock test.
Question: How many sections are there in MICAT 2021?
Answer:
MICAT 2021 will have six sections:Section I: Psychometric Test, Section II: Verbal Ability, Section III: Quantitative Ability, Section IV: General Awareness, Section V: Divergent-Convergent Reasoning, Section VI: Descriptive Test.
Questions related to MICAT
Showing 53 out of 53 Questions