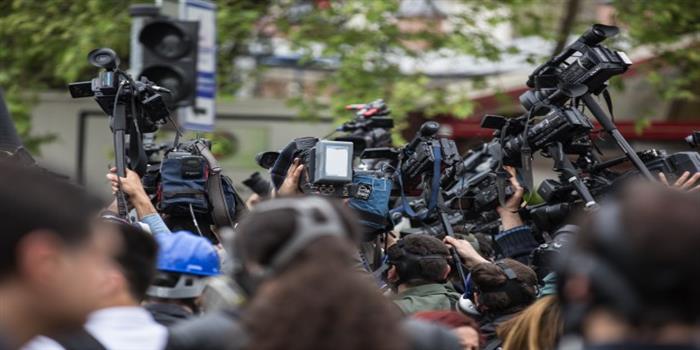 One of the most searched topics by budding journalists and media personnel are the top mass communication colleges in India. While many colleges and institutes offer journalism and mass communication courses, most students look for details about the top mass communication colleges in India. Candidates wish to check the pertinent information about the top mass communication colleges in India before applying and taking admissions. Students also look for details on the admission procedure as well as the flagship programmes offered by the top mass communication colleges in the country so that they can prepare and apply successfully. While most of the top colleges of mass communication in India have an entrance test before admitting students, some do take students on the merit of their graduation or qualifying exam scores. Careers360 has compiled the top mass communication colleges in India for aiding students in making an informed choice about the college, course and admission.
Many of the colleges are popular and highly rated in terms of the course curriculum, practical training and placements. So, before moving to the list of the top mass communication institutes, let us first understand what exactly is mass communication and what fields it covers. 
What is Mass Communication?
The study of gathering information and disseminating the same through various arms like print, broadcast and other interactive mediums is known as Media or Mass Communication (Mass Comm) studies. It also includes Radio Journalism, Advertising and Public Relations, Corporate Communication and other Production related mediums.
With demand in Mass Communication courses rising, a lot of institutes have come up to offer undergraduate and postgraduate programmes in the field. Most of the institutions, both government-run or industry-driven and private, offer one-year Post-Graduate Diploma courses in different streams of Mass Communication. Prof. B. K. Kuthiala, Vice Chancellor, Makhanlal Chaturvedi University of Journalism and Communication (MCNUJC), Bhopal says "Today, Mass Comm has grown to become a very popular subject. Student preference has rapidly increased for courses in this field. Many Mass Communication institutes have come up which offer a variety of courses for students to pursue a full-time degree in and learn the practical aspects of the industry."
Top Mass Communication Courses and Institutes
A degree in Mass Communication is important for aspirants who want to join the field. The degree prepares the aspirants by honing their knowledge base and helping them gain practical skills. Admissions to many of the listed programmes are through college level media entrance tests.
List of Mass Communication Colleges in India
S.No

Institute

Courses

Admission Procedure

1

PG Diploma in Direction & Screenplay Writing /Cinematography/ Editing/ Sound Recording & Sound Design/ Editing / Acting/ Art Direction and Production Design

FTII entrance exam

Orientation/Acting test

2

PG Diploma in Journalism in Print/ New Media/ Television/ Radio

ACJ entrance exam

Interview

3

Post Graduate Diploma in Management - Communications / Certificate courses in Communications/Advertising

4

PG Diploma in Journalism/ Radio/TV Journalism/ Advertising/Public Relations/ Diploma in Development Jounalism

IIMC entrance exam

Interview

5

MA in Mass Communication

SIMC MA MC entrance exam

WAT/PI

6

M.A.in Mass Communication/ Visual Effect and Animation/ Convergent Journalism / Development Communication and PG Diplomas also

JMI Mass Comm entrance exam

GD/Interview/Portfolio

7

Diplomas in Advanced Integrated Communication/ Journalism & Mass Communication/ Public Relations & corporate Communication/ Advertising & Marketing Communication/ Film, Television & Digital Video Production

 

8

Welingkar Institute of Management Development & Research

PG Program in Media & Entertainment Management

9

Manipal School of Communication, Manipal University

 

B.A & M.A in Media & Communication

 

10

 

PG Diploma Journalism

11

Bharatiya Vidya Bhavan's Sardar Patel College of Communication & Management

PG Diploma in Journalism/ Public Relations/ Marketing & Advertising/ Mass Communication

BVB entrance exam

Interview

12

B.A. (Film & Television Production), B.A. (Journalism & Mass Communication), B.A.(Mass Communication - International), MA (Advertising & Marketing Management), MA (Film & TV Production), MBA (Media Management), MA (PR & Event Management), MBA (PR & Event Management), M.A. (Journalism & Mass Communication), Ph.D in Mass Communication

Amity entrance exam

Interview

13

Whistling Woods International

Institute for Films, Media, Animations and

Media Arts

BSc in Filmmaking + Diploma in Filmmaking

WWI entrance exam

Interview

14

TV Today Media Institute

PG Diploma in Mass Communication in various specializations

Entrance exam

Interview and Essay

15

Indian Institute of Journalism & New Media (IIJNM)

PG Diplomas in Print, Broadcast & Multimedia

Aptitude Test

Counselling

Interview

16

New Delhi YMCA Institute for Media Studies & Information Technology (IMSIT)

Diploma in New Media/ Television Production & Journalism/ Development Journalism and TV Production/ Documentary Film Making and TV Production/ TV, News Reading & Radio Broadcasting/ Acting & TV Production/ Photography/ Public Relations, Media and Event Management/ Public Relation, Advertising & Marketing/ Digital Video and Broadcast Animation

17

Manorama School of Communication

PG Diploma in Print & Broadcast Journalism with specializations

18

University of Pune, Department of Communication and Journalism

Master of Journalism and Mass Communication (MJMC)/ PG Diploma in Mass Media

19

Makhanlal Chaturvedi National University of Journalism and Communication

MA in Advertising and Public Relations/ Broadcast Journalism / Mass Communication/ Media Content Design

 

20

MA in Communication and Journalism, MA in Electronic Media, MA in Public Relations
What is the eligibility criteria for the top mass commuincation institutes in India?
The best part of pursuing mass commuincation is that anyone with interest can pursue it. For the undergraduate courses,any student be it science, commerce or others can apply and join a mass communication course. Similarly for a PG programme, a graduate degree in any discipline is allowed. The only criteria is a minimum pass percentage which is mostly around 50% along with an interest in the field, awareness of the happenings aroound in day to day life as well as a good reasoning and analytical ability.
Mass Communication Course Structure and Curriculum
Mass Communication includes various core subjects and specialised fields of study like print, radio, television and even web. The curriculum for all such programmes is designed to impart proficiency in all areas, incorporating the latest media industry trends. This not only includes theoretical aspects but also practical exposure through studios, newsrooms, clubs etc.
Dr. Nandini Lakshmikanth, SOC, Manipal University opines that tracking the constant upgradations in technology and focusing on integrating these mediums in the pedagogy and curriculum is necessary to keep Mass Comm students at par with the industry standards. "With regards to this programme, one must readily incorporate changes by giving a bouquet of subjects which are suitable as per the current standards of the industry. The change also enables students to streamline their proficiency in their areas of interest," states Dr Nandini.
Besides regular classroom teaching and practical learning, Mass Comm students are also mandatorily required to participate in internships as per the prescribed curriculum at both undergraduate and postgraduate levels. Internships form an important component which is evaluated at both the college level as well as at the workplaces of the students. The Internship/Placement Cells of the institutions support students in getting in touch with companies and arranging interviews.
Demand for Mass Communication Courses
As per the industry trends, a good degree and accompanied training experience help media aspirants prosper in this field. There are many job opportunities in various mass comm fields with good remuneration packages and growth opportunities. Students can enter in any of the preferred fields at the junior level and start with a medium level salary range.
Visit www.media.careers360.com for more news and information on Journalism and Media programmes and institutes