Big FM RJ Jassi says, "Blend of Passion, Humour and Captivating Content define Radio Jockey"
How to become Radio Jockey - Known as one of the oldest forms of mass communication, radio definitely takes lots of creativity to enthrall the audience using only audio. Regardless of new kinds of entertainment technology, radio has not lost its significance. It has become an integral part of our lives. With radio being played in the background, the traffic becomes bearable with those voices cheering us up and elevating our mood. There was a time when radio jockeys were confined to playing music and introducing new songs. Now an RJ has to wear many hats. Truth to be told, the job of an RJ is not a cakewalk as one has to be well-versed with current affairs, and able to deliver magnetic content. For a radio jockey, a positive attitude along with a good sense of humour is like icing on the cake. Amidst all these, have  you ever wondered how does the face behind that voice look like or what it takes to become a radio jockey.  RJ Jassi, famous for her evening show ' Jassi Ke Saath, on 92.7 Big FM, tells you everything you want to know about this profession. In conversation with Careers360, she shares the skills that one needs to excel as an RJ, tips for aspiring radio jockeys.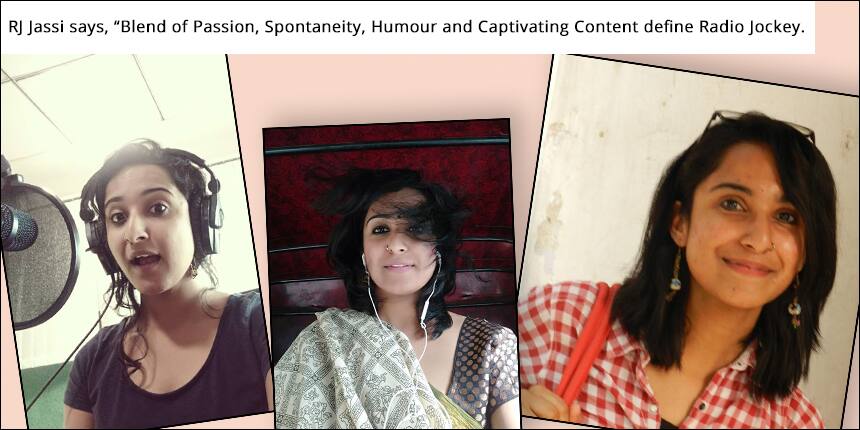 Careers360: Tell us about your journey towards becoming an RJ? What are the shows that you host?
RJ Jassi: 92.7 Big FM has helped me develop an identity of my own and transform my weakness into a strength. I had a husky voice since my childhood and my friends used to make fun of it. Having this quality of voice is a big no in this industry.  Never before had I thought of becoming RJ and therefore it was a bumpy start for me in this profession.  While doing journalism course from DU University, I involved myself in lot of theatre activities and interned with one of the radio networks, Radio One. The internship gave me an insight about what a radio industry is all about and that was an ignition point that drew me to take up a job in this arena. Now I have completed seven years of glorious journey in the radio industry and I have earned name and fame by virtue of my voice. I am completely in love with my profession as it helps me draw a crowd through my voice, which was once considered a weak point.  
I host an evening show ' Jassi Ke Saath' which airs from 4 pm to 8 pm in 92.7 Big FM. During this four hours of show, I multitask as I have to take interviews, read the scripts, play audio advertisement at specific intervals, run campaign for upcoming festivals, talk on political and social issues, play music, interact and engage listeners and callers. 
Careers360: What are the skills that are required to become a Radio Jockey? 
RJ Jassi: If you are thinking of how to become a radio jockey, one has to be passionate about radio. A radio jockey must be able to entertain and be appealing with good voice that is soothing and impactful. In addition, this profession requires good sense of humour, spontaneity, creative and quick thinkers. Another skill set that a radio jockey should possess is to have knowledge about various issues and and local awareness. If a radio jockey passes on any wrong information to its audience due to lack of knowledge, it will dent their credibility and subsequently lead to a huge loss of audience. Knowledge and awareness are, therefore, vital for a radio jockey. As radio is a powerful medium, RJ should also use it to bring about a positive change in the society.
Careers360: What do you have to say about Radio as a medium of communication?
Big FM RJ Jassi: Radio is a powerful medium as it leaves a great impact on its audience. With the help of the radio, awareness can be increased and it can stimulate social change. Radio is the strongest medium for connecting isolated communities.
Careers360: As a woman what are the challenges that you face as a Radio Jockey. What advice would you like to give to women who want to make their career as Radio Jockey?
Big FM RJ Jassi: A major portion of RJ fraternity seems to be of women. Being a woman RJ doesn't bring any struggle in my profession. Women are treated equally as men and there is nothing as  a gender-specific role in this industry. Everyone gets equal opportunities, depending on their talent.
My advice to women RJ aspirants is that radio is a powerful medium and use it in a positive way. Don't get confined to only entertainment, but try to deliver good content that can bring change in the society. They should inform their audience, transform them through entertainment, information and participation.
Careers360: What are the challenges female employees face in terms of shift as they have to report to office even at the odd hours?
Big FM RJ Jassi: When you have a  sheer love for your job, working in shifts does not matter. There is no denying the fact that the job role of a radio jockey varies according to the subject of the show. It's not the usual 9 to 5 job. At the start of the career, radio jockeys are expected to work early morning or late night shifts. What I feel is that as we cover the show live in radio, it makes the job even more interesting. Later, after working as an RJ for a few years and when your  voice gets recognised by your audience, you get a fixed show at a convenient time. 
Careers360: How important it is for an RJ is to be familiar with sound equipment and computers?
Big FM RJ Jassi: As a radio jockey, one has to deal with a lot of sound mixers, faders, CD players, to name a few. The job profile of an RJ also includes handling advertisement database, microphones, and headphones. An RJ should be a computer savvy and have knowledge as to which equipment to use, what to do if it stops working is important. One, however, learns all these technicalities in their career as a radio jockey.
Careers360: What are the employment opportunities and perks for an RJ?
Big FM RJ Jassi: Without a shadow of a doubt, radio jockey is a booming career option. It gives lots of recognition, fame and scope for quick growth. As the voice of radio jockeys are recognized by listeners, they are offered good packages from radio channels. One gets good contractual money and also opportunity to mint money from commercials. With experience, opportunities such as doing voice-overs for ad films and movies also come their way. 
Carreers360: What are the things which an RJ should keep in mind ?
Big FM RJ Jassi: Staying updated with the current affairs is inevitable for RJs as it helps attract more listeners. Try to deliver good and realistic content that evoke emotions among audience. Cover different elements at the given time as doing same thing over and over will hurt your chance of connecting well with your audience. Also, add fun elements and have your own style, which will enable you to add value to what you say. 
Careers360: How has being an RJ changed you as a person and how has it boosted your confidence level?
Big FM RJ Jassi: Being an RJ changed me drastically as a person as it helped me shed my shyness and made me an outgoing person. Now my voice and command over my language has become my biggest asset and this profession helped me grow as a confident individual. Radio helped me develop an ability to interact with people and build a strong relationship with them as they freely discuss and share their problems. 
Careers360: Is it important to have a professional degree or pursue a professional course to become a radio jockey?
Big FM RJ Jassi: There is no specific academic path to become a radio jockey.  I have seen so many engineers taking it up as a profession. A graduate degree, however,  in any field is pre-requisite. One who pursues journalism have a better insight into the radio industry and are able to pick up the skills and the technicalities required to become an RJ. Qualification is useful, but skills and passion count more in this profession. 
Careers360: As an RJ, you always need to be in a happy & cheerful mood? How do you manage to sustain that mood all day long?
Big FM RJ Jassi: Sometimes I have a rough a time but as soon as I step into the office, the mic and music there ups my energy count. The biggest energy booster is the radio and the mic,  there is something magical about them. Talking to people and listening to them reduces all my worries as long as  I am in the office 
Careers360:  Do you think podcasts can replace radio in the course of time?
Big FM RJ Jassi: An increasing number of people follow radio more as it is real-time whereas podcast is not. For example, if there is an accident, radio gives you all the necessary information. Radio is infotainment, which is a juxtaposition of information and entertainment. Weighing all these facts, podcasts will take ages to replace radio. But I wish both the radio and podcasts would be equally liked by audience in the course of time. 
Careers360: Any tips for those who want to become a radio jockey? 
Big FM RJ Jassi: Listen to radio, different RJs and try to discover your own style. Record your voice and come up with new ideas. Don't be artificial, be yourself. Also, you should be well read, have good observation skills and build network. If possible, travel a lot that will help you experience different and unique things in life. You can share those with your audience, which will enable you to connect with the listeners
Also Read -