SIMC Pune Director Interview - Ruchi Kher Jaggi says "Technical training is effective only when complemented with rigorous academic inputs"
"In the present era, media professionals not only have to be well-informed, they need to have the prudence and skills to package the information in diverse ways for diverse reader/user/consumer- engagement," says Symbiosis Institute of Media Communication (SIMC), Director, Ruchi Kher Jaggi. Ms. Ruchi Kher Jaggi holds a Ph.D in Gender in Children's Television Programming and has more than 17 years of teaching experience. In an exclusive interaction with Careers360, Ms. Ruchi Kher Jaggi talks about the programmes offered by SIMC, challenges faced by media professionals in the current day scenario as well as what distinguishes a media professional from the others in the field. She also talks about the education methodologies practiced at SIMC, desired qualities in a media professional, internships, placements and more. Read the complete interview below.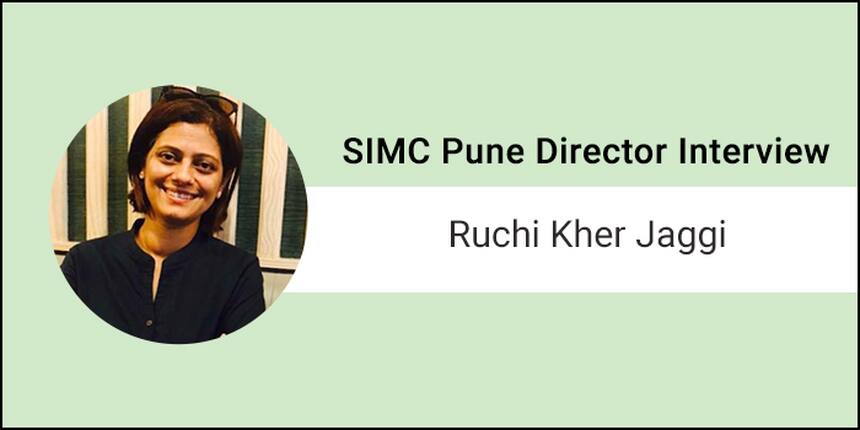 Careers 360: How do you see media studies evolving as a core stream in near future? What is the important development or change you witnessed in media studies in recent years?
Ruchi Kher Jaggi:Media Studies, popularly referred to as mass communication, is among the most evolving academic disciplines. The origin of this discipline dates back to early 1900s in some American Universities. The initial phase of this domain was focused and limited to offering journalism education, which was mostly skill-based. With social, cultural and technological advancements, communication got revolutionized as well and so did the training for communication. The array of courses expanded to include audio-visual components earlier and then digital & new media components later. As the mass communication discipline evolved, it was influenced by concepts from humanities and other social sciences to build a substantial theoretical space of its own and thus media studies began engaging with social, political and cultural thought with a critical media lens.
Careers 360: What is difference in mass communication and media communication or mass media? Is there any major differentiating factor between these three terminologies? Kindly explain it.
Ruchi Kher Jaggi:Mass Communication is the generic name given to formal courses in media and communication. Over the years, mass communication has come to represent the creative and content dimensions of media courses. Media & Communication expand the scope of this domain in line with the changing industry dynamics, and integrates the business side with the creative side.
Careers 360: What according to you is a primary requirement for a student who wishes to pursue mass communication? Is there a certain factor that student should possess if he/she is willing to opt mass communication course?
Ruchi Kher Jaggi:Mass Communication caters to the dynamic media & entertainment industry which is growing at an unprecedented speed and witnessing transformations at an unimaginable pace. While the traditional roles of journalists – reporters, editors & writers; filmmakers; advertisers; PR professionals; and media managers – tend to stay, these roles are getting reconfigured in the context of digital innovations. All media organizations are becoming digitally active and digital-only enterprises are leaving no stone unturned to offer high levels of user engagement. Hence today's media professionals not only have to be well-informed but also have the prudence and skills to package the information in diverse ways for diverse reader/user/consumer- engagement. Everyone with a smart phone can claim to be a journalist, filmmaker or photographer. So what distinguishes a mass communication graduate from others who own easy-to-use, sophisticated technology? Well, it's the approach to be holistically educated and not merely trained.
Careers 360: Your institute offers two programmes- MA (Mass communication) and MBA (Communication management. Could you elaborate a bit on courses and programmes offered?
Ruchi Kher Jaggi: The MA (Mass Communication) programme offers two specializations: journalism & audio-visual. The journalism programme aims to create multimedia journalists who can transit from print to broadcast to digital media seamlessly, with a thorough understanding of the politics, culture and society that shape news and opinions.
The Audio-Visual programme aims to create professionals who understand the aesthetics and technical aspects of this medium in fictional and non-fictional contexts. It is a course which helps students specialize in the grammar of the audio-visual medium, which they could apply to television, digital or cinematic contexts.
The MBA – Communication Management programme offers four specializations to students – Brand Communication; Public Relations; Media Management and Marketing & Media Analytics.
Careers 360: Also, what are the basic parameters that differentiate both the programmes? How should a student decide which course is apt for him/her?
Ruchi Kher Jaggi: Both the courses require a student to be passionate and inspired by the media industry. The mass communication course centers on content creation for media platforms while the Communication Management programme is premised on the business of media.
Careers 360: Apart from the entrance exam, what does the institute look for in a student during the admission process?
Ruchi Kher Jaggi: We, at SIMC, are looking at students who are highly focused towards working in the media and communication sector and bring a combination of creative thinking, critical perspective, high levels of general awareness, and the drive to combine all these qualities with sound knowledge of tools and specialized skills.
Careers 360: How is the programme curriculum devised? Is there any industry connect to the programmes offered and how?
Ruchi Kher Jaggi: Curriculum is the principal fulcrum for the student learning process. A blend of academic and industry relevant topics go into updating SIMC's syllabus which in turn makes the students ready for specialized domain related roles and future assignments. Curriculum design also includes regular review and additional inputs from industry professionals and visiting faculty to make the programmes stay relevant to industry's changing requirements. Inputs from industry professionals, including alumni, are integrated during the preparation of courses to incorporate current industry practices and cases for enrichment of course delivery. Additional inputs are provided by recently graduated alumni in terms of relevance of courses vis-à-vis pain points faced in their first job. Internal review and validation of courses through established academic processes are re-validated through discussions with visiting industry professionals and international academicians as and when the opportunity presents itself.
Careers 360: How does the institute equip students with the industry knowledge through its degree programme? What is the curriculum, the pedagogy followed?
Ruchi Kher Jaggi: The combination of a cutting-edge curriculum and innovative pedagogy makes this possible. The curriculum is based on industry input, follows a layered progression from the fundamental to advanced level, benchmarked with programmes from leading Indian and foreign universities, and offers an array of electives.
Careers 360: Are internships a part of the programme? If yes, how does the institute support its students to get internships?
Ruchi Kher Jaggi: Yes, internships are an integral part of both the programmes. The MA (Mass Communication) students do two industry internships over two years while the MBA (Communication Management) students do one internship. The institute facilitates the internship process completely.
Careers 360: Can you give some details about the accreditation for the courses that are offered by the institute?
Ruchi Kher Jaggi: Both the programmes offered at the institute are affiliated to Symbiosis International (Deemed University), SIU which is accredited by NAAC with A grade and has been graded as Category I university by the UGC.
Careers 360: Tell us something about the placements. Is there any cell to prepare or groom students for the placement process?
Ruchi Kher Jaggi: Yes, there is a dedicated placement cell at the institute mentored by the Director and senior faculty members.
Careers 360: Also, throw some light on the top recruiters of the institute? What kind of companies visit, what jobs they offer to the students? Please provide some figures of the past year.
Ruchi Kher Jaggi: The best organizations from the media & entertainment industry recruit regularly from SIMC. Times Now, Sony, Prime Focus Technologies, The Quint, ESPN Cricinfo, Reliance Brands, Group M, Edelman and BARC (Broadcast Audience Research Council) - industry leaders representing each specialization at SIMC, are few among the topmost names.
Careers 360: It is seen that students, who want to pursue mass communication studies go for the institutes run by the media houses like NDTV, Times etc. What is your take on it?
Ruchi Kher Jaggi: I am sure that they offer excellent training. However, it is extremely important to distinguish between the terms education and training. Nuanced understanding based in theoretical rigour is extremely significant when we look at media studies as an educational pursuit. Knowledge of language, political science, sociology, even psychology and marketing, engagement with subjects like gender, class, caste among others and the ability to observe, reflect and argue are the core of this field. Filmmakers depend on it. Journalists cannot survive without it. And no advertising campaigns can be successful till they hit the pulse of the audience with thorough understanding of their contexts. And this is all beyond technical skilling alone.
Careers 360: What should students look for while applying for a mass media course in a particular institute?
Ruchi Kher Jaggi: Curriculum, faculty, infrastructure, industry interface, alumni are the key factors.
Careers 360: Could please share any key changes in the institute's course structure that will be introduced within the next few months? What are the future developments which institute is going to come up with?
Ruchi Kher Jaggi: Digital and social media platforms have brought in unprecedented technological shift in the media industry. New media technologies and the internet of things will keep redefining this industry in unpredictable ways in times to come. The fact that we cater to a highly dynamic industry is both challenging and enthralling at the same time. However, form and technology can work only if the content is appealing and interesting. While skills and training are crucial for budding media professionals, they mean nothing if the content is weak and bland. Hence, media education should not lose sight of the bigger picture and ensure that technical training is effective only when complemented with rigorous academic inputs. This is the mantra that shapes curriculum development at SIMC. For example, the institute has collaborated with Google News Lab to offer some toll-based journalism courses.
SIMC Updates and Articles
SIMC MA (MC) Entrance Test 2021 - Symbiosis Institute of Media...
26 May 2020
SIMC conducts Fest-O-Comm 2017 - The SIMC ended its 2 day annu...
22 Feb 2017
Questions related to SIMC
Showing 139 out of 139 Questions