MICA Alumni Speaks : "Consistency is the hallmark of excellence," believes Siddhant Lahiri
Making one's way to MICA, Ahmedabad is the first step towards providing effective solutions in the sphere of strategic marketing and communications.Those who studied at MICA, share their experience as to how the institute prepared them for the challenges posed by the corporate world. An Alumni of MICA, Siddhant Lahiri in candid conversation with Careers360 shares the various facets of studying at MICA. According to Lahiri, one of the prominent aspects while one studies at MICA is that it not only inculcates an out of box thinking, it also helps the individual to enhance one's creative skills. Apart from the regular assignments, which the student had to complete within a stipulated time, Lahiri stated that they got opportunities to take part in other activities also such as cricket and sports. Read the full interview of Siddhant Lahiri to know what was life at MICA.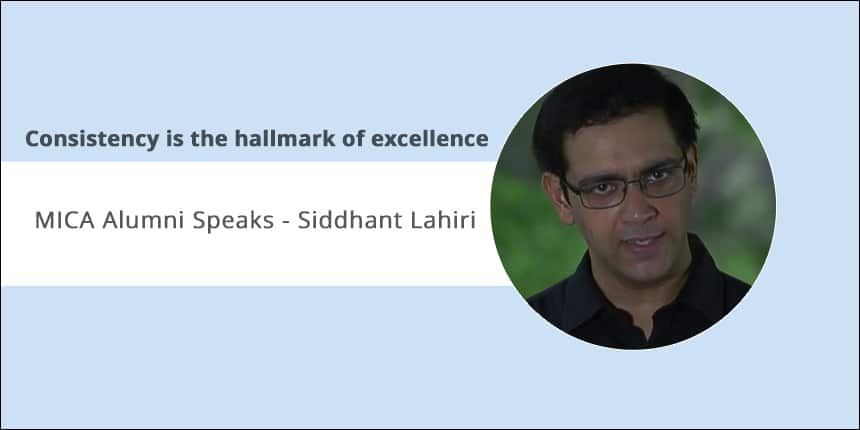 Careers360: Tell us about your domain and your work profile. At professional level, did you pursue the same field you were interested or you switched?
Siddhant Lahiri: My name is Siddhant Lahiri and I'm presently heading the Strategic Planning at Rediffusion Y&R. I majored in Advertising and Brand Management and I'm working in the strategic facet of it and loving it!

Careers360: Can you briefly tell us about your career path so far?
Siddhant Lahiri: I graduated from MICA in 2009. I first worked as a Brand communications manager at DDB Mudra Group for about 2.5 years, then went to J. Walter Thompson Worldwide for 5 years and then moved on to Head – Strategic Planning at Rediffusion Y&R.

Careers360: Is industry work different from what you learn at B-School?
Siddhant Lahiri: MICA instilled in me the thought process of seeing things from a different perspective. We used to get a lot of projects and assignments wherein we worked on cases in groups. This got scale as I moved into the corporate world. I faced real problems about which I got knowledge through various Harvard Business Review case studies we decoded and solved in the classes. So yes, in terms of scale it's different but the base remains the same.

Careers360: How do you think your programme has added value to your life, both professional and personal?
Siddhant Lahiri: When I went out in the corporate world and had to prove myself, I realized that the way I was thinking was actually very very different from what other people were thinking – the risks I was willing to take, other people would never do. The way I approached a problem, the way I looked at a solution, everything was out of the box and creative, which left others gaping at how did that happen. This is what my programme at MICA changed about me, it transformed my entire outlook.

Careers360: What was your initial thought process when you joined the programme?
Siddhant Lahiri:I was really inclined towards the marketing field while I was studying Bachelor of Arts in Economics field. I always aspired to go to an institute that catered to both left brain and right brains, i.e. to mean that it satiated my creative needs while harnessing my analytical skills at the same time. MICA seemed the perfect B-school for fulfilling that dream. I worked really hard for MICAT and proved it in the interview that I'm really passionate about MICA and marketing that it offers.

Careers360: Briefly take us through your life at the campus, the activities you used to do and your routine life.
Siddhant Lahiri: I used to be very active on campus. The campus is lush green full of trees, away from the hustle bustle of the city. The campus would always be bubbling with some or the other event. I used to love sports so all my evening went in playing football and cricket. I used to also spend a lot of time using the rich source of knowledge, our KEIC, the library at MICA. Late nights were spent consumed in discussions about career and future at Chotta canteen along with a cup of coffee or chai.

Careers360:  Apart from academics, what were the other activities you were involved in and how did it enrich your life?
Siddhant Lahiri:I used to be very involved in sports at MICA. My evenings were all spent in trying new sports at the lush green grounds of MICA. Other time would be spent in participating in the myriad competitions that took place all the time at MICA. I used to participate in teams and this helped me make some really good friends for life long. We learnt a lot from our peers who come from various walks of life. Moreover, apart from academics, I learnt a lot during the group projects given to us during the curriculum.

Careers360: You are a proud alumnus of this top institute. What is the best part of MICA from a student's  perspective?
Siddhant Lahiri: The way I approached a problem, the way I looked at a solution, everything was out of the box and creative, which left others gaping at how did that happen. This is what the best part of MICA is. This is what helps when you go into the corporate world wherein everybody comes from a good B-school, MICA makes you stand out. I have friends from very big B-schools, none of them go back, but MICA has a very strong alumni network that makes sure you are hooked and always attached to your Alma mater.

Careers360: What is your suggestion/guidance for the candidates who wish to take MICAT?
Siddhant Lahiri:I would suggest to the future spirants to stop worrying about the placement figures and rather try to identify where your true passion lies. Work hard and be open to new opportunities always. Be consistent as consistency is the hallmark of excellence. Also, learn to prioritize as life will throw at you umpteen number of opportunities but you'll have to choose what's important to you and what's not.
MICA, Ahmedabad Updates and Articles
Know all the information about MICAT important dates, applicat...
20 Nov 2019