Career in Mass Communication After 12th
Career in Mass Communication After 12th: Once candidates pursue their class 12th with PCM/PCB or arts or commerce stream, some of them may have a dream to be a part of media - be it print, electronic or digital media. For those who want to make a name for themselves in journalism or media have to have a degree at UG/PG level or a PG Diploma in mass communication. Thus, for such candidates, we have compiled a list of mass communication courses through which they can decide on the future course of action and to have clarity about career in mass communication after 12th. The term mass communication is vast and there are many roles and profiles that contribute their bit before it comes out as an end product - news or the final written or visual content. A career in mass communication after 12th can be made as per the field of interest that includes reporting, script writing, technical support, camera handling, anchoring, direction, production, event management, public relations, advertising, etc. In this digital era, mass communication is one of the most sought-after courses that can be taken up by anyone from science, commerce or arts discipline at 12th level. Generally, candidates get confused when it comes to choosing the right course for them. They don't have proper clarity about the profile and career opportunities the course can offer in the future. Thus, to answer every possible query and address many unanswered questions, Careers360 has come up with this article - career in Mass Communication after 12th.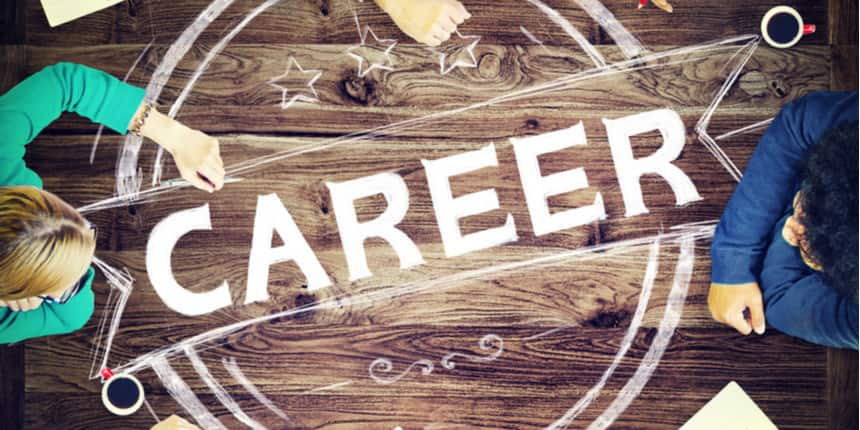 Mass Communication and Journalism
When we talk about "journalism" it means a way of presenting the information by various mediums including printed articles, blogs, and television. Whereas a journalist is a person who performs all these tasks of searching for information, editing it, writing articles and presenting it, thus we can say that journalism is an integral part of mass communication.
Scope in Mass Communication
After completing your degree in mass communication, you can work as a reporter, writer, editor, fashion photographer, film director, TV correspondent, screenwriter, etc.
If you complete your degree in journalism, then you can work in press, media, channels, digital platforms, PR agencies, advertising agencies as editors, copy writers, reporters, columnists, correspondents, news presenters, anchors, cameramen, PR professionals, etc.
Following are some of the highest paying and reputed profiles in this field:
TV Anchor

News Editor

Senior Journalist

Junior Journalist

Screenwriter

Fashion Photographer

Film Director

TV Correspondent

Radio Jockey

Producer

Screenwriter

Sound Engineer

Sound Mixer and Sound Recordist

Special Correspondent

Art Director

Editor

Event Manager
How to study Mass Communication after 12th – Undergraduate Mass Communication Programmes
There are various levels of mass communication courses to suit the requirements and interests of the students who wish to make a career in the media. Candidates can select from the plethora of mass communication courses and select the programme which suits them and their higher goals the best. These courses of mass communication are offered in all top mass communication colleges in India. Many colleges/universities of India offer undergraduate programmes in mass communication. Some of the most popular programmes of mass communication are given in the table below:
Types of Mass Communication Courses
| | | |
| --- | --- | --- |
| Name of the Mass Communication Course | Type of Course | Duration |
| Bachelor in Journalism and Mass Communication (BJMC) | Undergraduate Degree | 3 years |
| Bachelor of Mass Media (BMM) | Undergraduate Degree | 3 years |
| BA Hons Multimedia & Mass Communication (BMMMC) | Undergraduate Degree | 3 years |
| BA Hons in Hindi Journalism and Mass Communication (BHJMTC) | Undergraduate Degree | 3 years |
| B.A. Film Making and Mass Communication | Undergraduate Degree | 3 years |
| BA Hons Journalism & Mass Communication (BJMC) | Undergraduate Degree | 3 years |
| BA in Journalism | Undergraduate Degree | 3 years |
| Diploma in Media Studies | Diploma | 3 years |
| Diploma in Journalism and Mass Communication | Diploma | 3 years |
| Diploma Course in Development Journalism | Diploma | 4 months |
Where to study Mass Communication after 12? - Top Mass Communication Institutes
If you want to make a career in mass communication after 12, then you can choose a best and reputed college for yourself. India has some of the leading colleges and institutes of mass communication. Every year, thousands of candidates flock to these colleges for seeking admission in their mass communication programmes. Many of the colleges are popular and highly rated in terms of course curriculum, extracurricular activities, placements, practical training, etc. Some of the best and reputed mass communication colleges in India are given below:
Top Mass Communication Colleges in India
Before pursuing a career in mass communication, it is necessary that you know which institutes offer UG and PG courses and which entrance tests to apply for. Thus, this part is aimed at equipping you with all details about top mass communication entrance exams in India for various UG and PG courses that you need to qualify to take admission in most reputed universities and institutes. Check the details of India's top mass communication entrance exam for various undergraduate and postgraduate programmes listed below before applying for any mass communication admissions.
List of Top Mass Communication UG Entrance Exams in India
Mass Communication Job Profile and Career Prospects
There are a number of job opportunities in the field of mass communication in both government and private sectors. Many public relation firms, news agencies, TV channels, advertising agencies, broadcast companies, newspapers, photography organizations and newspapers that are there to provide job opportunities to the BJMC graduates. Below we will discuss the salary of BJMC in detail.
Mass Communication Salary in India
In journalism and mass communication, experience greatly alters your paycheck. The more experienced you are, the better is the salary you'll get. If you are pursuing courses from colleges like Delhi School of Journalism (DSJ), Symbiosis Institute of Media and Communication (SIMC), Christ University Journalism, etc., then your chances of getting a good placement will also be better.
The starting salary in mass media will vary from Rs. 12,000 to Rs. 25,000 per month. After gaining experience of 5 to 10 years, you can expect a salary of Rs. 50,000 to 1,00,000 per month. It is necessary to pursue journalism programmes from reputed colleges to get a good package or salary.
Mass Communication Placement
The mass communication degree course trains the aspirants regarding editing, writing, etc.

Candidates can also find employment with newspapers, periodicals and magazines, Central Information Service, news agencies like PIB, PTI, ANS, Reuters, Information Bureau, websites, FM channels, TV channels, etc.

They can also take up the job in multimedia firms and the web such as writing news and other articles.
Also Read,